Heard Around Town
Adams doesn't make Biden's national advisory board after criticizing the president
Gov. Kathy Hochul and Rep. Grace Meng are helping with the 2024 reelection campaign, however.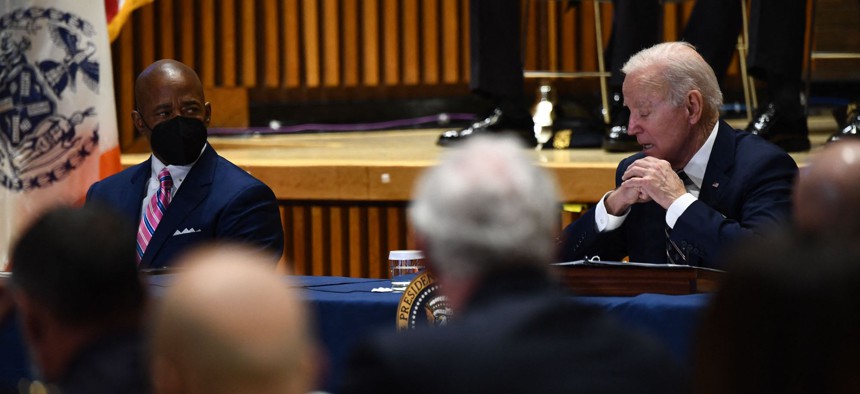 President Joe Biden's reelection campaign announced its national advisory board Wednesday composed of 50 elected Democrats from around the country – and New York City Mayor Eric Adams isn't on it. That's a bit of a surprise, since when the Washington Post first reported back on March 2 that Biden's campaign was putting it together, Adams was on it. 
But in the two months since, Adams has ramped up his previously quieter criticism, publicly attacking Biden and Vice President Kamala Harris for not doing enough to help the city deal with the wave of asylum-seekers, mostly from Latin America, who have arrived in the past year. 
"The president and the White House have failed New York City on this issue," he said at a City Hall press conference April 19. His criticism of the president was welcomed by Republicans, with Politico dubbing him an "unlikely GOP ally."
That's naturally led to speculation that Adams was booted from the list for criticizing the president. "It's obviously payback," said one political consultant, who asked for anonymity to discuss powerful offices. 
Being on the advisory board is seen as a political prize that could help raise Adams' national profile. And Adams' office himself seemed to think he was on it, saying at a press conference back in March that he was "happy to be part of his panel," and 'for him to ask me to join his panel, I'm happy to do it. I'm looking forward to it." 
For now, everyone is keeping tempers cool. Biden's campaign didn't respond to a request for comment. And City Hall Press Secretary Fabien Levy said in an email Wednesday that Adams hasn't turned on Biden: "As the mayor has previously stated, he stands ready to help the president with reelection however he can."
And some New York political insiders are actually crediting Adams for standing up for the city, even at the apparent expense of national clout.
"The mayor of New York City is not the mayor of Des Moines. It is a uniquely powerful job, where part of your power is speaking truth to power," said Chris Coffey, a political consultant with Tusk Strategies who worked for Adams' opponent Andrew Yang during the 2021 primaries. "The fact is, we have a migrant crisis, and the mayor is speaking up for getting resources to this city. And that might rub some folks the wrong way, but it's important for New York City and you don't lose any points for that from actual New Yorkers."
Olivia Lapeyrolerie, a political consultant, agreed. "We do need the federal government's support," she said, "but I'm glad that he put New York's needs above kissing Biden's ring." 
That's a point Adams made himself when asked at that same March press conference how to square his expected role stumping for Biden with his criticism of the White House. "I'm going to speak on behalf of the people of this city, no matter what panel I am on," he said, adding that he doesn't agree with the president on everything but "I like his policies. I think he's good for the country."
To be fair, Adams wasn't the only one who didn't make it on the list, based on the Post's initial reporting. Figures like U.S. Sen. Chris Coons, Rep. Lisa Blunt Rochester of Delaware, Rep. Veronica Escobar of Texas and Michigan Gov. Gretchen Whitmer were all named in that March story, but were not included on the press release from the Biden campaign Wednesday. And the exclusion of Coons, once called Biden's "closest Senate ally" suggests that not everyone was cut because of political disagreements. The release from the campaign did call the 50 names "an initial group" and said that more members were likely to come on board. 
And even if Adams didn't make the advisory board, New York is represented. Gov. Kathy Hochul and Rep. Grace Meng were on it, and will be expected to "participate in regular media interviews, assist with fundraising efforts and events, leverage their networks and platforms to amplify the campaign's message to voters, and engage directly with voters through grassroots efforts and events in key battleground states."
Correction: This story was updated to reflect that Lapeyrolerie is a private political consultant, no longer working for a firm.
Powered By
NEXT STORY: At 'Unity Summit,' Hochul touts gun laws, hate crime prevention