Politics
After criticism, Hochul tries to clarify comments on subway killing
Progressives criticized the governor – and Mayor Adams – for not forcefully condemning the killing of Jordan Neely.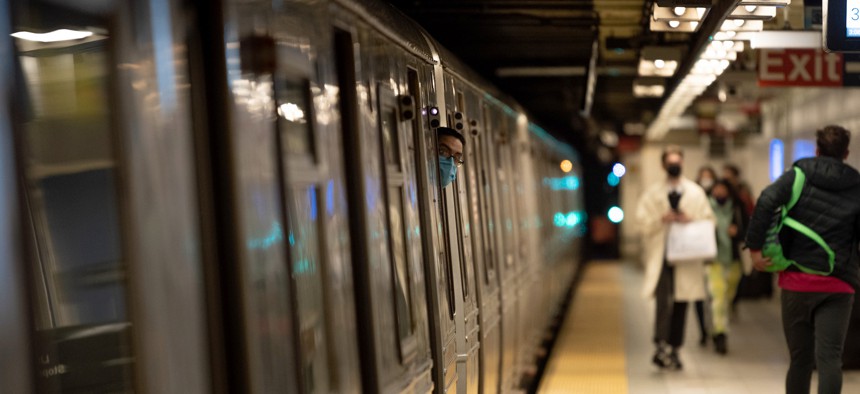 The killing of Jordan Neely on a New York City subway was "horrific," Gov. Kathy Hochul said Thursday morning. That was a more direct response than what she said the day before, when she focused more on the other subway riders than the man who was killed.
Her initially muted reaction, as well as New York City Mayor Eric Adams' apparent hesitation to condemn the killing of a Black man on the subway who was homeless, have prompted confusion and anger among some state and city lawmakers.
"I have yet to hear a real explanation from any official hesitating to condemn the killing of Jordan Neely about what makes condemning this violence so 'complicated,'" progressive Rep. Alexandria Ocasio-Cortez tweeted Thursday afternoon. "Killing is wrong. Killing the poor is wrong. Killing the mentally ill is wrong. Why is that so hard to say?"
Jordan Neely, a 30-year-old performer and Michael Jackson impersonator, was choked to death on a subway car on Monday after he was placed in a chokehold by a still-unidentified man. Neely had reportedly come onto the car and started yelling at other passengers, and the other man – reportedly a former Marine who had not been charged as of Thursday afternoon – placed Neely in a chokehold for several minutes. The city's Office of Chief Medical Examiner ruled the death a homicide as a result of the chokehold. A witness at the scene said that Neely was restrained for about 15 minutes.
The initial reactions from Hochul and Adams – who have partnered to tackle violent crime on the subway and deployed more cops in the subway along with mental health outreach teams – struck other lawmakers as vague and not sufficiently condemning of Neely's killing.
After video of the killing was published, Hochul said on Wednesday that there were "consequences for behavior," initially leaving it ambiguous whether she was referring to Neely's behavior or that of his still-anonymous killer. On Thursday, a spokesperson for the governor attempted to clarify her comments, telling City & State that "she was asked about someone not being charged for murder and said there should be consequences."
The governor's comments on Wednesday largely focused on safety from the average subway riders' perspective, rather than the man who was killed. "That was deeply disturbing," she said of the video, after a press conference touting changes to the state's bail law. "And that caused a lot of fear in people. And actually the mayor and I are working so hard to restore that sense of safety. We have the cameras on the subways. We have more police officers, we're assisting with overtime. We've been doing so much. And the numbers have been improving. The number of crimes on subways has been declining."
The governor, notably, didn't extend the usual apologies and compassion for the victim and his loved ones – something she made sure to do some 24 hours later, at another press appearance. "I do want to acknowledge how horrific it was to view a video of Jordan Neely being killed for being a passenger on the subway trains," she said on Thursday. "And so our hearts go out to his family. I'm really pleased that the district attorney is looking into this matter. As I said, there had to be consequences, and so we'll see how this unfolds. But his family deserves justice."
In her strongest comments on the killing so far, Hochul then said that "no one has the right to take the life of another person." "This was an unarmed individual who had been on the subway many times, known by many of the regular travelers. And you know, sometimes people have an episode where they're displaying their feelings in a loud and emotional way, but it became very clear that, you know, he was not going to cause harm to these other people," she said of Neely. "And the video of three individuals holding him down until the last breath was snuffed out of him. I would say it was a very extreme response."
Hochul's lieutenant governor, Antonio Delgado, was more blunt. "The consequences for mental health problems in New York should not be death," he wrote in a brief tweet on Thursday.
Mayor Adams, who has in the past been outspoken about the possibility of people falling victim to crime on the subway, urged the public not to jump to conclusions.
In a brief statement shared with reporters on Wednesday afternoon, Adams did not comment on the actions of the passenger who put Neely in a chokehold. "Any loss of life is tragic," Adams said. "There's a lot we don't know about what happened here, so I'm going to refrain from commenting further. However, we do know that there were serious mental health issues in play here, which is why our administration has made record investments in providing care to those who need it and getting people off the streets and the subways, and out of dangerous situations. And I need all elected officials and advocacy groups to join us in prioritizing getting people the care they need and not just allowing them to languish."
And in an interview on CNN on Wednesday night, Adams largely declined to weigh in on the killing, citing the need to let an investigation by the Manhattan district attorney's office play out. "Let's let the DA conduct his investigation with the law enforcement officials," Adams said. "To really interfere with that is not the right thing to do and I'm going to be responsible and allow them to do their job and allow them to determine exactly what happened here." 
In that interview, Adams refused the opportunity to outright denounce the other passenger's actions. "We have so many cases where passengers assist other riders. And we don't know exactly what happened here," Adams said. "I was a former transit police officer and I responded to many jobs where you had a passenger assisting someone. And so we cannot just blatantly say what a passenger should or should not do in a situation like that, and we should allow the investigation to take its course."
The mayor's and governor's early statements stood in contrast to other lawmakers who have more vehemently condemned the killing.
In a statement on Wednesday night, New York City Council Speaker Adrienne Adams said that "perceptions of Black people have long been interpreted through a distorted, racialized lens that aims to justify violence against us." "Let's be clear: any possible mental health challenges that Jordan may have been experiencing were no reason for his life to be taken," Speaker Adams' statement read in part. "The initial response by our legal system to this killing is disturbing and puts on display for the world the double standards that Black people and other people of color continue to face. There must be accountability for his killing, and a thorough investigation by the Manhattan district attorney that accounts for the facts and these realities is critical."
"I don't know why the other two made those statements," progressive New York City Council Member Chi Ossé told City & State of Hochul and Mayor Adams on Thursday. "It was ludicrous. The governor, that's expected, she isn't really good at many things. But the mayor… I'm actually disappointed." 
In a tweet earlier Thursday, Ossé said the mayor "'All Lives Mattered,'" the killing by refusing to mention racism. 
On Wednesday, New York City Comptroller Brad Lander tweeted, "NYC is not Gotham. We must not become a city where a mentally ill human being can be choked to death by a vigilante without consequence."
In his CNN interview on Wednesday, Mayor Adams said it was not "very responsible" of Lander to call Neely's killer a "vigilante" and for Ocasio-Cortez to call the killing itself an example of "murder," since the police investigation is still ongoing. Lander responded by tweeting a screenshot of the dictionary definition of "vigilantism." 
"We can't be a city where people take the law into their own hands, and choke someone to death who's having a mental health crisis," Lander told City & State on Thursday. "I think it's responsible for elected officials to say so."
Asked by a reporter about "the Marine vet" as he left an unrelated event Thursday morning, the mayor said, "We're not doing those questions. I made a comment yesterday."
At a different event shortly after, the mayor again declined to condemn the actions of the man who killed Neely and reiterated that he wants to let the district attorney's investigation play out. He said that ordinary New Yorkers supported his decision. "I took the train today from the Day of Prayer service, and the passengers that stopped on the train and spoke with me were saying, 'Mayor, thank you for allowing the process to take its way,'" Adams said. "There are going to be those who are going to criticize no matter what is done, and I have a responsibility for this entire city, and I have faith in the criminal justice system, and I'm going to let the process take its place. Those who believe that I should do something differently, I respect that. But I have to make the right decision for the city of New York."
No criminal charges have been filed against the man who put Neely in a chokehold, but a protest broke out at the Broadway-Lafayette station on Wednesday and New Yorkers shocked by the killing have called for his arrest.
With reporting by Rebecca Lewis. This article has been updated with additional comments from Mayor Adams.
Homelessness Case Studies
Powered By
NEXT STORY: New York City elections in presidential years? Consultants don't like it.