Heard Around Town
NY's Congressional delegation – but not Santos – coordinates on immigration
The governor, too, showed a flurry of action today with the expiration of Title 42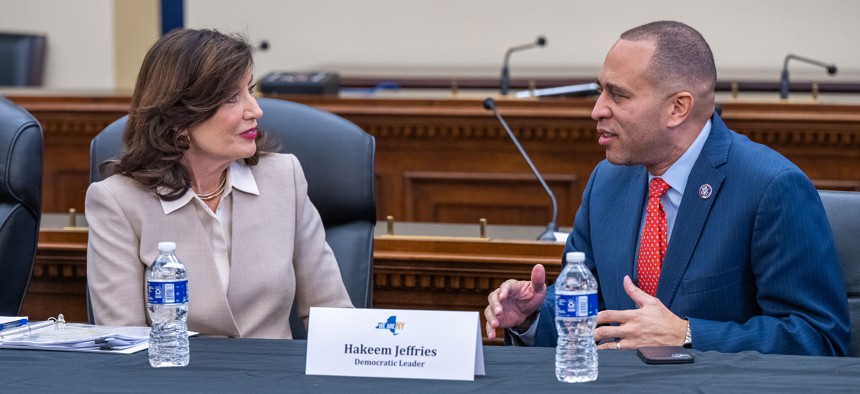 New Yorkers have expected for months and months that the expiration Friday of a federal immigration rule would lead to a possible increase in migrants crossing the southern border and coming to New York City in need of temporary housing and services. But now that Title 42 finally expired, Gov. Kathy Hochul and the state's congressional delegation are making sure to show action. 
Hochul is asking President Joe Biden for emergency disaster aid, as well as the use of Floyd Bennett Field in Brooklyn, which is on federal land, to place temporary shelter for asylum-seekers. All 13 congressional Democrats representing New York City – led by Rep. Alexandria Ocasio-Cortez – sent their own letter to Biden, urging him to provide work authorization to asylum-seekers more quickly, so they could legally make money. And Rep. Jerry Nadler's office said the whole delegation, from both parties, was invited to a call with Hochul on Friday to talk about a response and committed to pursuing more federal funding. 
Well – almost the whole delegation. Rep. George Santos, who was just indicted on federal charges this week, was not invited, a spokesperson for Nadler told City & State. 
The flurry of action comes as Hochul has been criticized for keeping New York City's massive effort to provide housing and services to more than 60,000 migrants over the past year at arm's length.
 "I would have expected (Mayor Eric Adams) to have received more help from the governor than he's gotten,"an anonymous Democratic strategist told Politico. 
That may go for congress, too. The letter the city's delegation sent Friday about work authorization was the exact issue that Adams has been hounding Washington on for months. In April, he held a press conference directly calling on Biden for action, saying that the president had "failed New York City." However, Adams did credit congressional leaders including U.S. Senate Majority Leader Chuck Schumer and House Minority Leader Hakeem Jeffries for their help. And Reps. Dan Goldman and Jamaal Bowman cosponsor a bill that would streamline work authorization for asylum-seekers. 
While the city says it is still providing housing and services for more than 37,500 asylum-seekers, it still is not clear whether the change in immigration policy will result in a surge of migration to the state. Immigration advocates say a lot depends on how Biden's administration actually implements its new policies. The New York Times wrote that federal officials did not report a massive increase in border crossings on Friday.