2023 elections
Why isn't the GOP trying to unseat the remaining Democrats on Staten Island?
District Attorney Michael McMahon will skate to another term without a primary or general election challenge.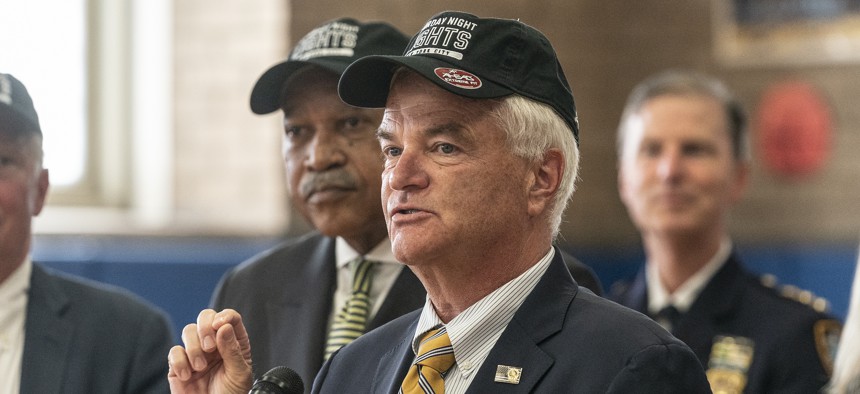 This story is from the Campaign Confidential newsletter, relaunched for 2023. Want it in your inbox? Sign up here. And check out the whole email here.
Staten Island Republicans are on a winning streak: Congress two cycles in a row, borough president for 33 years running, and statewide and citywide candidates have run up huge margins on the island. But this year, the Staten Island Republican Party isn't even bothering to challenge the one Democrat who represents the whole borough: District Attorney Michael McMahon.
Not a single Republican has filed to run for district attorney. No other Democrat, either, so McMahon will avoid a primary. He's on track to get reelected to another four-year term in November without breaking a sweat, even in the city's reddest borough.
Sure, it's hard to unseat any incumbent, but the way voters have been trending, you would think a ham sandwich could run on the Republican line and get close to 50%. This is a borough where even state Comptroller Tom DiNapoli, an Italian American and friend of labor unions, got beat by a 2-to-1 margin by no-name Republican Paul Rodriguez in 2022.
Why not? "The Republican Party is strong on Staten Island," the county's party chair, Assembly Member Mike Tannousis, told City & State. "But keep in mind the party is only as strong as the candidates we put forth. We had some interest in regards to that position (district attorney), but no interest that materialized into a candidacy."
Some Republicans in the borough think that ignores Tannousis' responsibility for candidate recruitment. "To sit on your hands and not run anybody? That's the definition of insanity," said Leticia Remauro, a political consultant and former county chair herself. The party can't expect to win a race for mayor or governor if it's not keeping up momentum in off-year elections. "It's breaking my heart to see that we're not taking an opportunity to build our party and let the people have a voice," she said. "You can't bitch that nobody is coming out to vote if you don't let them."
Remauro isn't exaggerating. Staten Islanders aren't able to vote this year. There isn't a single contested primary in the entire borough in June, even for low-level roles like judicial delegate. Polling places won't even be open on June 27, city Board of Elections spokesperson Vincent Ignizio confirmed. And in November, there may not be any contested elections either. While some random third-party candidates might petition their way onto the ballot, Republicans aren't challenging McMahon and Democratic City Council Member Kamillah Hanks, and Democrats aren't challenging Republican City Council Members David Carr or Joe Borelli.
The Republicans not running against McMahon can, in part, be attributed to his centrist politics. He's a Democrat, but a relatively conservative one who ran for prosecutor with a "law and order" message. "I would say that if we had a progressive district attorney, I think we would have seen a lot of interest from potentially strong candidates," Tannousis said. Tannousis, by the way, is a former assistant district attorney, whose biography on the Staten Island GOP website mentions that McMahon hired him in 2016. But he swears the fix isn't it. That was an apolitical role, and "if we had a strong candidate that came forth, that certainly would have been seriously considered."
The Staten Island Democratic Party, unsurprisingly, said McMahon isn't getting challenged because he's doing a great job. (The $607,000 in campaign cash he reported having on hand in January might have discouraged a challenger too.) "McMahon has built an incredible reputation that reflects the highest order of public service and that has strengthened public safety and quality of life for all Staten Islanders," said Courtney Gervais, executive director of the Staten Island Democratic Party. "That he has no opponent this year from either major political party is clearly a testament to the respect and admiration he has earned from Staten Islanders of all political stripes."
Gervais isn't just blowing smoke. Even Remauro said McMahon has "absolutely" been doing a good job. But that's almost beside the point, she said. There could be a Republican that might do a better job. "Mike McMahon, blue dog Democrat, he's certainly not a leftist liberal woke DA, he does his job. I like Mike. But just because I like somebody doesn't mean you should give a free pass down the line for everybody."
It does seem like, in 2023, a Republican running on a message of "I'll be even tougher on crime than the Democrat" could earn votes. McMahon also won reelection uncontested in 2019. But that was a moment of record low crime rates in the city, and Democrats were fired up with President Donald Trump in office. Four years later, crime rates are statistically higher – and in the daily conversations of Staten Island swing voters, crime rates seem much higher.
No worries for McMahon, though. Talk to Staten Islanders in politics, and many don't see it as a big deal. Bipartisanship is a way of life among the island's politicians. The borough feels isolated from the rest of the city, and because the population is so split among the parties, Democrats and Republicans can't afford to ignore each other once in office the way they do across much of the state. That's not to say there aren't ugly political fights and fierce elections – there are – but the Republican establishment frankly just might not have much of a problem with McMahon. "He's pretty universally beloved," a Staten Island Democratic operative said about McMahon. "It is fascinating though – you would think any Republican with a pulse could win."