Eric Adams
Poll: City voters like the mayor – but women are open to an alternative
A new Slingshot Strategies survey finds New York City likes its Democrats.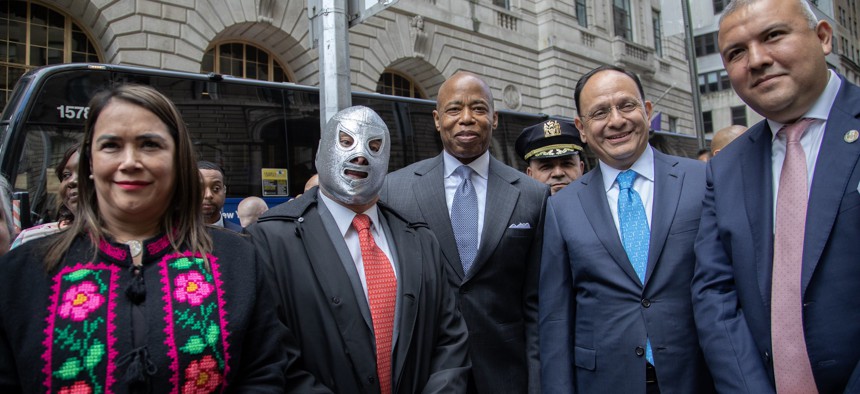 New York City Mayor Eric Adams may need to be wary of a strong Democratic challenger in 2025 – especially if they are a woman, according to a new poll from Slingshot Strategies shared exclusively with City & State.
While the mayor would likely dominate in a hypothetical 2025 primary matchup with Comptroller Brad Lander or Public Advocate Jumaane Williams (albeit to a lesser degree), 42% of respondents said they'd vote for Adams against a generic Democratic opponent. That individual, not specified in the poll, captured 38%, leaving some 20% of respondents undecided. Democratic women, however, favor an alternative by a margin of 3 points, while Democratic men favor Adams by a solid 13 points. So a female candidate – who other women are traditionally more likely to support – could have an especially good chance against him, according to Evan Roth Smith, founding partner of Slingshot Strategies.
"These are not flashing red light numbers, but worrisome numbers," he said, adding that Adams was "tied or underwater" with every racial group except for Black voters on the question of a matchup against a different, unspecified Democrat. "If someone is going to do it and actually have a run at it, it's someone who can cut his support among Black voters and someone who is probably a woman," he added. 
Slingshot Strategies polled 1,500 registered New York City voters across every borough between May 2-8 by text message and an online survey. According to the Democratic consulting firm, the margin of error was ± 2.5%. It's the first in a series of polls by Slingshot, which plans to release one each quarter, tracking things like elected officials' favorability and approval ratings over the next couple of years. 
City voters generally think Adams is doing a good job, according to the poll, even as he struggles to provide housing and services for asylum-seekers while getting limited support from the federal government. Just over half of voters – 51% – approved of the way Adams is handling his job, including 18% that strongly approved. Some 41% disapproved of his job, including 19% who strongly disapproved. Just 8% were not sure.
Asked a similar question, 48% of city voters said they had a favorable view of Adams while 40% said they do not. That's slightly tighter than the results of a recent Siena College poll that found some 49% have a favorable opinion of him, 35% unfavorable and 16% didn't know. 
"He's strong where he's always been strong in Brooklyn, with Black voters and so on and so forth, but he does seem to have a little bit of a problem with women voters that he didn't always have," Smith said.
Adams isn't the only Democrat who city voters generally feel favorable about. Every citywide and statewide politician that the poll asked voters about had positive favorability, including Lander, Williams, and President Joe Biden. Even Hochul, who received bruising approval ratings in a recent statewide Siena College poll, had 56% positive favorability. Voters were even more behind her performance as governor. Some 64% approved, including 21% who strongly did so. Of the 29% who disapproved, 17% somewhat disapproved, and 7% were unsure.
While crime/public safety and gun violence continue to be leading issues that New Yorkers want elected officials to prioritize, housing also appears to be top of mind. Eighteen percent and 14% of voters cited the former issues as their number one priority respectively, but housing was third with 9%, ahead of inflation, jobs and the economy, and a slate of others.
Check out the full poll, including voters' thoughts on congestion pricing, here: