Campaign Confidential
Why super PACs may have even more influence in City Council primaries
And other things to know from the latest campaign finance filings.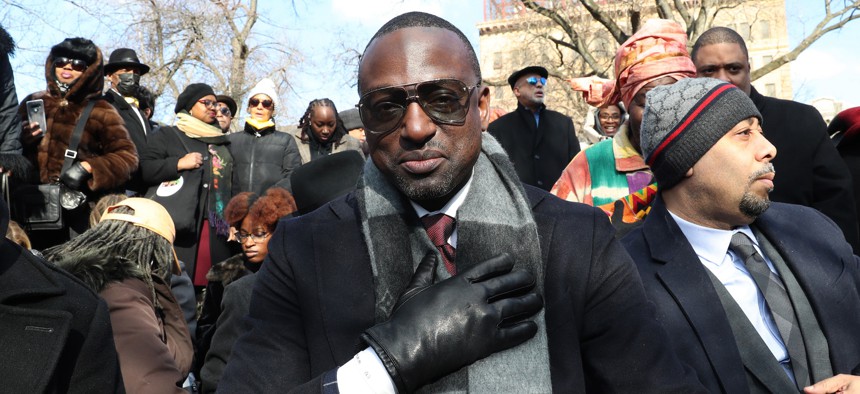 This story is from the Campaign Confidential newsletter, relaunched for 2023. Want it in your inbox? Sign up here. And check out the whole email here.
Like a classic Friday news dump, the latest campaign finance filings for New York City Council candidates were due the day leading into Memorial Day weekend. Maybe fitting for a relatively sleepy year in city elections? Just don't tell that to the candidates and treasurers, or the political obsessives who've been digging into the numbers over the past few days. Here are five things to know about city candidates' money game.
Salaam is going big
No candidate reported spending more money than Yusef Salaam (other than Speaker Adrienne Adams, who doesn't even have a competitive race), who's running in the open District 9 seat in Harlem. He's a first-time candidate facing two proven winners in Assembly Members Al Taylor and Inez Dickens, who are expected to get outside help from super PACs (more on that below). So Salaam is spending big on mailers, petitioning, fundraising and a whole suite of campaign consultants. Of course, much of that $216,000 hasn't actually been paid out yet – Salaam's campaign is deeply in debt. But the team expects public matching funds to bring them back into the black, or close to it, on Friday. But, the primary spending limit is just $207,000, so Salaam may already be setting himself up to pay a fine after the election.
Salaam initially opted out of the matching funds program, possibly thinking his fame as a member of the Central Park Five, giving speeches on criminal justice reform around the world, would help him raise more than the strict limits of the program. The campaign reversed course weeks ago. The majority of his campaign money has come from donors living outside the city – Salaam himself only recently moved back, after living in Georgia for years – but since he's bringing in so much money, he has managed to keep pace with the local candidates on local donations too. Taylor reported 381 individual donations from city addresses, Dickens had 358 and Salaam had 336.
Super PACs can make a big impact
Pretty much everyone in competitive races has qualified for matching funds and will be governed by spending limits, so there shouldn't be any massive monetary mismatches this year … until you factor in independent expenditure committees, which can spend freely. Not a single super PAC has reported spending a dime yet, but some have made their intentions known.
The latest is Carpenters for Progress, which exclusively told City & State it'll be supporting City Council Members Marjorie Velázquez in District 13 and Julie Won in District 26, plus Taylor in District 9 and Chris Banks, who is challenging Council Member Charles Barron in District 42. The independent expenditure committee is associated with the New York City District Council of Carpenters, and a spokesperson said it expects to spend more than $300,000 ahead of the Democratic primaries.
 A fundraising flyer for super PAC People Enhancing New York also highlighted the campaigns it'll back. New York City Council Members Velázquez, Linda Lee in District 23, Lynn Schulman in District 29, and Justin Brannan in District 47 could get support. So could Susan Lee, who's challenging Christopher Marte in District 1, Dickens in District 9 and Wai Yee Chan in the open District 43. The list suggests a focus on moderate Democrats who the super PAC's real estate and business world donors prefer to work with.
Two other big business groups are also expected to spend on moderate Democrats, Jewish Insider reported, SAFE NYC and Future NYC. Future NYC's Jeff Leb said his super PAC could spend up to $1 million in 2023.
Eyes on eastern Brooklyn
One way to earn high-profile supporters is by running against Charles Barron, the Black radical socialist who proudly does things his own way. Sure enough, Chris Banks' donors included Assembly Member Rodneyse Bichotte Hermelyn, the Brooklyn Democratic Party leader, and Yamil Speight-Miller, the county party's executive director. State Sen. Kevin Parker and Assembly Member Nikki Lucas also gave.
The Brooklyn Democratic Party picks and chooses when it stays out of party primaries, and it doesn't look like they'll make any endorsements this year – except for Turquoise Haskin for Civil Court. But Bichotte Hermelyn also gave to Darlene Mealy, who's in a competitive reelection battle against Isis McIntosh Green in District 41. The incumbent's fundraising is weak, just $18,010, but other power broker supporters include City Council Member Julie Menin, former Reps. Charlie Rangel and Ed Towns, and former Brooklyn Democratic Party leader Frank Seddio.
Brooklyn businessperson Gil Cygler also gave to both Banks and Mealy, so keep an eye out if his aforementioned super PAC, People Enhancing New York, does any surprise spending for them too.
The speaker has slowed
People want access to New York City Council Speaker Adrienne Adams, and that has helped her bring in $605,838 since taking office, far more than any other candidate. She has spread that wealth, giving out $1,000 to just about every Democratic incumbent (but not Mealy or Barron), but the biggest portion of her spending has gone to consulting firms Threshold Group and Actum. But now that Adams isn't facing a primary, and seems to be in a good position to get reelected as speaker, her fundraising has slowed, bringing in merely $37,693 in the previous two months.
People are giving to Paperboy
Artist and subway performer Paperboy Prince ran a barebones mayoral campaign in 2021, and they're back running a long shot council campaign against Jennifer Gutiérrez in District 34 in Brooklyn. Prince is trying fundraising for the first time, and while they only brought in $6,284, that came from a respectable 206 individual donors. Gutiérrez, meanwhile, had 271 contributors, and $26,624.
Powered By
NEXT STORY: Suburban Democrats lost. Now they wield all the power.