Heard Around Town
Carpenters' super PAC plans to spend half a million dollars on 2023 City Council primaries
Al Taylor is likely to get support in his primary challenge to Kristin Richardson Jordan.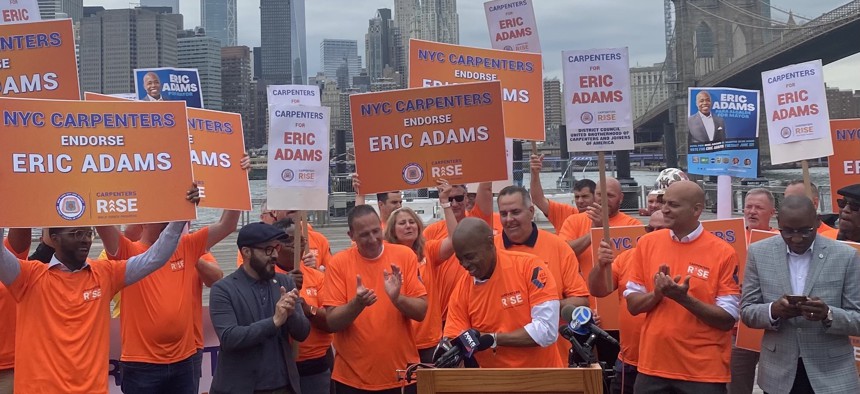 The New York City District Council of Carpenters, a union representing 20,000 members, is relaunching its super PAC for the 2023 City Council primaries, and Assembly Member Al Taylor is likely to be getting support for his primary challenge against Council Member Kristin Richardson Jordan. A source close to the labor union says Carpenters for Progress plans to spend $500,000 total ahead of the June 2023 election. They're expecting to support multiple "pro-labor, pro-jobs candidates," but so far, Taylor is the union's only public endorsement in the primary. He's one of three challengers – along with Assembly Member Inez Dickens and racial justice advocate Yusef Salaam – to Richardson Jordan, who the Carps hold in contempt for not reaching a deal to build a major mixed-use development in Harlem called One45. 
Half a million bucks on direct mail and digital ads would be significantly more than the $189,000 the independent expenditure committee reported spending in the 2021 city primaries. Every council member is up for reelection to another two-year term this year, following redistricting, but with so many incumbents, competitive races are expected to be few and far between. The carpenters were among the biggest spenders supporting Gov. Kathy Hochul's reelection bid last year. 
The union is expected to release a full slate of endorsements soon. And the super PAC says it will be specifically prioritizing "candidates who can be trusted to support union workers in land use fights and who are facing competitive primary contests," per a press release shared with City & State. Carpenters for Progress Treasurer Paul Capurso said the super PAC will be "identifying those council members who have stood with us and fought for union workers and their families, as well as those who have caved to developers and put profit over people." That's a reminder that the city's construction unions aren't blindly pro-development – they're pro-development with union labor.
Powered By
NEXT STORY: Eric Adams keeps creating new offices