Campaign Confidential
Carpenters union calls out a Bronx party switcher, and other super PACs start spending
Independent expenditure committees are getting active in the 2023 New York City Council primaries.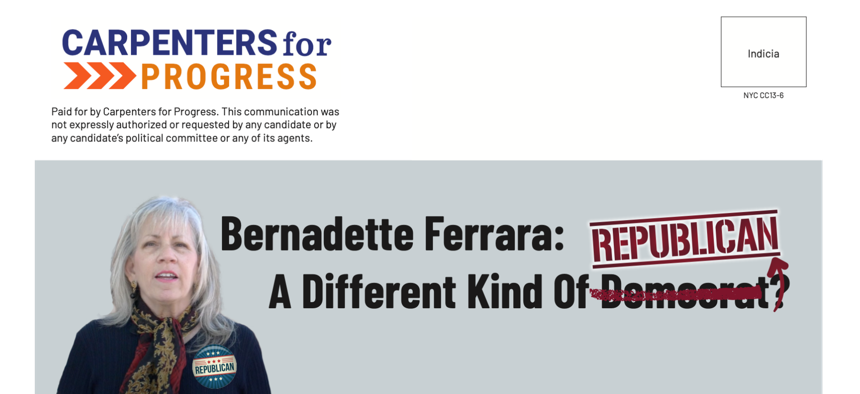 This story is from the Campaign Confidential newsletter, relaunched for 2023. Want it in your inbox? Sign up here. And check out the whole email here.
The super PAC affiliated with the New York City District Council of Carpenters is spending thousands on mailers telling voters in the East Bronx to vote for City Council Member Marjorie Velázquez, since Democratic primary opponent Bernadette Ferrara is a "longtime Republican." Sure enough, records show Ferrera was registered as a Republican as recently as 2020 – not long before she changed her registration to Democrat and got a distant eighth place in the 2021 special election for District 15. Now she's running in District 13, against Velázquez as a conservative "Different Kinda Democrat." Nevermind that the district is trending to the right, and the GOP thinks they've got a shot to win in November – Carpenters for Progress is betting that recent Republicans are toxic in a Democratic primary.
The carpenters union is eager to help Velázquez after she helped secure union jobs in a big upzoning in her district, with their political director telling The City that they would have endorsed her over Jesus Christ – himself a famous carpenter.
An insider said the independent expenditure committee is planning to send seven mailers to likely Democratic voters in the district, with three of them focusing on Ferrara's party switching. The mailers and digital ads will total near $100,000. "We see it as part of our job to make sure Democratic voters in this district understand that when Bernadette Ferrara calls herself 'a different kind of Democrat' – she means a Republican," Carpenters for Progress Treasurer Paul Capurso said in a press release. 
The PAC previously told City & State it would also be spending on Council Member Julie Won in District 26 in western Queens and candidates Al Taylor in District 9 in Harlem and Chris Banks in District 42 in East New York.
Labor Strong 2023, another super PAC aligned with five major unions, has reported spending $56,000 so far on digital ads and a mailer backing Velázquez. The group – with funding so far from the Hotel and Gaming Trades Council, the New York State Nurses Association and the Communications Workers of America – also reported a similar spend for Council Member Linda Lee in District 23 in eastern Queens. Labor Strong has also reported backing Council Members Lynn Schulman in District 29 in Central Queens and Pierina Sanchez in District 14 in the West Bronx. And they're supporting challengers Isis McIntosh Green, who is taking on Council Member Darlene Mealy in District 41 in North Brooklyn, and Chris Banks, who is challenging Council Member Charles Barron in District 42 in East New York. A source with knowledge of the plans said Council Members Carmen De La Rosa, Kevin Riley, Shekar Krishnan, Jennifer Gutiérrez and Justin Brannan will also get support.
Labor Strong, which also includes 32BJ SEIU and District Council 37, plans to spend $1 million on the Democratic primaries alone. The coalition is closely aligned with Council Speaker Adrienne Adams and is focusing its spending on candidates aligned with her.
Moderate, pro-business super PAC Future NYC is also spending on Lee, telling the Daily News that polling showed a close race against former council staffer Steve Behar. It's also spending to support Council Member Lynn Schulman in District 29 in Central Queens, Jewish Insider reported. Future NYC is consultant Jeff Leb's latest venture, and he said it'll spend on Council Members Velázquez, Darlene Mealy, Kevin Riley and Shekar Krishnan, among some other potential targets.
And at least one super PAC is spending unconnected to an election. Council Member Shahana Hanif is unopposed in the primary, but a conservative coalition aligned with the pro-Israel New York Solidarity Network is running an ad campaign calling her too extreme. Jewish Insider first reported SAFE NYC's plan, but the independent expenditure committee has not formally reported any contributors or spending yet.
Hanif, who is Muslim, is one of six council members who did not vote to support a resolution to declare an End Jew Hatred Day in New York City, and her position on reducing police funding aligns with many other progressive members. But SAFE NYC is only targeting Hanif, currently, with the hope that the message will resonate in her Park Slope-centered Brooklyn district.
That's not the only super PAC going negative, however. The Police Benevolent Association has reported spending more than $22,000 each on digital ads and box trucks opposing Barron and Christopher Marte in lower Manhattan.
Powered By
NEXT STORY: Who's looking at Assembly Member Daniel Rosenthal's seat?