News & Politics
Driscoll again faces criticism as confirmation vote approaches
The interim New York Power Authority chief is a former lobbyist with a mixed political history, irking climate advocates.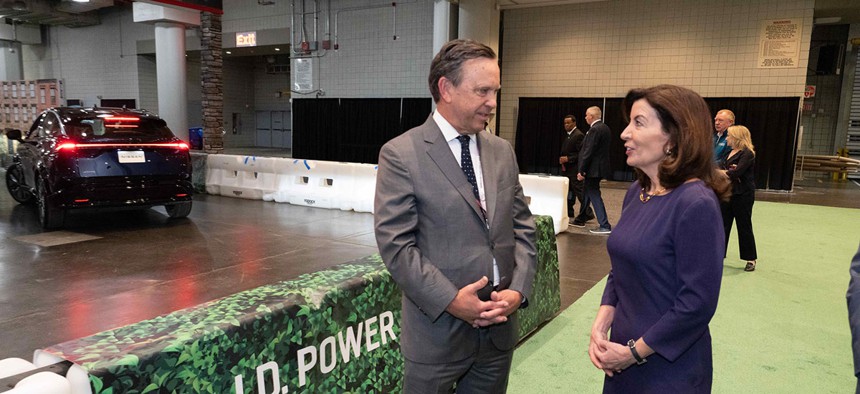 Gov. Kathy Hochul's pick to lead the New York Power Authority, the state's public energy provider, is expected to receive a confirmation vote next week before lawmakers head home for the year. But some climate advocates have lobbied against Justin Driscoll since his nomination nearly a year ago, and at least one state senator has renewed the push for his rejection.
After Gil Quiniones stepped down in October of 2021, Driscoll has served as the interim CEO of NYPA for over a year, with Hochul recommending that he take over the role permanently after the end of the legislative session last year. The state Senate typically does not vote on nominations that are not time sensitive after breaking for the year, and is now going through a bevy of gubernatorial nominations in the final days of the scheduled session. Driscoll is expected to be on the agenda next week as lawmakers make their way through the backlog. He first needs to be voted out of the Energy and Finance Committees before the full Senate can weigh in. 
Socialist state Sen. Jabari Brisport on Thursday released a statement opposing Driscoll's confirmation, comparing it to the failed nomination of a moderate judge to lead the state Court of Appeals earlier this year. "Like her nomination of Hector LaSalle, Governor Hochul wants a right-wing corporate accomplice to lead a vital institution with a vision antithetical to New Yorkers' values," Brisport said. "Justin Driscoll is not an acceptable option to become the official head of NYPA." He claimed that Driscoll has made money from the fossil fuel industry by working for the firm Brown & Weinraub, has donated to the GOP and provided power discounts to Amazon. 
The opposition to Driscoll is not new. Last year, after Hochul nominated him, state Sen. Julia Salazar tweeted that she "wouldn't be able to support Justin Driscoll's nomination." Fellow socialist state Sen. Kristen Gonzalez, who at the time had won her primary in a heavily Democratic district but had not yet taken office, also said she would vote against Driscoll. Brisport offered his first public opposition at around the same time. Salazar has not commented on Driscoll in more recent days, and the trio so far remain the only state senators to publicly say they would not support his nomination.
Though the opposition isn't novel, circumstances this year have shifted. For one, progressives have already successfully killed a major gubernatorial nomination this year. For two, lawmakers passed the Build Public Renewables Act – which Driscoll opposed – as part of the state budget this session. Among other things, the law will require NYPA to ramp up its green energy production and step in where the private sector is falling short in order for the state to meet its climate goals. Driscoll had said that the agency did not have the capability to meet the requirements of the bill last year, and further said mandating NYPA to step in was unnecessary. 
Campaign finance records also show that Driscoll indeed donated to Republicans, and in greater sums than he did to Democrats. And before entering government service, Driscoll worked as a lobbyist at Brown & Weinraub, a powerful lobbying and government relations firm in Albany that has represented the interests of fossil fuel companies as part of its broad portfolio.
Progressives managed to kill Hochul's most prominent nomination of her tenure so far when they successfully coalesced opposition to her chief judge pick LaSalle earlier this year. But with only three lawmakers on the record so far opposing Driscoll, it seems unlikely that they'll have a repeat performance even if controversy surrounding his nomination may lead to some heated questioning and debate during the confirmation process. 
Hochul has repeatedly defended her pick of Driscoll. "At a time when New York is leading the fight against climate change and rapidly transitioning to clean energy, NYPA needs strong visionary leadership at the highest level," Hochul said in a press release announcing her recommendation of him for the role last year. "Justin Driscoll brings that expertise to lead the nation's largest state-owned utility and harness New York's energy resources to support our climate goals and promote economic development." When Driscoll first faced criticism, a spokesperson for the governor said Driscoll has "stellar qualifications and (a) proven ability to lead the Authority's transition to a carbon-free electric utility."