Campaign Confidential
Fightin' in Brighton (Beach): Inna Vernikov questions Ari Kagan's GOP credentials
The two New York City Council Republicans are supporting primary challenges against each other.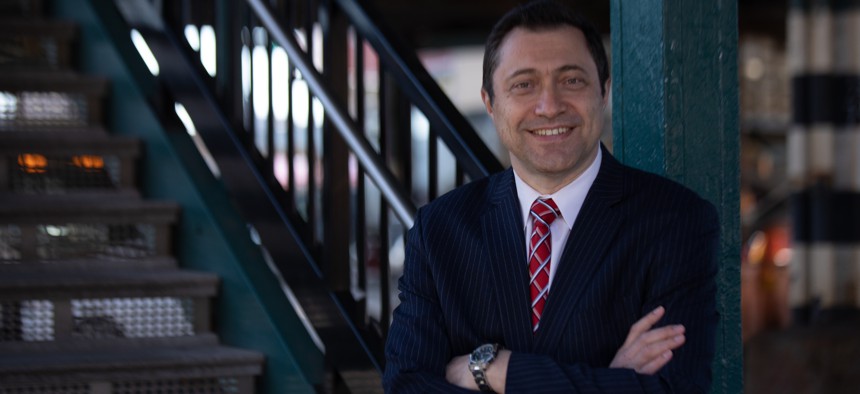 This story is from the Campaign Confidential newsletter, relaunched for 2023. Want it in your inbox? Sign up here. And check out the whole email here.
New York City Council Member Inna Vernikov's Twitter snipes at fellow Republican Council Member Ari Kagan on June 2 were just the most public showing of the ongoing grudge between two of the six members of the minority conference.
In fact, Vernikov helped recruit Anna Belfiore-Delfaus all the way from Staten Island to run against Kagan in the District 47 primary, while Kagan is with Igor Kazatsker over Vernikov in District 48. Kazatsker, like Kagan, is a close ally of southern Brooklyn macher Gregory Davidzon – who Kazatsker finally started reporting payments to, after Vernikov filed a complaint. 
So it didn't come out of nowhere when Vernikov questioned Kagan's GOP credentials, when he was just trying to answer a question about whether recent migrants can vote. (No.) "You're not a plaintiff on that lawsuit with the rest of us Republicans," Vernikov said. "Oh oops I forgot you were not a Republican on that day yet," adding he "never even stepped foot into the Republican suite (in City Hall) before you became a Republican overnight." Kagan, of course, switched parties in December, conveniently soon after another round of election results made it clear his constituents were favoring the GOP. Kagan played it cool on Twitter, saying Vernikov shouldn't be "trolling on a fellow Jewish legislator," and declining to point out that she herself was a registered Democrat who was friendly with Kagan before she launched her 2021 campaign – a campaign where Kagan, despite that, backed her Democratic opponent Steve Saperstein.
So the two Russian-speaking council members, both immigrants from the former Soviet Union, are not united. But Republican leader Joe Borelli claimed it'll all work out: "I am confident we will be returning two incumbent members of our conference come November. – even if they won't be riding a tandem bicycle on the boardwalk anytime soon."
Powered By
NEXT STORY: NYPD commissioner resigns amid tension with Mayor Eric Adams