Campaigns & Elections
Susan Zhuang declares victory in southern Brooklyn City Council seat
Zhuang defeated Wai Yee Chan and Stanley Ng in the Democratic primary, setting her up for a competitive general election in November.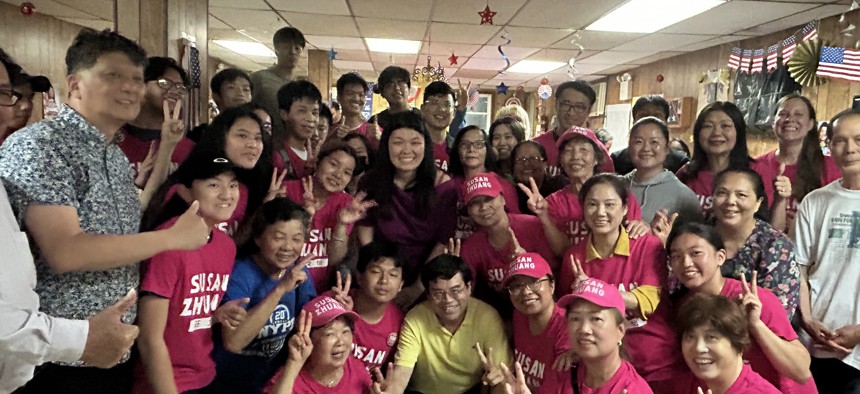 Susan Zhuang declared victory in the Democratic primary for southern Brooklyn's new Asian American majority seat soon after polls closed on Election Day. The chief of staff to Assembly Member William Colton, Zhuang captured 59% of the vote with over 95% of scanners reported, outperforming fellow Democrats Wai Yee Chan and Stanley Ng, and teeing herself up for a competitive general election in November.
Zhuang was surrounded by ecstatic supporters in hot pink campaign gear at the headquarters of southern Brooklyn's United Progressive Democratic Club, where backers Colton and former City Council Member Mark Treyger joined in the celebration. Soon after declaring victory, Zhuang received a congratulatory call from Mayor Eric Adams' chief adviser Ingrid Lewis-Martin.
"I really care about our community, this is our home," Zhuang told City & State on Tuesday night, gesturing to her two young daughters occupying themselves watching something on a phone. Zhuang, a Bensonhurst resident, recently moved back to the district from Indiana. "I want the streets clean, I want to make sure we have good education for all our kids, and I want to make sure all the community has someone to take care of them," she said. "I want to be the person to take care of the community." Zhuang is currently on unpaid leave as Colton's chief of staff, the Assembly member said.
Despite the celebration, Zhuang was aware that the competition isn't over. While Democratic voter enrollment far outnumbers Republican enrollment in the district, the area has tilted right in recent elections. In the 2021 mayoral election, Republican candidate Curtis Sliwa won roughly 60% of the vote. Zhuang said that she'll employ the same hard work in November that powered her through this competitive primary.
"This is a battleground, there's no question about it," Treyger said. "But I am confident that if she continues to do the things she did to get to tonight, she'll be victorious in November."
City Council District 43 was created through the recent redistricting process, with the goal of creating a new majority Asian American district given the rise in the population over the past 10 years. The district is about 54% Asian, according to data compiled by the Center for Urban Research at The CUNY Graduate Center. Zhuang said that it's especially important to serve the immigrant community, address the concerns of small-business owners and expand language access.
Wai Yee Chan, who was backed by other southern Brooklyn fixtures, including City Council Member Justin Brannan and state Sen. Iwen Chu, was expected to perform well in Tuesday's election, but quickly fell behind, with about 31% of the vote. Stanley Ng captured about 10% of the vote.
The three Democratic candidates shared common ground on some major issues, including prioritizing public safety, supporting the city's specialized education programs and naming small-business services as a top issue. Any of the three Democrats would have been one of the more moderate members of the council's Democratic conference if elected, noting that they wouldn't join the Progressive Caucus.
"She strongly, strongly supports the police, strongly supports Gifted and Talented programs, she supports specialized high schools," Treyger said. "And she's not afraid of the reaction of some from her party that might have different views. She calls it the way she sees it."
Elsewhere in the district, Republican primary candidates Vito LaBella and Ying Tan were locked in a close race. With more than 95% of scanners reported, Tan led with 51% of the vote and LaBella was behind by 26 votes at about 47%.
Powered By
NEXT STORY: 2023 New York City district attorney primary election results