2023 elections
Yusef Salaam of the Central Park 5 is heading to the City Council
He has gone from prison to exoneration and now to elected office.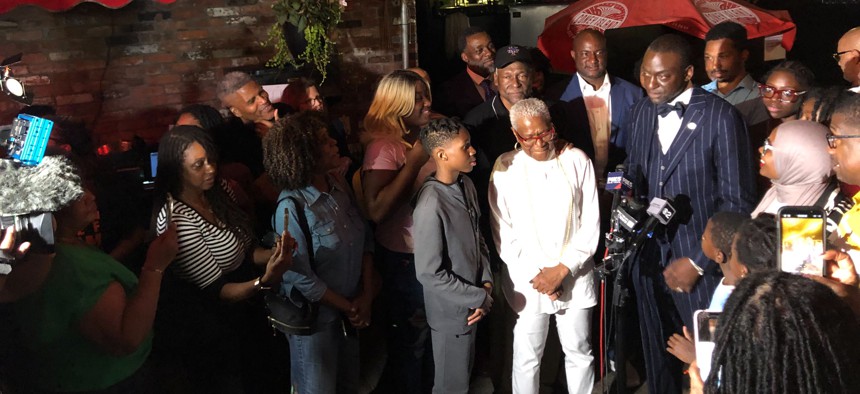 From prison, to exoneration, to the New York City Council, Yusef Salaam is on track to take one of the unlikeliest paths to City Hall of anyone in history. 
"What has happened on this campaign has restored my faith in knowing that I was born for this," Salaam said Tuesday night at his victory party at Harlem Tavern.  
Salaam is one of the Central Park Five, later known as the Exonerated Five, who were Black and Latino teenagers wrongly imprisoned for seven years, charged with raping and robbing a white jogger. He's since toured the world as a motivational speaker, and has never run for office before. 
But in the Democratic primary, Salaam defeated two sitting Assembly members, Inez Dickens and Al Taylor. He is now all but guaranteed to claim the Harlem City Council seat held by Kristin Richardson Jordan, who dropped her reelection bid.
Salaam pitched himself as the change candidate, and more progressive alternative to the two incumbents. "I am not a seasoned politician. So therefore this was not politics as usual," he said Tuesday night, repeated an oft-used line. But that's an understatement. While Salaam had advocated for some policies at the state level before, he had no experience in city politics. In an interview with City & State, Salaam said he'd never been to a council meeting, and could not say how many members were in the body (51) or roughly how large the city budget is ($107 billion). 
But that doesn't matter to most voters. Salaam had just over 50% of first place votes according to election night results from the New York City Board of Elections. Dickens had 25%, Taylor 14% and Richardson Jordan – who remained on the ballot – got 9%. 
"He was the prodigal son that has returned. And he was authentic. He is authentic," Manhattan Democratic Party boss Keith Wright, a top supporter of Salaam's campaign, said at the party. "And when Yusef speaks at City Hall, he will speak with a national voice."
Wright is a longtime political leader in Harlem, but he took a chance on Salaam in this case, helping recruit him from his home in Stockbridge, Georgia, to come back to Harlem and run. Dickens, who previously held the City Council seat for 11 years, was widely considered the favorite in the race, with high profile endorsements from Mayor Eric Adams, Rep. Adriano Espaillat and the United Federation of Teachers.
If elected, Salaam would be one of the first Muslims to serve on the council, following state Sen. Robert Jackson and Council Member Shahana Hanif. When Salaam was campaigning Tuesday, a man approached him on Malcolm X Boulevard, wishing him a happy Arafat – a Muslim holiday preceding Eid al-Adha. "I know you're going to win," he said. "Inshallah," Salaam responded.