New York State
Hochul hauls in big real estate money
A who's who of developers maxed out their contributions to the governor.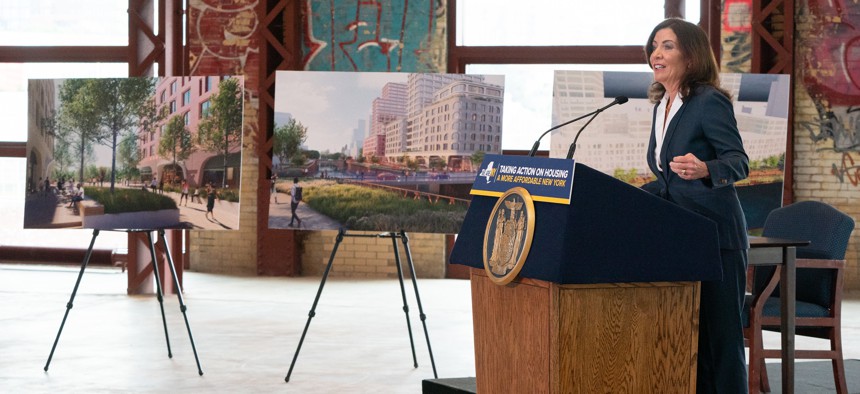 Gov. Kathy Hochul is already moving full-steam ahead with fundraising for her 2026 campaign, hauling in $4.5 million in the past six months, an impressively high number for this reporting period. And like in the past, when Hochul brought in tens of millions from the state's top donors before her first election, the governor's disclosures are a who's who of major real estate moguls. Hochul collected $90,000 cumulatively from the Rudin family, who boast controlling "one of the largest privately owned real estate companies" in the city on their company website. Others who already maxed out their donations to Hochul at $18,000 include Scott Rechler of RXR, Jeff Blau of Related (whose wife also maxed out), Wendy and Douglas Eisenberg of A&E, Marc Holliday of SL Green, real estate developer Henry Elghanayan (with $9,000 a piece from two other members of his family) and Dan Tishman of Tishman Realty. The Durst Organization and six of the Dursts themselves also gave a combined $14,500, but none came close to maxing out individually – yet.
Hochul of course received plenty of donations from others not in the real estate industry, and titans of the industry have long been heavily involved in politics, with its lobbying arm REBNY one of the largest power players in Albany, offering staunch opposition to strengthening protections like rent stabilization. But real estate and development became a focal point last year when Hochul laid out an ambitious plan to build more housing, while lawmakers refused to budget without tenant protections. According to a report from New York Focus, REBNY played a role in proposing scaled back tenant protections to the governor this year. In the end, very little passed related to housing, real estate or development before lawmakers left for the year. Hochul on Tuesday announced new executive housing to spur housing growth instead, although her order has already received a mixed response from labor, while tenant advocates lamented the lack of new protections.