Heard Around Town
Report: NYC unable to process most welfare applications on time
Timely processing of cash assistance and SNAP applications continued to drop in the last fiscal year, according to the Mayor's Management Report.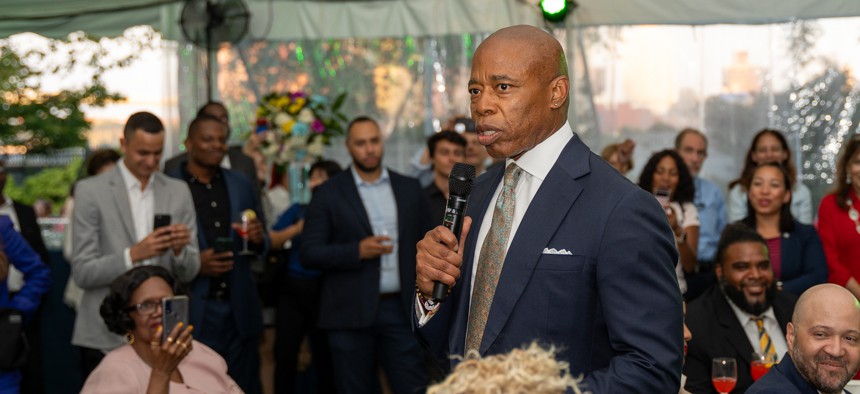 Timely processing of applications for Supplemental Nutrition Assistance Program and Cash Assistance benefits dropped significantly from fiscal year 2021 to 2022. But in this last fiscal year, it plummeted even farther. Between July 2022 and June 2023, timely processing of applications for SNAP benefits and for cash assistance dropped by roughly 20 and 54 percentage points, respectively, over the previous year, according to the Mayor's Management Report.
On Friday afternoon, Mayor Eric Adams' office released the 500-plus-page report, which tracks more than 2,000 performance indicators for individual city agencies, shedding light on exactly what stuff the Adams administration is getting done.
One of many key takeaways: the city is struggling to promptly process applications for SNAP and cash assistance benefits. Timely processing of SNAP benefit applications declined from 60.1% in fiscal year 2022 to 39.7% in the last fiscal year, while timely processing of cash assistance applications dropped from 82.3% to 28.8% over the same period. One caveat: the criteria for timely processing of some cash assistance applications was shortened from 45 days to 30 days partway through the year, making it difficult to directly compare this year's timeliness rate to that of prior years.
The report attributed the worsening processing times to a combination of the growing number of applications, a backlog of recertifications, and staff attrition and retirements. Although the report noted that the Human Resources Administration is taking "aggressive action to fill critical vacancies," that work could come to an abrupt halt under a hiring freeze set to go into effect next month.
The report also found that the number of individuals and households receiving SNAP benefits increased slightly and remains at the highest it's been in recent years, largely due to the ongoing impacts of the COVID-19 pandemic. The number of individuals and households applying for cash assistance also grew significantly, increasing by about 30.7%.
A spokesperson for City Hall noted that more New Yorkers than in recent years are accessing these critical benefits. "DSS continues to aggressively hire, train, and redeploy staff, implement process improvements, and streamline our highly effective remote processes to bolster Cash Assistance and SNAP processing and ultimately get these benefits to New Yorkers in a timely manner," the spokesperson said in an emailed statement. "In order to address the unprecedented challenges arising during the pandemic, the city cooperatively negotiated an agreement under which the city will reach substantial compliance with timeliness for Cash Assistance and SNAP benefits by March 2024."
Powered By
NEXT STORY: Who's running to unseat Nick LaLota in NY-1?