News & Politics
Republican council candidate harasses Queens elected officials
Jonathan Rinaldi threatened his Democratic opponent and has been charged with trespassing for refusing to leave other politicians' offices.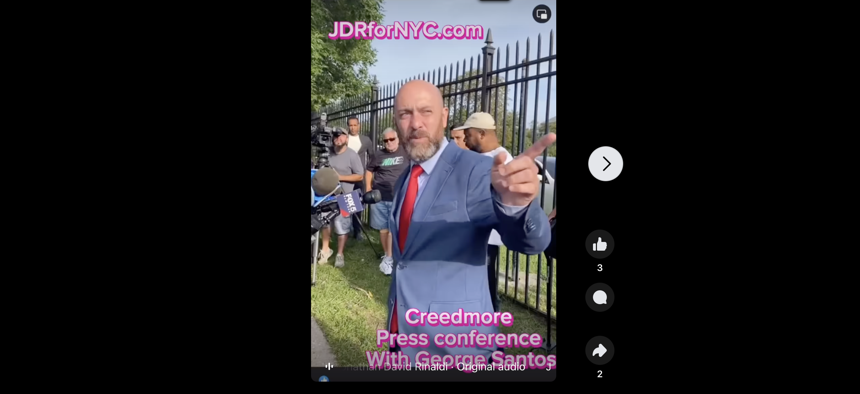 A Republican candidate for New York City Council in Queens has repeatedly harassed Queens Democrats and other elected officials across the city, to the point where the police have been called on him multiple times and he has faced charges of trespassing.
In August, Jonathan Rinaldi – an anti-vaccine activist and self-described journalist who is running as the Republican nominee in City Council District 24 – aggressively confronted his opponent, Democratic Council Member James Gennaro, and challenged him to a debate. Gennaro then referred to him as a white supremacist, and Rinaldi exploded at him. 
"You talk to me like that, I'm gonna catch you outside and make you, show you what a white supremacist is!" he yelled at Gennaro, according to a video of the encounter published on social media. When Gennaro responded that Rinaldi seemed to be threatening him, Rinaldi said,  "Yeah, you better believe it's a threat. You want to insult me? I'll whoop your ass!"
Rinaldi's encounters with Gennaro and other elected officials are not hidden; he has posted videos of every one on his TikTok or Instagram accounts. 
In an interview with City & State, Rinaldi denied ever making threats against any lawmaker or public official and described a conspiracy to silence him. "I'm getting close to the money and that's why they're coming after me," Rinaldi said. "There's an election in November, why would I call and make threats? That's insane." Asked specifically about threatening Gennaro, Rinaldi first claimed what he said was not a threat and then called Gennaro "a snowflake."
Rinaldi has also approached Queens Borough President Donovan Richards on multiple occasions, both in public and at his office. On one occasion in July, Rinaldi showed up at Queens Borough Hall, asking to see Richards' oath of office and the contract for a migrant shelter in the borough. Rinaldi refused to leave after being asked by staff and police officers in the building. 
A video posted in August shows Department of Citywide Administrative Services police officers informing him that "the borough president's people" had filed a misdemeanor complaint against him for aggravated harassment and sought an order of protection against him. Richards' office told City & State that it would not comment on Rinaldi. 
Assembly Member Nily Rozic's office also called the police on him after he showed up at her office in August and refused to leave, Rinaldi said. He returned the next day to try again, and no one answered his knock on the door. "(Rinaldi's) belligerent behavior is disruptive and he was removed from my office by law enforcement on at least one occasion," Rozic said in an emailed statement. "Since then, his continued threatening behavior of lawmakers in various settings only serves to corroborate his unsuitability for public office."
On Monday, Gennaro posted on Facebook that "at the direction of the NYPD Intelligence Division," the outer door of his district office would remain locked and directed constituents to knock to receive assistance from staff. The post also said that constituent services required a prior appointment. "I am not at liberty to discuss the details of why the police are engaged in this matter," the post reads. "My office is not the only elected official's office affected by this situation." Gennaro declined to comment to City & State.
Rinaldi's dozens of videos also show him attempting to deliver papers to a variety of elected officials and city offices, including Manhattan Borough President Mark Levine, New York City Comptroller Brad Lander, Assembly Member David Weprin and Council Member Linda Lee, the New York City Clerk's Office and the Department of Homeless Services. 
In one video, filmed outside the offices of the Department of Homeless Services in July, Rinaldi says that he was handcuffed and issued a criminal court appearance ticket for trespassing. "They told me that they were just following policy, and I refused to leave because I don't follow policy. But they decided to put me in cuffs and detain me…and they trespassed me," he says in the video. 
In August, Rinaldi went to the lobby of a former hotel that had been converted to a shelter and refused to leave or stop filming until police were called. In September, he appeared outside the Creedmoor migrant shelter and asked migrants there to show him their identification, before being told by security that he couldn't do that. 
Rinaldi sent City & State images of two criminal court appearance tickets for trespassing, both of which he said were later dismissed. One came from his visit to the Department of Homeless Services. The other came after he began yelling at Richards, Rep. Grace Meng and Mayor Eric Adams at a parade in August.
A police spokesperson told City & State that Rinaldi has two arrests on his record. Last week, he was arrested and charged with felony burglary. Rinaldi confirmed that a burglary arrest recently landed him in central booking. He said police arrested him after he, another Council candidate and the owner of a food pantry broke into the food pantry after the landlord locked them out on Sept. 30.
In 2020, Rinaldi was arrested for assault in connection with a domestic dispute. Asked about this arrest, Rinaldi said in a text message that the "NYPD has a history… of making up charges."
"Everything they charge me with gets dismissed," he added.
Rinaldi's videos can border on the conspiratorial. Rinaldi often suggests that the elected officials are illegitimate because their "oaths of office" are not properly notarized as they do not have an accompanying affidavit (which is not actually a requirement under city, state or federal law). He also accuses politicians like Richards and Adams of supporting "child trafficking" and "child prostitution," language that evokes far-right QAnon conspiracy theories, and refers to the police officers who are called to remove him as "oathbreakers."
Although Rinaldi is the Republican nominee in the general election for City Council District 24, his relationships with other members of the party are strained. A video from July shows him being refused entry to the Whitestone Republican Club where Council Member Vickie Paladino is speaking. Stefano Forte, the vice president of the club and Paladino's campaign manager, tells Rinaldi that he is no longer allowed into the club's events. "You rushed the stage last time, you're not coming in, I'm sorry," he says. (Forte did not respond to a request for comment.) 
Rinaldi did, however, appear at a rally with Republican Rep. George Santos to protest the use of the Creedmoor Psychiatric Center's campus in Queens to shelter asylum-seekers.
As of Aug. 25, Rinaldi's campaign reported receiving $582 in private donations and spending $7,630, putting it more than $6,700 in the red. (After this article was published, Rinaldi told City & State that his campaign only appeared to be in serious debt because he had accidentally recorded a $64.83 gas bill as a $6,483 expense in a report to the campaign finance board.)
Before running for office, Rinaldi was best known as a reality TV show star, anti-vaccination activist and prolific sperm donor who fathered more than a dozen children.
Powered By
NEXT STORY: Will NYC's nonprofit procurement process ever be functional?