2024 New York congressional battleground
Who's running in NY-19?
The upstate swing district will be host to a rematch come next November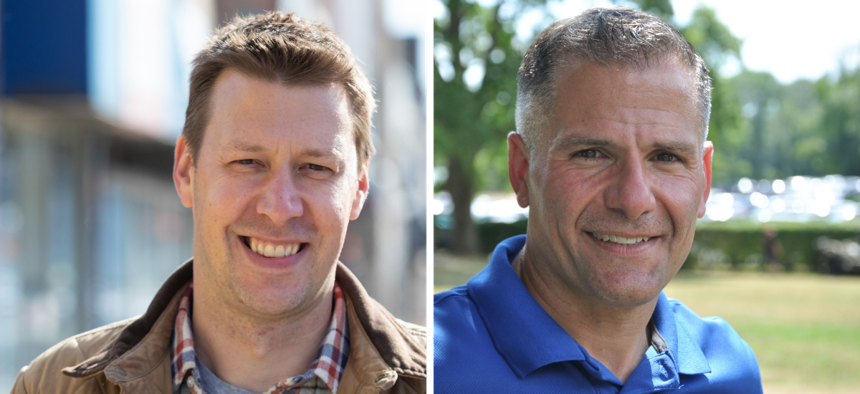 The 19th Congressional District sprawls over much of upstate New York, covering Broome, Chenango, Columbia, Cortland, Delaware, Greene, Sullivan, Tioga and Tompkins Counties and parts of Otsego and Ulster Counties. A diverse area, it includes endless tracts of farmland, Cornell University and urban centers like Binghamton. 
The district is set for a rematch next year as Democratic challenger Josh Riley faces incumbent Republican Rep. Marc Molinaro. 
In 2022, the vote counting extended into the next afternoon as Riley hoped in vain for uncounted votes to come his way. Molinaro ended up winning by a small but definitive margin after previously losing a close special election to U.S. Rep Pat Ryan before redistricting went into effect. 
The 19th Congressional District flipped several times before Molinaro was elected. Before Ryan and then-Rep. Antonio Delgado, who left the seat to become lieutenant governor, the district was also represented by Republican Reps. Chris Gibson and John Faso. President Joe Biden carried it by four points in 2020 after former President Trump took it in 2016. 
Here's a breakdown of candidates for the district. 
Rep. Marc Molinaro
Molinaro won his seat amid a red ripple in New York, his district one of many to flip during midterm elections. Before Congress, he was the Dutchess County executive for 11 years. He also served in the Assembly, Dutchess County Legislature and as mayor of Tivoli, being elected to the position when he was still a teenager. He also made an unsuccessful bid for governor in 2018.
After beating Riley in 2022, Molinaro has been a mixed bag while in office. He crossed the aisle with his former opponent Pat Ryan to advocate for small farmers ahead of the reauthorization of the Federal Farm Bill and has also supported an investigation into Biden that other GOP Congress members hoped would lead to the president's impeachment. Recently, Molinaro withdrew his support for U.S. Rep. Jim Jordan to be speaker as House Republicans try to find a replacement for Rep. Kevin McCarthy. 
Molinaro's roots in the region are questionable. He moved to Catskill in September, making the switch from Red Hook months after taking office.
Josh Riley 
Riley is an Endicott native. After spending time as a staffer for Rep. Maurice Hinchey, he served as counsel for the Senate Judiciary Committee while working in former Sen. Al Franken's office. After working in private practice, he returned to New York in 2021 to begin campaigning. The time he spent in D.C. led Molinaro's campaign to suggest in 2022 that Riley was a carpetbagger, referring to him in releases as "Josh Riley (D-Washington, D.C.)." 
The Harvard-educated attorney has marketed himself as a true upstater with grassroots support and highlighted his working-class upbringing in campaign materials. He is also a strong fundraiser, outraising Molinaro since he announced his campaign in April.
Riley's platform is focused on revamping the region's economy and progressive reforms like gun control and deemphasizing the role of law enforcement in mental health calls. He told City & State that Molinaro's support of Jim Jordan and his general associations with extremists should be of concern to voters and could be his opponent's undoing.