Politics
AOC, other progressives call on Columbia University to reinstate pro-Palestine groups
Members of Congress, state legislators and City Council members are asking the Ivy League university to reinstate Students for Justice in Palestine and Jewish Voice for Peace, which were suspended following an unauthorized protest.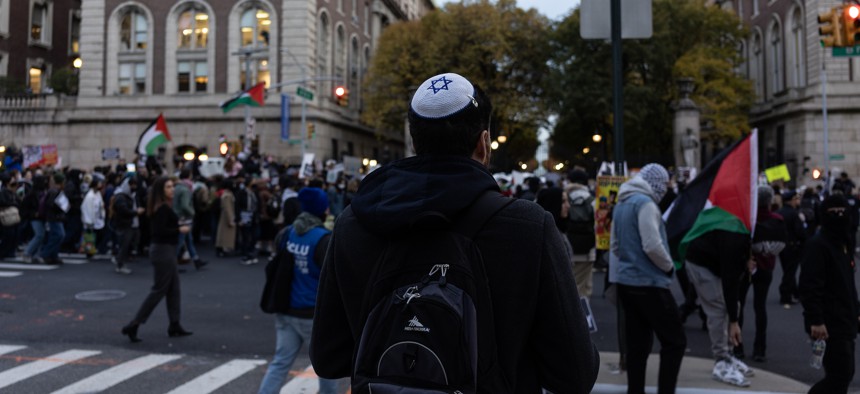 More than 20 progressive elected officials sent a letter to Columbia University on Friday calling on the university to reinstate Students for Justice in Palestine and Jewish Voice for Peace. Last week, the Ivy League university suspended the two student groups for holding a nonviolent but unsanctioned protest demanding a ceasefire in Gaza.
"On behalf of the Columbia community and our constituents, we, as elected officials from New York, urge you to reverse your decision to suspend Jewish Voice for Peace ('JVP') and Students for Justice in Palestine ('SJP') as social student groups through the fall term. … We support the University's stated desire to maintain an atmosphere that is safe and free of hate; however, suspending these student groups based on the pretext of 'safety' does the opposite," reads the letter, which was shared exclusively with City & State.
The letter's signatories include Reps. Alexandria Ocasio-Cortez, Jamaal Bowman and Nydia Velázquez; state Sens. Kristen Gonzalez, Jabari Brisport, Julia Salazar and Robert Jackson; Assembly Members Zohran Mamdani, Phara Souffrant Forrest, Marcela Mitanyes, Sarahana Shrestha, Emily Gallagher, Jessica Gozález-Rojas and Harvey Epstein; and New York City Council Members Alexa Avilés, Tiffany Cabán, Jennifer Gutiérrez, Shahana Hanif, Sandy Nurse, Charles Barron and Kristin Richardson Jordan. Three of the signatories actually attended Columbia University: Avilés, Gonzalez and Salazar.
Elected Officials Letter to... by City & State New York
"Protests, dissent, critical inquiry, freedom of speech is really important on a campus like Columbia, and every university college campus," Avilés told City & State. "I think the university is mistaken in suspending events for these two groups."
"We reject antisemitism and Islamophobia in all of its forms, and we want every student on campus to feel safe," Gonzalez said in a statement. "That's why as a Columbia Alum, I was disappointed to hear that these groups were disbanded as a result of a peaceful silent protest on campus. The university has a vibrant history of activism and to honor that history we hope the university reverses its decision and instead commits to creating an environment where students are free from hate and free to protest." 
The letter was organized by the Democratic Socialists of America and the leftist Jewish group Jews for Racial and Economic Justice, two organizations that have been heavily involved in pro-ceasefire protests across the city which critics have labeled "antisemitic."
The letter is the latest flashpoint in ongoing controversies related to Israel's war in Gaza. In the weeks since the Oct. 7 Hamas attack, many New York politicians have offered unqualified support to Israel. But as the death toll from Israel's invasion of Gaza City has increased, a growing number of progressive politicians have begun calling for a ceasefire. In turn, many of the politicians supporting a ceasefire have been accused of antisemitism.
"Unfortunately, I have already been accused of antisemitism," Avilés said. "Which is deeply disturbing to me as someone who holds all people sacred, and has done a lot of work to hold the dignity of Jewish community – members of an oppressed group, much like Latinos and other people of color." 
Columbia University has long found itself at the center of controversy over Israel and Palestine. The university has a large number of Jewish students, many of whom are very supportive of Israel. But its student body is also famously liberal, and its faculty has been home to some of the most well-known Palestinian professors in the world.
In the aftermath of the Hamas attack, conservatives have criticized Columbia University's administration for being too tolerant of students' criticism of Israel. On Oct. 30, one member of Columbia Business School's board even resigned, complaining of "blatantly anti-Jewish student groups and professors allowed to operate with complete impunity" by the school.
On Nov. 9, Students for Justice in Palestine and Jewish Voice for Peace held a student walkout and silent protest on Columbia's campus. The next day, Columbia's administration formally suspended the two groups for the rest of the semester, preventing them from receiving any university funding or holding events on campus.
"This decision was made after the two groups repeatedly violated University policies related to holding campus events, culminating in an unauthorized event Thursday afternoon that proceeded despite warnings and included threatening rhetoric and intimidation," Gerald Rosberg, Senior Executive Vice President of the University and Chair of the Special Committee on Campus Safety, wrote in a message announcing the suspensions.
The reference to an "unauthorized event" struck some Columbia students and alumni as a flimsy pretext, given the university's well-documented and celebrated culture of student protest. 
"Certainly, unauthorized events probably happen on the campus every single day," Avilés said. "It's been a part of its history." The Council member, who was a student at Columbia in the early '90s, recalled attending numerous protests organized by Black, Latino and Puerto Rican activist groups on campus. "There was a lot of political action at Columbia University, which is its tradition in the student body," she said.
Gonzalez said she also encountered a vibrant culture of student activism when she attended Columbia a quarter-century later.
"Whether it was related to Black Lives Matter or related to being a first-generation low income student or solidarity with our adjunct professors, there were walkouts when I was on campus," she said. "I was a part of a lot of different student protests while there for a lot of different causes."
Gonzalez, Avilés and the other signers of the letter criticized the university's portrayal of the demonstration by Students for Justice in Palestine and Jewish Voice for Peace as an event that threatened and intimidated students, pointing to the student newspaper's coverage of the protest.
"Unfairly implying that JVP and SJP protesters engaged in 'threatening rhetoric and intimidation' at the November 9th event – a suggestion refuted by multiple sources, including the Columbia Spectator – aligns with the dangerous narrative that those who express empathy for the lives and dignity of Palestinians, or who speak about the historical context of the Israeli occupation of Palestine, are antisemitic or inherently dangerous," they wrote. "This narrative has had harmful consequences at Columbia over the past few weeks: students have been doxxed, trucks have circled with their names as 'Columbia's Leading Anti-Semites,' and some students who expressed solidarity with the Palestinians – or were merely affiliated with student groups who have expressed such viewpoints – have had offers of employment withdrawn by employers."
The Columbia University administration's attempt to crack down on student criticism of Israel may have backfired. After Students for Justice in Palestine and Jewish Voice for Peace were suspended, other student groups rallied on their behalf. More than 40 student organizations joined a coalition called "Columbia University Apartheid Divest" to demand that the university cancel its satellite campus in Tel Aviv and divest its endowment from Israeli businesses. Meanwhile, progressive Jewish students formed an unofficial student group called "CU Jews 4 Ceasefire."
The controversy roiling college campuses has led to widespread accusations of antisemitism and Islamophobia and prompted the federal government to get involved. On Thursday, the federal Department Education's Office of Civil Rights announced that it was investigating six schools – including Columbia University, Cornell University and Cooper Union – for possible violations of Title VI of the Civil Rights Act of 1964, which prohibits harassment based on a person's race, national origin or shared ancestry. Earlier this month, Gov. Kathy Hochul announced an independent investigation led by former Chief Judge Jonathan Lippman into the City University of New York's policies regarding discrimination and antisemitism.
Avilés said that she believes universities like Columbia must ensure that all students feel safe, while making sure not to conflate antisemitic threats to Jewish students with criticism of Israel and support for Palestine.
"We've seen university campuses and other public institutions come down hard on people that have expressed solidarity with Palestine," she said. "We want to break through that because it is unfair, and holding first amendment rights is really important."
"Asking for a ceasefire is not a violent act," she added.