Albany Agenda
Antisemitism review at CUNY sparks anxiety for free speech, public education advocates
Gov. Kathy Hochul appointed former Chief Judge Jonathan Lippman to look into discrimination at New York City's public colleges.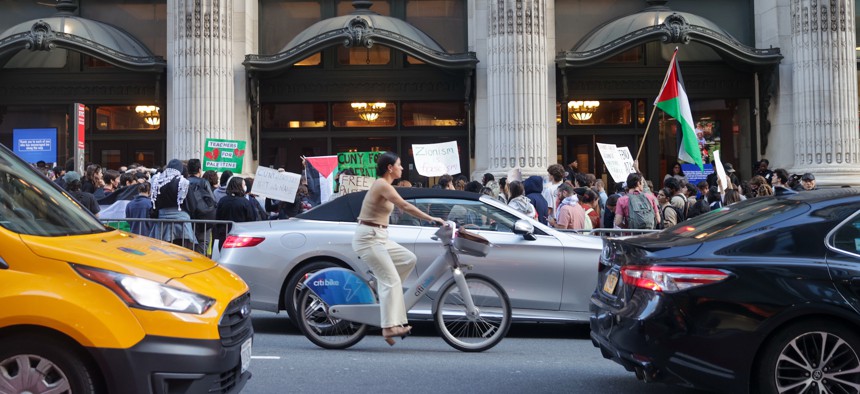 With a growing number of antisemitic incidents across the country and a high number of alleged instances on college campuses including in New York, Gov. Kathy Hochul last week announced an independent review of the City University of New York's policies around antisemitism and discrimination. Although many elected officials praised this and other measures she unveiled on Tuesday to combat antisemitism, Islamophobia and hate amid the ongoing Israel-Hamas war, some cautioned against using the review to stifle free speech at public college campuses in New York City. 
During an address to the public, delivered virtually without the opportunity for press to ask follow-up questions, Hochul said that former Court of Appeals Chief Judge Jonathan Lippman would head up the third-party review of CUNY policies around antisemitism and discrimination. "The problem (of antisemitism on college campuses) didn't begin with the weeks following the October 7 attacks," Hochul said. "It's been growing on a number of campuses, it seems most acutely in the City University of New York." She did not offer any specific examples to back up her claim that antisemitism has grown "most acutely" at CUNY, the public college system serving more than 225,000 students in New York City, and a spokesperson declined to provide any additional context following the address. 
According to a press release following Hochul's address, the review is meant to "bolster (CUNY's) antidiscrimination (policies) and help protect Jewish students and faculty." It's expected to examine the "campus environment," the systems and procedures for investigation of antisemitism complaints, and the "consistency of treatment" of such complaints, while attempting to find an "appropriate balance of free speech rights." Lippman, whose law firm said he was unavailable for an interview, said in a statement that "fairness, and freedom from intimidation, for Jewish students and all others in CUNY's academic community, will be at the center of my review." Lippman previously led a landmark commission – recently revived – that came up with a plan to close Rikers Island jails by 2027. 
Without specifics from Hochul or her office, it's impossible to know whether she was referring to instances of alleged antisemitism tied to political speech critical of Israel and supportive of Palestinians, or if there are other incidents of antisemitism. But some are already concerned that the review will lead to the stifling of free speech critical of Israel on CUNY campuses under the guise of combating antisemitism. "The review of CUNY policies and procedures must affirm student and faculty rights to constitutionally-protected political speech, recognize the value of robust discourse and disagreement on the issues of the day, and differentiate between speech, including deeply offensive speech, and actual threats," New York Civil Liberties Union Executive Director Donna Lieberman said in a statement. "The Governor, school officials, and those conducting this review must recognize that criticism of the actions of the state of Israel and advocacy for Palestinian rights are protected political speech, and such speech alone must not be presumed to constitute anti-Semitism or harassment."
Lieberman's sentiments echoed those of an open letter from the ACLU to college and university leadership across the country cautioning them against blanket investigations of pro-Palestine groups. It came as a response from another open letter from the Anti-Defamation League and one other Jewish advocacy group that called on colleges to investigate chapters of Students for Justice in Palestine after alleging that they are providing "material support" to terrorist organizations. 
Others expressed concerns about the impact that a well-intentioned review of CUNY antisemitism policies could have on the publicly funded school. "Over the last 10 or 20 years or so, CUNY has faced calls for defunding or reduction in funding or has had to really fight for their funding, this being one of them," CUNY alum and Jews for Economic and Racial Justice organizer Jake Levin told City & State. He referred to calls to reduce funding for CUNY schools specifically tied to alleged antisemitism that came in the form of student or staff criticism of Israel. Republican Rep. Mike Lawler over the summer introduced legislation to rescind funding from schools that "promote antisemitism on their campuses" in response to a CUNY Law School commencement speech critical of Israel. Several Republican state lawmakers also called to defund CUNY in September over alleged antisemitism, saying that the public university "leads to a path of Jew hatred." "I've spoken about this with colleagues, that any excuse that the conservative members of the state Legislature could use to harm or starve our public institutions, public education, they might take advantage of that," Levin said.
Others, like the Zionist group Students and Faculty for Equality at CUNY, said the independent review is needed. "Nothing should be off the table," the group's cofounder Jeffrey Lax, a CUNY professor in Brooklyn, told NBC New York in a recent interview. "In other words, personnel should be looked at too, because how did those policies come about?" He asserted that antisemitism has become systemic and that it has gotten worse over the past month. "We get calls from parents, we get calls from students – our group – and we get asked questions like 'Is it safe to come to campus today?' when there might be a pro-Hamas rally happening on their campus," Lax said.
A spokesperson for CUNY said in a statement that the university system will cooperate with the review. "As an institution of higher learning and one of the country's most diverse universities, CUNY has taken many steps to combat hate, discrimination and intolerance in all forms, important work which we continue every day," the spokesperson said.
This is not the first time that CUNY has been targeted for review into antisemitism on campus. In 2016, the organization Zionist Organization of America demanded an investigation into whether the local chapter of Students for Justice in Palestine created a hostile environment for Jewish students. The report from two outside lawyers found no "unchecked anti-Semitism" on CUNY campuses and concluded that the pro-Palestine group was often blamed unduly for any antisemitism at the public universities. "It's great that Jews have received sympathy and understanding from elected officials, and there are real threats to Jews and there are real concerns," said Levin, who was a student in 2016. "But is antisemitism uniquely a problem at CUNY? I don't believe so, from my own experience."
Although Hochul did not highlight specific recent incidents of antisemitism at CUNY in her speech, claims of it on the public campuses have certainly grown in recent months, with the most notable instances of alleged hate speech coming from students and staff critical of Israel and supportive of Palestine. A May commencement speech from graduating CUNY Law School student Fatima Mohammed, a Yemeni immigrant raised in Queens, drew widespread outrage and condemnation for accusing Israel of "indiscriminately" attacking Palestinians through its bombing campaigns engaging in settler colonialism. Her criticism of Israel's actions, and of Zionist political ideology, led many to call her words hate speech and antisemitic. 
Weeks after the speech, only after it received front-page treatment from the New York Post, Mayor Eric Adams denounced Mohammed's words and the CUNY Board of Trustees released a statement condemning the address as hate speech. Since then, CUNY Law School quietly did away with the practice of allowing students to speak at graduation. 
Not long after the news about Mohammed's speech garnered widespread attention, the New York Post reported the City Council would launch a probe of antisemitism at CUNY and other city colleges. The impetus for that probe was a vote by CUNY Law staff to support the boycott, divestment and sanction movement, which progressives supporters say is a nonviolent means of holding Israel accountable for its treatment of Paletsitnians in Gaza and continued settlements in the West Bank, deemed illegal under international law. Supporters of Israel call the BDS movement antisemitic. More generally, many pro-Palestine or anti-Israel actions on CUNY campuses, both before and after the Oct. 7 attack by Hamas have drawn swift criticism as antisemitic or anti-Jewish. So far, over 8,000 Palestinians in Gaza, many of them children, are reported to have been killed since Israel declared war on Hamas.
In the wake of the Oct. 7 attack by Hamas in Israel that left 1,400 mostly civilians dead and more than 200 kidnapped, the most notable instances of antisemitism on a college campus came from Cornell, where police have arrested a student for allegedly posting violent threats against Jewish students to an online forum. Hochul began her Tuesday speech talking about that incident. Earlier in October, a Cornell professor also received backlash – and later took a leave of absence – for describing the Hamas attack as "exhilarating."