2024 New York congressional battleground
The cost-benefit analysis of a Bowman primary for Democrats? 'Not generally good'
Failure to coalesce behind the incumbent has cost Dems in the past, but state party leadership seems sanguine about the prospect of George Latimer coming for Rep. Jamaal Bowman.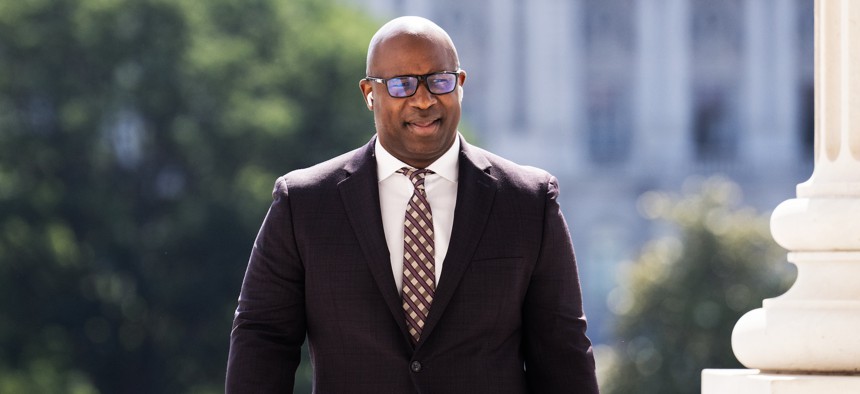 Primaries are a useful way to shift discourse within a party and introduce members to new ideas and coalitions. Other times they can be a vehicle to fight internal culture wars. Above all, they aren't cheap. 
Rep. Jamaal Bowman, a Democrat from Yonkers, has come under fire recently for his comments on the Israel-Hamas war. His past criticism of Israel and recent calls for a cease-fire have fed into a push for Westchester County Executive George Latimer to primary the two-term incumbent in 2024. In 2022, in the district next door, Democratic Rep. Sean Patrick Maloney lost to Republican Mike Lawler in the general election after Maloney spent big on a primary fight. While Bowman's district isn't as competitive, the primary would be expensive – and the distraction could impact other races in New York.
Political consultant Hank Sheinkopf said that the cost of every part of campaigning has gone up exponentially, from advertising to postage. He added that intra-party squabbles don't help Democrats. 
"It tells you that the parties have very limited control over what people do," Sheinkopf said. "Is a race like that where Latimer takes on Bowman good for the Democratic Party? The answer is no. Because what it does is create conflict between different portions of the Democratic Party that could result in long-term damage. Intra-party primaries, they're not generally good."
Bowman's comments on Israel could have consequences beyond the ballot box too, he said. 
"There's certainly differences in the (Democratic) Party about support for the Jewish state, so is that going to be important in a race? Yeah, it could be. Not only turnouts but in funding," Sheinkopf said. 
Of course, Bowman, who declined to comment for this article, was once an insurgent candidate himself. He spent more than $2 million in 2020 in the lead-up to his primary win against former Rep. Eliot Engel. In 2022, Bowman faced a few challengers in the 16th Congressional District including Westchester County Legislators Vedat Gashi and Catherine Parker. 
Latimer brushed off concerns about a damaging primary, saying a challenge to Bowman is starting to seem inevitable.
"I can't deny that there's legitimate unhappiness with the way he's conducted himself and his position," Latimer told City & State. "And if I don't run, somebody's going to run, and somebody's going to say, 'You have to answer for these positions.'"
Suzanne Berger, chair of the Westchester County Democratic Committee, said that she's received calls from some of Bowman's constituents who are concerned by his comments. 
Berger said the comments may have changed how he's perceived in Westchester County, of which his district makes up the southern half.
"I think that Congressman Bowman would have had and perhaps still has a large amount of supporters in the district. That's why he was elected and reelected," she said. "But Israel was never No. 1 on the agenda as it is today. It might have been five, or six, or seven on people's list of important issues. I think that's changed, and I think that has changed the dynamic markedly."
Latimer said he wouldn't announce his choice to run or not until mid-November, but if he does, it wouldn't be the first example of a Democrat complicating things for another Democrat in recent years. 
In 2022, then Rep. Sean Patrick Maloney announced he would run in the 17th Congressional District forcing former Rep. Mondaire Jones to shift down to a packed primary in the 10th Congressional District that Rep. Dan Goldman eventually won. 
Partly in response to Maloney's decision to change districts to the detriment of Jones, former state Sen. Alessandra Biaggi primaried Maloney. Though she lost, she did cause former DCCC Chair Maloney to go deep into his coffers. Maloney went on to lose to Lawler in the general – a race that was considered one of Democrats' major failures.
In the four months leading up to their Aug. 23 primary, Maloney spent over $950,000 according to Federal Election Commission filings. In 2020 when he wasn't primaried, Maloney spent less than $150,000 between April 1 and June 30, time he would have spent campaigning for the June 23 primary that year. 
Bowman's district is much more friendly to Democrats than Maloney's was. He won with more than 60% of the vote in 2022 and the district has voted for a Democratic presidential candidate each cycle since former President Bill Clinton.
The prospect of spending an additional million dollars during a primary still isn't ideal, however. 
Latimer said there's enough campaign money to go around in New York. "There are people who donate in primary time and then they make decisions about what they're going to do in the general election," Latimer said. 
Jay Jacobs, chair of the New York State Democratic Committee, said there is nothing wrong with a primary, assuming it's done for a good reason.
"It's a democracy, so people have every right," Jacobs said. "Now where I take issue is in frivolous primaries, where you don't have a chance of winning or where you believe that the candidate that's challenging if he or she wins, can't win the general. Then I think it's a waste of money."
Following Maloney's primary win over Biaggi in 2022, Jacobs told WAMC that she lost overwhelmingly because it was the wrong district for her and not her constituency. He added that progressive Democrats do well when there is "low-hanging fruit" and it is proven regularly in primaries that most voters prefer moderates.  
There's also a concerted effort to field candidates to replace Rep. George Santos after the GOP lawmaker from Long Island became embroiled in scandals. Democratic primary candidates hoping to flip the Third Congressional District have spent $1.2 million this year according to recent campaign filings.
A packed field could mean split resources for Democrats in the district.
"Obviously, we would prefer to rally behind one person, but there is no mechanism for that to occur," Jacobs said. According to him, a nudge to fundraisers and coalitions is the best method to whittle down the field. 
"This doesn't go just for CD-3, this is across the board, you can talk to donors, potential donors, labor unions and other strong constituency groups that would support some of these other candidates and try to convince them that we should unite behind a particular candidate," Jacobs said. 
He added it isn't ideal to watch candidates spend big to fight off challengers, but ultimately you can't stop someone from running.
Jacobs told City & State, "That's just the nature of the system we're in."