Campaigns & Elections
Susan Zhuang likely victor in City Council District 43
Democrat Susan Zhuang clinched what appears to be a decisive victory Tuesday night against challenger Ying Tan in a brand new southern Brooklyn district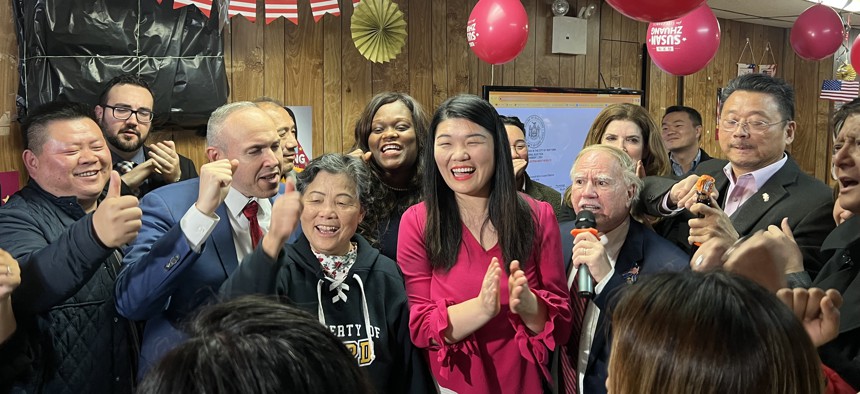 The New York City Council is officially poised to welcome the face of the newest district into its ranks.
Democrat Susan Zhuang clinched what appears to be a decisive victory Tuesday night against Ying Tan in the brand new southern Brooklyn district, which was recently crafted to reflect the growth of Asian Americans in the area. The seat was among a handful that Republicans had hoped to pick up in the City Council this election cycle.
Pink balloons dangled from the ceiling, swaying back and forth with greater frequency as supporters' excitement mounted. Much of the crowd wore the same color – Zhuang's signature throughout the election. By 9:30 p.m., a mere half hour after the polls closed, champagne was arching into the air and the room was roaring.
"We made this history together," Zhuang said, addressing her supporters. "I cannot do this alone. Now the next job that we have to do is make sure our voice is heard in City Hall. Next year we fight for public safety, we get more funding for our police. We get street cleanups. We need affordable housing. We will not build a homeless shelter next to our schools. And we need to make sure our kids' education is well funded."
Zhuang, the chief of staff of Assembly Member William Colton, captured roughly 59% of the vote with over 96% of the scanners reporting in District 43 as of 10 p.m. Tan, a fellow political newcomer and a community activist, had about 26%.
Zhuang's victory was likely buoyed at least in part by third-party candidate Vito LaBella, who ran on the Conservative Party line after losing to Tan in the primary. With about 15% of the vote going LaBella's way, his involvement wound up splitting the Republican vote although Zhuang likely would have won regardless.
"We women, we stick together right?" Brooklyn Democratic Party Boss Rodneyse Bichotte Hermelyn said. "I'm just so excited to be part of this history and I cannot wait till you start in the City Council and start rocking." She along with Upper East Side City Council Member Julie Menin were at Zhuang's side Tuesday night as were Colton, former City Council Member Mark Treyger and a slew of other supporters.
The open-seat race encompassing parts of Sunset Park, Bensonhurst and Gravesend has been regarded as one of the city's most competitive in the build up to Election Day. While Democratic voter enrollment far outstrips the number of registered Republicans in the district, the area has shifted to the right in recent elections. Republican mayoral candidate Curtis Sliwa won a sizable 60% of the vote during the 2021 mayoral election. About a third of the district's voters aren't affiliated with a political party. Still, Zhuang's victory as the first Asian American woman elected to the City Council in the new Brooklyn district has historic implications.
Freshly born from the New York City Districting Commission's recent redistricting, District 43 was created around the goal of uniting an area that would bolster the Asian American community's voting power. Around 54% of voters say they're of Asian descent and neighborhoods in the area are home to some of the highest concentrations of Chinese American New Yorkers in the city.
The race had been one of the most difficult to predict – both Zhuang and Tan are Chinese American and they share similar views on a slate of policies. Both had slammed the other for not being connected to the district – Zhuang used to live in Indiana and Tan currently resides in Queens.
Democratic political consultant Trip Yang said the fact that some notable Democrats didn't endorse Zhuang made her victory all the more impressive. That included her primary rival Wai Yee Chan who ended up voicing her support for Tan. 
"Susan Zhuang's victory is a testament to the strong grassroots organization that she and her supporters have built in the new majority AAPI opportunity district. In a race that was supposed to be competitive, Susan won in a landslide," Yang said.
This is a developing story.
Powered By
NEXT STORY: Justin Brannan defeats Ari Kagan in heated southern Brooklyn Council race