Power List
New York's district attorneys, all across the political spectrum
Where key county prosecutors stand on guns, drugs, bail reform and more.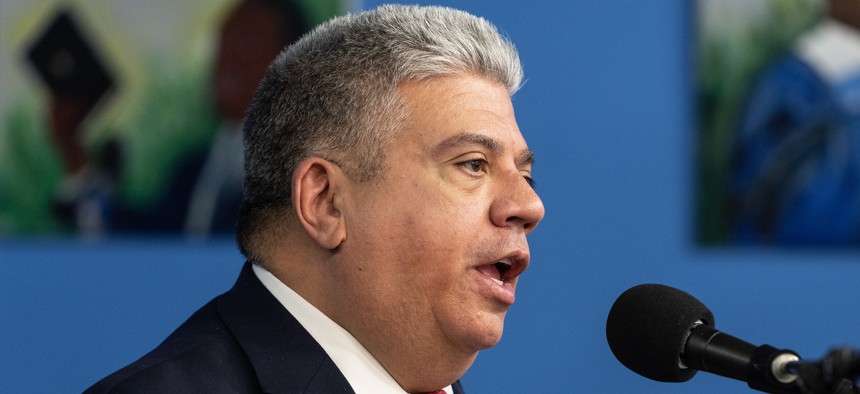 District attorneys wield outsized power in New York, since they can choose the types of crimes they want to crack down on while also determining how aggressively to seek convictions or embrace progressive reforms that benefit defendants. 
Indeed, while laws are essential to the fabric of society, their enforcement depends on prosecutors. As elected officials, New York's 62 district attorneys represent a diverse range of voters and stakeholders. And the priorities of the voters who elect them can vary widely, from county to county and even from borough to borough within New York City.
The most high-profile district attorney in New York has traditionally been in Manhattan, where Alvin Bragg has been in the headlines for a potential indictment of former President Donald Trump tied to alleged hush money paid to an adult film star. But Bragg has also been at the center of the charged debate over prosecutorial discretion and public safety. His office issued a memo shortly after he took office in 2022 that called for avoiding charges for many low-level offenses and only seeking jail or prison for serious crimes. The memo was sharply criticized by the New York City Police Department – which led Bragg to scale back some of his changes. 
Leading the pack on progressive prosecutorial policies is Brooklyn District Attorney Eric Gonzalez, whose office launched an innovative conviction integrity program in 2014. Bragg revamped a similar initiative that predated him, while Queens' Melinda Katz, the Bronx's Darcel Clark and Westchester's Miriam Rocah implemented similar programs upon taking office. Staten Island's Michael McMahon has overcome budget cuts to keep a conviction review program going in his borough. 
McMahon, whose electorate is more evenly divided than the rest of New York City, has split with the other four city district attorneys who largely support state criminal justice reforms surrounding bail and discovery. State lawmakers in 2019 eliminated bail for most nonviolent felonies, then revised the law in 2020 to make some offenses eligible for bail. Another 2019 legislative measure required prosecutors to share evidence with defendants faster. 
In moderate and conservative corners of the state, there has been a backlash against the state legislation. On Long Island last year, Republicans swept into the two district attorney offices, both previously held by Democrats, with Anne Donnelly becoming Nassau County's prosecutor and Raymond Tierney winning the post in Suffolk County. Both oppose the bail legislation, which they argue has allowed too many dangerous individuals to remain threats. After former Rep. Lee Zeldin, a Long Island Republican, mounted a strong challenge against Gov. Kathy Hochul last November while stoking public safety fears, the governor is now pushing to further revise state bail legislation to eliminate the requirement that defendants be subject to the "least restrictive" limits ahead of a trial. 
Other Democrats, including New York City Mayor Eric Adams, have assailed the bail reforms. Erie County District Attorney John Flynn, a Democrat, has called for changes to the legislation, attributing rising crime to state efforts to help defendants and arguing that more emphasis needs to be given to ensuring justice for victims and targeting repeat offenders. McMahon, a moderate Democrat, has joined Staten Island Republicans in demanding changes on bail as well. 
Another complaint raised by prosecutors across the political spectrum is inadequate resources to implement discovery requirements. Washington County District Attorney J. Anthony Jordan, who also serves as president of the District Attorneys Association of the State of New York, has testified this year on the dire need for resources so district attorneys can comply with the accelerated timelines to share evidence that the overhaul of the state's discovery laws puts on county prosecutors.
Below is a rundown of these influential district attorneys in New York, roughly in order from most progressive to most conservative. 
We asked each district attorney a number of questions, including the following: Do you agree with the U.S. Supreme Court ruling in the Bruen case overturning New York's concealed carry law? Do you support the new state law that requires people seeking gun licenses to show that they have "good moral character" and which bans guns in many public locations? Do you support the state's current legislation on discovery reform and bail reform? And do you support safe injection sites? (Donnelly, Tierney and Flynn did not submit any answers despite multiple requests for data and clarity on their policies.)
We also included New York state index crimes, as recorded by the state Division of Criminal Justice Services, which encompass violent crimes – murder, rape, robbery and aggravated assault – as well as the property crimes of burglary, larceny and motor vehicle theft. Some figures that City & State requested, such as office staffing and budget, have been omitted due to incomplete responses or inconsistent data across offices. 
Brooklyn District Eric Gonzalez 
Democrat, in office since 2017
Index crimes: 50,476 in 2021, or 1,909.4 per 100,000 residents. That's down from 50,938 in 2020. 
Murders: 150 in 2021, down from 175 in 2020 
Criminal justice reform: "I fully recognized the need to reform our state's bail and discovery laws and supported the legislation. I believe that judges should be afforded more discretion when setting bail and that the discovery process should be adjusted so cases do not get dismissed when a delay in disclosure causes no prejudice to the defendant."
Reducing recidivism: "We have several diversion programs that address the root causes of crime, such as substance misuse, mental health issues and gang involvement, as well as restorative justice programs – all have been shown to reduce recidivism when compared to traditional prosecution."
Bruen case: Gonzalez disagrees with the overturning of New York's concealed carry law: "I believe it was detrimental to public safety." 
Gun control / gun violence: Gonzalez's focus on reducing Brooklyn's gun violence includes the creation of the Digital Evidence Lab, which targets the prevalence of unregistered "ghost guns," alongside recent gun buy-back initiatives. Since the federal strike down of New York's concealed carry law, Gonzalez has voiced concerns about major threats to public safety, and supports Gov. Kathy Hochul's new gun control law alongside Bragg.
Safe injection sites: Gonzalez supports supervised injection sites.
Conviction integrity: The DA offices' Conviction Review Unit works to exonerate wrongly convicted people, and has vacated 35 convictions since its 2014 inception. These efforts are reinforced by the Law Enforcement Accountability Bureau, ensuring law enforcement is held to a high standard of ethics and personal accountability.
Major cases / priorities: The Brooklyn district attorney has continued conviction integrity efforts by dismissing 378 convictions connected to crooked NYPD officers. Gonzalez also shut down an inter-state sex trafficking plot, indicting a man on charges of sex trafficking of a child.
Manhattan District Attorney Alvin Bragg
Democrat, in office since 2022
Index crimes: 53,543 in 2021, or 3,392.4 per 100,000 residents. That's up from 47,676 in 2020.
Murders: 92 in 2021, up from 84 in 2020
Criminal justice reform: "We are also looking to achieve important technical fixes to discovery legislation, that would preserve the intent of the reforms while reducing the need for prosecutors to focus on chasing down and producing, in tight timeframes, trivial and duplicative materials with no evidentiary value. We know from the data that a small number of recidivists drive most of the harm, and we can't hold those people accountable if their cases get dismissed because of unreasonable discovery requirements."
Reducing recidivism: The Manhattan DA's Alternative to Incarceration unit was created to reduce recidivism. Since 2017, over 10,200 cases have gone through program alternatives rather than formal incarceration. The office remains focused on reducing Manhattan's criminal justice footprint, advocating for their pre-arraignment diversion programs in order to reduce prosecutions of low-level crimes and crimes of poverty that do not pose a threat to public safety.
Bruen case: "At a time when our communities remain awash with guns, we are using every tool at our disposal to get them off the street. Yet the Supreme Court took us backwards with its Bruen decision, which weakened our century-old gun licensing laws, making our city less safe. In response, we worked with Governor Hochul and the State Legislature to craft legislation to meet the moment in a post-Bruen world. These much-needed measures are an important step forward to keep guns out of our schools and sensitive places, enhance our firearms licensing requirements and much more. 
Gun control / gun violence: "We're fighting every day in the courtroom to protect our gun laws. We diligently prepared for the potential fallout of the Bruen ruling before it was even issued, including anticipating motions seeking to dismiss many of our current ongoing gun possession cases. Since Bruen, we have received 27 decisions on these motions to dismiss, and have won all of them."
Safe injection sites: Bragg voiced support for supervised injection facilities in 2021 – yet he declined to specify his current position in his responses to City & State.
Conviction integrity: In 2022, Bragg announced the creation of a new Post-Conviction Justice Unit Application Process. Through the Office's Post-Conviction Justice Unit, claims can be submitted requesting review of prior convictions.
Major cases / priorities: Bragg entered 2023 with a major win under his belt, having teamed up with state Attorney General Letitia James to convict former President Donald Trump's company on fraud charges. He's widely expected to indict Trump himself as soon as this week. Nonetheless, he says gun violence tops his agenda: "Driving down shootings and gun violence is the Office's top priority, and we've made significant progress by focusing on the main drivers of violence and working in close collaboration with our law enforcement partners: through the first year of my administration, homicides in Manhattan were down 16%, outpacing the citywide average of 11%. Shootings in Manhattan were down 19% -- greater than the 17% decrease citywide. That trend is continuing in our second year, with homicides in Manhattan down 33% and shootings down in Manhattan 12%."
Westchester County District Attorney Miriam Rocah 
Democrat, in office since 2021
Index crimes: 9,216 in 2021, or 934.5 per 100,000 residents. That's down from 10,307 in 2020. 
Murders: 20 in 2021, down from 24 in 2020
Criminal justice reform: "Discovery reform was necessary and its goal to ensure that our justice system is fair and balanced for everyone is a critical one. However, the stringent timing requirements of discovery, for even non-material information, have resulted in the too frequent, unnecessary dismissals of cases that is unfair to crime victims. We created the office's first Discovery Bureau devoted to helping our ADAs more efficiently comply with the demands of discovery. I was pleased to see the changes passed by the Legislature last year. I do believe that there are further changes needed to protect the rights of victims impacted by unnecessary dismissals based on technicalities. 
"Bail reform was absolutely necessary. Under the previous system in New York, there was an inequity in the practice of setting bail in certain circumstances. Bail reform addressed that important issue. As with every law, legislation passes and subsequent changes are necessary once implemented. I look forward to reviewing upcoming proposals that take into account fairness and our goal of public safety."
Reducing recidivism: "Investing in community-first rehabilitation, treatment and resources that address root causes of crime and enhance greater public safety: Launched 
'Fresh Start,' a countywide pre-arraignment diversion program for non-violent, low-level offenders – seen more than 200 participants after first year; Developed with local courts and government partners Westchester's first misdemeanor mental health court this year; Developed with key community partners the Mount Vernon Emerging Adult Justice Part, a transformative specialty court for young adults 18-25 in Mount Vernon City Court; in its second year the program has had more than 60% of participants gain employment; … and co-chair the Westchester Reentry Task Force to ensure people leaving the system get the resources they need to make a successful transition."
Bruen case: The ruling "will absolutely make it harder for prosecutors in New York and around the country to keep our communities safe from gun violence. As a mom, a District Attorney, and as someone who cares about the safety of my law enforcement partners out on the streets, the impact of the Court's ruling cannot be overstated. In addition, this ruling opens the door for other reasonable gun restrictions to be deemed unconstitutional."
Gun control / gun violence: "New York has strong, common sense gun laws that promote public safety and responsible gun ownership. Enhanced gun laws enacted last summer provide smart, reasonable safety restrictions that will ultimately save lives. My office has been actively working to increase public awareness of New York's gun safety laws, including red flag laws and safe storage laws. The 'good moral character' requirement has been part of New York's licensing law for many years. This is a strong safeguard to help ensure that people who pose a threat to public safety – including people who have prior convictions for weapons possession and certain domestic violence offenses as well as people who lack sufficient mental competence – do not get gun licenses. The law also allows people to appeal a negative determination, so there is due process for people who disagree with the licensing decisions. I also support the 'sensitive location' provision. People should not have to be worried when they go to school, houses of worship, sporting events or playgrounds (among other places) that others around them are going to be carrying a gun."
Safe injection sites: Rocah supports overdose protection centers: "Overdose Protection Centers (OPC), or 'safe injection sites,' where people can safely use illegal drugs under medical supervision in case they overdose, have been successfully used in New York City. While they are still relatively new in the state, they have been used around the world for decades as an effective strategy for preventing overdoses. In New York City, initial reports indicate that the OPCs have helped avoid many otherwise fatal overdoses. There is a particular need for OPCs now given the prevalence of fentanyl in our communities. With fentanyl, the onset of an overdose is rapid and waiting for an ambulance may mean death or permanent brain damage due to lack of oxygen. Overdose prevention center staff also offer general medical advice and referrals to drug treatment, medical treatment, and other social support programs. Finally, OPCs are good for public safety by reducing public drug use, syringe litter, and drug-related crime."
Conviction integrity: The office established an independent Conviction Review Unit which employs attorneys well versed in exoneration cases and allows for public requests for review. The attorneys review claims and present findings and recommendations to Rocah.
Major cases / priorities: Rocah's office has reportedly been investigating former President Donald Trump's business over property valuation at a golf club in the county. Priorities include a "Fresh Start" pre-arraignment diversion program, Westchester's misdemeanor mental health court, a gun safety plan, Discovery Bureau, and an online portal for reporting hate crimes and bias incidents. 
Queens District Attorney Melinda Katz
Democrat, in office since 2020 and running for reelection this year
Index crimes: 39,330 in 2021, or 1,685.6 per 100,000 residents. That's up from 37,446 in 2020. 
Murders: 83 in 2021, up from 78 in 2020
Criminal justice reform: "The way to best protect our constituents from the violence is to aggressively prosecute the most dangerous criminals and remove them from our communities. As of last year, a judge can set bail when a defendant is arrested for a crime involving 'harm to an identifiable person or property,' while the defendant was released on an earlier 'harm' crime. The provision addresses concerns that some individuals who are arrested and released on larceny or criminal mischief charges are then rearrested on the same type of charges and released again. Additionally, a judge can now set bail when an individual is issued a desk appearance ticket for a 'harm' crime and then rearrested on a second 'harm' crime before being arraigned on the desk appearance ticket. A judge can set bail on the later crime. Ideally, judges in New York would also be able to consider the extent of the threat someone poses to the community in determining pre-trial incarceration. To be clear, no reasonable, fair-minded person thinks that someone's wealth should determine whether they are kept in jail pending trial. What should determine whether an individual is held in jail pending trial are the nature of the charges against the person, the threat the individual represents to the community, and the potential flight risk. 
"There also need to be changes made to the discovery law. To be clear, I firmly believe in the need for early discovery; but what we have in place now serves no one well, least of all law-abiding New Yorkers. Discovery reform was overdue, but some of the changes impose burdens on the criminal justice system not seen anywhere else in the country. "
Reducing recidivism: The office created a Rehabilitation Programs and Restorative Services Bureau to provide rehabilitation and intervention resources for low-level offenders. This includes a Second Chance Community Justice Program aiding in community re-entry.
Bruen case: "The Supreme Court's decision was an enormous disappointment and setback.  My office is committed to working with our partners in law enforcement and with the governor, mayor, legislative leaders, community members and others to find solutions to the gun violence plaguing our country."
Gun control / gun violence: The office is addressing concerns of gun violence through gun buy-back programs,and taking down gun trafficking rings. Katz supports Gov. Kathy Hochul's 2022 gun control law.
Safe injection sites: "This is a plague that kills indiscriminately and sadly the number of overdose deaths has surged. But 30 years of research on three continents shows that overdose prevention centers save lives. These centers are supervised, clean places for people who use drugs to do so safely. But these centers also offer an opportunity to interact with clinical staff, build trust and a rapport that can lead to substance use disorder treatment and referrals to healthcare and other social services."
Conviction integrity: Katz created a Conviction Integrity Unit reviewing past convictions, addressing claims of wrongful convictions and instances of untruthful law enforcement agents. Since the unit's inception, 99 convictions have been vacated.
Major cases / priorities: Katz indicted a Glendale man for ghost gun trafficking following a long term investigation into the purchase of unmarked gun parts by the defendant. Addressing an issue of similar urgency, a Queens Village resident was arraigned on a 13-count indictment for selling large quantities of cocaine and fentanyl. Priorities include eliminating illegal guns, tackling human trafficking and hate crimes and the Queens Community Youth Development and Crime Prevention Program.
Bronx District Attorney Darcel Clark
Democrat, in office since 2016 and running for reelection this year
Index crimes: 38,311 in 2021, or 2,686.1 per 100,000 residents. That's up from 36,217 in 2020. 
Murders: 148 in 2021, up from 111 in 2020
Criminal justice reform: "I agree with criminal justice reform. In fact, I enacted bail reform in my office well before the law was implemented. I have spoken extensively on my belief that violent defendants who jeopardize community safety should be in jail pending trial. It is clear from the data and the experience of all criminal justice stakeholders that discovery reforms are burdensome, especially on prosecutors. Our system must evolve to provide the tech solutions and resources to address this monumental shift in how information is shared between the courts, prosecutors, and the defense bar."
Reducing recidivism: "Our Community Justice Bureau coordinates treatment and resource opportunities in appropriate cases. The Crime Strategies Bureau works with internal and external stakeholders, including the New York City Police Department, government agencies, and community organizations to develop and implement strategies focused on identifying and coordinating resources, especially concerning high priority offenders to prosecute those cases most efficiently."
Bruen case: "The Supreme Court decision overturning New York's requirements for issuing a concealed carry permit puts the rights of those who want to carry a concealed firearm in public places squarely at odds with public safety concerns, and it jeopardizes law enforcement efforts to fight gun violence. We believe local jurisdictions should determine firearm licensing requirements tailored to their own unique public safety needs. Further, the Supreme Court's decision makes it easier for more people to carry firearms in public
places, which runs counter to sensible efforts aimed at reducing gun violence. More concealed firearms will inevitably lead to more gunfire. While we are disheartened by this ruling, we remain steadfast in our efforts to address gun violence."
Gun control / gun violence:  Clark, the co-chair of Prosecutors Against Gun Violence,  is a supporter of strong background checks that allow law-abiding citizens to get licenses, and is working to eliminate unregistered guns in the Bronx.
Safe injection sites: "The Bronx has the highest overdose rate in the city. In 2020, I traveled to Zurich, Switzerland, to personally observe and understand safe injection sites. Safe injection sites merit serious consideration, study, and review. I believe they can help save lives."
Conviction integrity: The Conviction Integrity Bureau was established when Clark took office. Recently, the bureau dismissed 500 old convictions connected to a detective charged for perjury. The bureau also helps review clemency applications and applications for relief under the Domestic Violence Survivors Justice Act and helps implement best practices in the current prosecution of cases.
Major cases / priorities: Addressing organized gun violence, Clark issued three indictments for River Park Towers gang members,including high-profile rappers, linking them to shootings and an assault in the area. Aligning with Clark's commitment to addressing the opioid epidemic, she obtained a 16-year sentence for a man who ran a home-based fentanyl and heroin operation. Priorities include "A Safer Bronx Through Fair Justice" : mental health/criminal justice, opioid epidemic, gun violence, promoting public safety, Promoting Successful Re-Entry and Reducing Recidivism; and addressing the opioid epidemic through the Overdose Avoidance and Recovery and Heroin Overdose Prevention and Education (HOPE) programs, diverting appropriate cases through harm reduction approach. 
Staten Island District Attorney Michael McMahon
Democrat, in office since 2016
Index crimes: 4,845 in 2021, or 1,030.4 per 100,000 residents. That's down from 5,042 in 2020. 
Murders: 15 in 2021, down from 20 in 2020
Criminal justice reform: "Passed without the consultation of district attorneys or members of law enforcement from across New York state, recent so-called 'reforms' from bail reform to 'Raise the Age' to discovery reform have unleashed a cavalcade of chaos on our communities. Unfunded mandates coupled with less resources for those in law enforcement is a recipe for disaster and sadly, public safety has been threatened as a result. Recidivism runs rampant and victims, business owners, and police officers alike are left defenseless as they watch the same repeat offenders arrested, released, and back on the streets in an instant with little or no consequence for their crimes.
"New York is the only state in the country that does not allow for judges to consider a defendant's threat to public safety when deciding whether to hold or release that individual pre-trial. That simply must change. Judicial discretion is an essential ingredient to a well-functioning criminal justice system but one that is sorely lacking right now. 
"Not often the topic du jour but just as devastating, discovery reform has hampered our office's ability to secure justice as unreasonable, unnecessary and unfunded mandates imposed by Albany have led to scores of staff and ADAs fleeing the criminal justice system for the private sector or other roles in government. Worse, unrealistic provisions of the discovery law are leading to unreasonable consequences in cases, jeopardizing justice for the victims of crime. Common sense and practical changes need to be made to the law as well as immediate investments in technology and pay parity and manpower to meet the onerous burdens placed on our prosecutors."
Reducing recidivism: "Sadly, legislative lunacy from Albany has paved the way for rampant recidivism and while my office continues to use every tool available to hold repeat offenders accountable – precision prosecution, seeking bail and jail when appropriate, and routing eligible and deserving defendants into pro-social alternative programming when possible – we need more help. From hiring more uniformed NYPD officers to restoring judicial discretion to our criminal justice system, our partners in Albany and City Hall must provide us with the tools and resources necessary to keep New Yorkers safe."
Bruen case: "While DA McMahon believes in our Constitution and the reasonable protection of the freedoms contained in the Bill of Rights, including the Second Amendment, he finds the Supreme Court's decision that struck down New York's concealed carry law to be a dangerous infringement on our right as a state to decide our laws based on our own needs and conditions. Permissive open carry laws not only jeopardize the safety of New Yorkers and make the job of police officers and all those working in law enforcement more difficult but they have no place in a region as large and densely populated as New York."
Gun control / gun violence: "As our office continues to work with our partners in the NYPD to make progress in reducing shootings and violent crime, we welcome legislation and efforts to strengthen background checks to ensure that those with criminal records are barred from purchasing firearms. Strengthening the background check process is a common sense solution that can help us combat the scourge of gun violence afflicting our communities, but also protects the rights of lawful gun owners."
Safe injection sites: "These centers cause far more harm than good. The simple fact is that two safe injection sites have existed in New York City for the past year, and in that time fatal overdoses have reached new highs and the quality of life for residents who live near these centers has reached new lows. Opening more of these centers under the guise of saving lives does a disservice to the life-saving work being done by heroes on the ground here on Staten Island, who over the past eight years have diverted tens of thousands of struggling New Yorkers out of the criminal justice system and into life-saving treatment through innovative programming duplicated across the city, nation, and recognized in the White House's National Drug Control Strategy Report. Further, working with our community health partners we have provided naloxone to countless neighbors at community events, conducted far-reaching public awareness campaigns like 'Staten Islanders Against Drug Abuse,' and worked with survivors and family members of overdose victims to hold drug dealers accountable in court while supporting them at home as they move forward. This is the correct, balanced, and proven approach to our drug crisis, not the normalization, funding, and endorsement of continued drug use and the negative impacts on the surrounding community that unavoidably come with it."
Conviction integrity: Established in 2017, McMahon's Conviction Integrity Review Unit reviews past convictions and public appeals: "In 2021, we made history when our office vacated the conviction and prison sentence of Grant Williams, a Staten Islander who had spent 23 years incarcerated for a murder he was wrongfully convicted of in 1997."
Major cases / priorities: The office submitted an official grand jury report highlighting vulnerabilities in New York's electoral system. He has also worked with New Jersey officials to arrest and indict a man connected to an interstate fentanyl trafficking ring. Priorities include an Overdose Response Initiative, Staten Island Drug Treatment Court, Choices and Consequences Program, Firearms Anti-Violence Unit, Animal Cruelty Prosecution Unit, and an NYPD joint task force on car thefts. He has also secured a much larger budget for his borough since taking office.
Erie County District Attorney John Flynn
Democrat, in office since 2017
Index crimes: 20,447 in 2021, or 2,172.9 per 100,000 residents. That's down from 21,721 in 2020. 
Murders: 73 in 2021, up from 69 in 2020
Criminal justice reform: Flynn is critical of criminal justice reforms, citing a spike in crime within the last couple of years. "When you have a singular focus on helping defendants, without factoring in the victims, or the safety of the community, and just on defendants, you create a situation where now people who commit crimes don't have a fear of the system," Flynn told CNY Central last summer. "Again, there's no accountability. There's no fear of the system. They know if they don't show up to court, nothing's going to happen to them. We need to tighten up the ability for judges to issue bench warrants on people who don't come to court." He also spoke positively in January about Gov. Kathy Hochul's call to revisit the state's "least restrictive standard" for defendants, telling WIVB that getting rid of it would allow for "all ranges of options for judges to consider" and that judges should be allowed to assess "dangerousness" in imposing bail. 
Bruen case: Flynn apparently did not issue a press release with any statement in the wake of the U.S. Supreme Court ruling last summer, and declined to respond to a City & State question about his stance on the matter. 
Gun control / gun violence:  Flynn is the subject of a lawsuit seeking to overturn the state's new gun control law, since he's tasked with enforcing it. Following the shift in New York's gun laws, and increasing gun violence during the onset of COVID-19, Flynn has also highlighted Erie's efforts to increase youth programs and community gun violence impact panels to address gun violence. Additionally, he is targeting the proliferation of ghost guns, tracking social media posts through their 'custom notification' initiative, highlighting photos of weapons and threats.
Safe injection sites: Flynn's office declined to comment on safe injection sites, but with a rise in opioid deaths and drug trafficking, his office created the Opiate Epidemic Task Force.
Conviction integrity: Erie's Conviction Integrity Unit reviews submitted wrongful conviction cases.
Major cases / priorities: Flynn obtained a life prison sentence for the shooter in last year's racist shooting at a Tops Supermarket in Buffalo. He recently announced a decision not to file charges in last year's stabbing death of Buffalo State University student Tyler Lewis outside of the Ellicott Complex on the University at Buffalo's Amherst campus. Flynn said he and a grand jury had determined that Lewis' death came as a result of self defense on the part of the person who stabbed him. Lewis' mother disagrees, saying her own private investigator found evidence proving murder. Flynn is also the president-elect of the District Attorneys Association of the State of New York. 
Washington County District Attorney J. Anthony Jordan
Republican, in office since 2013
Index crimes: 339 in 2021, or 547.5 per 100,000 residents. That's down from 369 in 2020. 
Murders: One in 2021, up from zero in 2020
Criminal justice reform: "As to bail and discovery, I have stated numerous times that the goals are noble but the implementation has impacted public safety negatively.  The 'what needs to be changed' is too substantial for the time I have right now but as to discovery there needs to be a change to permit the staggering of timing of discovery so that cases can be resolved based on the merits not because an overworked ADA is not able to gather the last bit of information and turn it over. As to bail, judges need to be given the discretion to consider impacts on public safety in appropriate circumstances. Changes that can be made can be accomplished without undermining the goals and objectives of the reforms and at the same time ensure public protection."
Reducing recidivism: "I am a strong proponent for diversion courts and work tirelessly to provide alternative options, when appropriate, to conviction and incarceration."
Bruen case: "As the chief prosecutor I do not consider it appropriate to agree or disagree with decisions of the appellate courts as it is my responsibility to review and understand the decision and its implication on a particular criminal statute."
Gun control / gun violence:  "It is my responsibility to enforce the laws of New York not opine on portions that are not relevant to enforcement. The 'good moral character' impacts whether a person will be granted a license in the first place. How that is accomplished will be a significant challenge for judges (who are the issuing authority). As to banning guns in public locations, in the rural parts of New York, like Washington County that includes portions of the Adirondack Park, this will cause issues with enforcement and is one of the areas I am hopeful the legislature and governor will revisit and include us in the discussions."
Safe injection sites: "I do not know enough about safe injection sites to comment.  In Washington County we lack the resources necessary to even consider."
Conviction integrity: Jordan has not received any formal review requests; he would review them personally.
Major cases / priorities: Jordan, who also is the current president of the District Attorneys Association of the State of new York, is focused locally on the opioid and drug crisis, specifically with the proliferation of fentanyl across the state's drug market. His office is actively addressing the issue, and has identified that the contamination largely comes from street drugs. The office has a Narcotics Unit and a Crime Victim Assistance Program. 
Nassau County District Attorney Anne Donnelly
Republican, in office since 2021
Index crimes: 12,538 in 2021, or 903.6 per 100,000 residents. That's down from 12,244 in 2020. 
Murders: 19 in 2021, down from 23 in 2020
Criminal justice reform: Since taking office, Donnelly has opposed the state's bail reform, referring to reoffenders as a source for increased crime. 
Reducing recidivism: The DA has made efforts to reduce recidivism through the Office of Alternative Prosecutions and Resources' community-based programs.
Bruen case: The office did not respond to requests for comment. 
Gun control / gun violence: Donnelly created the Firearms Suppression and Intelligence Unit to address the flow of illegal guns in Nassau county, citing an increase of guns seized by law enforcement in 2022. The office did not respond to requests for comment about the state's new gun control law.
Safe injection sites: The office did not respond to requests for comment. However, the office has announced arrests for rainbow fentanyl. 
Conviction integrity: Nassau's Conviction Integrity Unit reviews submitted claims of wrongful imprisonment and conviction.
Major cases / priorities: Donnelly's office led an indictment against an interstate gun trafficking case, where law enforcement linked at least 11 of the weapons to instances of violent crime, and has prosecuted MS-13 gang-related crimes  Priorities include illegal gun sales, a Mental Hygiene Unit, a Pharmaceutical Diversion and Cybercrimes Unit, and youth and school-based programs. 
Suffolk County Executive Raymond A. Tierney
Republican, in office since 2021
Index crimes: 17,111 in 2021, or 1,132.6 per 100,000 residents. That's down from 18,147 in 2020. 
Murders: 33 in 2021, the same as in 2020
Criminal justice reform: Tierney opposes criminal justice reforms, including parole and bail initiatives.
Reducing recidivism: The office did not respond to requests for comment. 
Bruen case: The office did not respond to requests for comment. 
Gun control / gun violence: Tierney's focus on gang violence includes tackling gun violence and the proliferation of unregistered firearms. The office did not respond to requests for comment about the state's new gun control law.
Safe injection sites: The office did not respond to requests for comment. However, Tierney has been addressing the opioid crisis in Suffolk, targeting drug traffickers which he believes are profiting from bail reform. The office is encouraging the state to enact "death by dealer" legislation, creating longer prison sentences for major drug traffickers.
Conviction integrity: The Suffolk DA has a Conviction Integrity Bureau which reviews potentially wrongful convictions.
Major cases / priorities: The office served the indictment for the NYPD officer who murdered his autistic young son. Additionally, Tierney's commitment to labor justice was solidified by the Labor Law Unit's recovery of $800,000 in restitution for New Yorkers. Priorities include drug trafficking, cybercrimes and gang violence. 
Powered By
NEXT STORY: The 2023 Law Power 100