Andrew Cuomo
How the school aid formula became unrecognizable
In the state budget, the governor included a requirement that school districts submit information to the state outlining how they will distribute aid to each of their schools. But the governor's new transparency mandate is seen by many in the education community as an attempt to divert attention from a much more complicated and costly issue: how aid is divided up among school districts.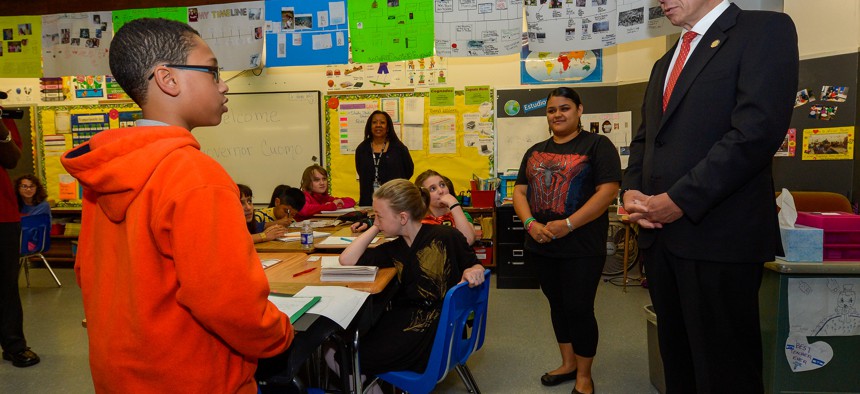 Months before Cynthia Nixon, the actor and education activist, announced her candidacy for governor on Twitter, Gov. Andrew Cuomo was passionately making a case for educational equity.
 "We must address education funding inequities and dedicate more of our state school aid to poorer districts," he demanded during his State of the State address to the applause of lawmakers.  
And with passage of the state budget, the governor got much of what he asked for – a requirement that school districts submit information to both the state Department of Education and the state Division of the Budget outlining how they will distribute aid to each of their schools – all in the name of transparency.
But the governor's new mandate is seen by many in the education community as an attempt to divert attention from a much more complicated and costly issue: how aid is divided up among school districts.
Since a school-by-school analysis cannot be accurate if a district-by-district allocation is out of whack, New York State Association of School Business Officials Executive Director Michael Borges said, the governor's idea is "putting the cart before the horse." 
The governor's mandate has also left school boards and superintendents deeply frustrated for a couple of reason. First, they were already working on a similar requirement under the federal Every Student Succeeds Act, but under the state's mandate they have less time to complete the task. 
Second, according to Dave Albert of the New York State School Boards Association, the state Division of the Budget and the state Education Department "could undermine the budgeting authority" of school boards by withholding aid if a report is not submitted, or is not submitted in the proper format.
"We believe school boards should be allowed to do the job they were elected to do, without second guessing from the state," said Albert, the association's director of communications, research and marketing.
Budget watchdogs gave the new mandate mixed reviews.
"More disclosure? There's nothing wrong with that," said David Friedfel, director of state studies with the Citizens Budget Commission. But, he added after a moment, "We should probably deal with the problems we know about first." 
Someone once told me there are only five people who really understand the state's school aid formula. If true, Bob Lowry, the deputy director of the New York State Council of School Superintendents, is one of them.
He uses a simple test to determine if, however that formula is used, the result for schools is equitable: "Are we treating similar districts similarly?" 
It's a simple question with no easy answer.
New York's school aid formula has become a policy Frankenstein that grows by accretion and political acquiescence, piling on new agenda-driven calculations with every passing budget negotiation. It's a mish-mash of mismatched elements comprised of three competing meta-formulas that seem to belong to different political philosophies: Foundation Aid, the "shares agreement," and "save-harmless."
While most education advocates argue that the formula needs to be changed, E.J. McMahon, founder of the fiscally conservative Empire Center for Public Policy, says the quest for a non-political formula is useless.
"When you have a state as large and diverse as New York, politics is going to intrude and there's going to be a specific ratchet thrown into any formula to ensure that groups of districts do not lose too much. Because," McMahon said, "that's politics."
But squeezing equity out of the aid formula is important to many in the education community who view it as the next civil rights battleground.
For attorney Michael Rebell, it's become a lifelong passion. He successfully argued the Campaign for Fiscal Equity case (CFE) and currently runs the Campaign for Educational Equity at Teachers College, Columbia University. "What's really needed (to fix the Foundation Aid formula) is a resource accountability analysis," he said. 
Rebell is referring to a soup-to-nuts analysis that digs into the underlying DNA of every district in the state: enrollment, demographics, free and reduced lunch, English language learners, special needs, community standards, fiscal capacity, regional cost index and property values, to name just a few. 
In other words, said Rebell, the state needs to – again – do what the court ordered it to do in 2003 after CFE: calculate the "actual cost of providing a sound basic education."
Without updating the metrics that feed the formula, it's not worth much.
"God only knows what the actual needs are today," Rebell says of school districts.
There's an old Borscht Belt joke that goes, "The food is terrible and the portions are so small!" That's the way many in the education community view the Foundation Aid Formula: It's out of date, but please give us more! 
It's the only progressive formula in use but, the CBC's Friedfel said, "It's been bastardized."
Rick Timbs, the executive director of the Statewide School Finance Consortium, tracks the inequities back to the Gap Elimination Adjustment, which the state Legislature put into place during the recession. The GEA made education aid cuts across school districts to help close the state budget gap.
"Over time, (the Legislature) reduced the amount of the GEA. But then they reduced their reduction," according to Timbs. "Finally there was a GEA restoration that occurred, but when the GEA was gone the inequities remained."
The fiscal trauma that led to the GEA (and then the focus on phasing it out) diverted attention from updating Foundation Aid, which was frozen for three straight years starting in 2009-10. 
The result is that the current formula provides too many resources to some districts and not enough to others, which fails Lowry's test. Today, similar districts are not being treating similarly. 
The inequity between districts is exacerbated by another calculation that informs how much school districts in specific regions receive from the state.
The so-called "shares agreement" is less a formula and more of a geo-political gentlemen's agreement. 
It's not clear when it was originally established, but there is some consensus that the New York City "share" came about in the mid-1980s when the city was losing population.  Around that time, the Assembly set a floor of 38.86 percent. In other words, whatever the year's aid increase was, 38.86 percent of it would be earmarked for New York City.
Lowry, who worked as a school aid analyst for the Assembly Ways and Means Committee in 1989-90, recalls that ensuring the city received its share of money was a top priority. "If I were into vanity license plates," he joked, "I thought maybe I should have gotten a license plate that said '38.86.'"  
A Long Island share was added in 1989, the year Oyster Bay Republican Ralph Marino became state Senate majority leader. Marino didn't support George Pataki for governor, and so didn't last long in the leadership position. But his legacy, the Long Island share which is currently 12.96 percent, remains in effect. 
Now, like then, whatever is left, regardless of need, goes to upstate New York. 
Lowry has described this as working backwards: "Here's the total amount of money we have. We know that NYC is going to get 38.86 percent of the increase. Long Island gets 12.96 percent, so how do we construct formulas to spend that total amount and hit those targets?"
Not only does this kind of calculation lead to inequity, according to Billy Easton, the executive director of the Alliance for Quality Education, it fails to account for adequacy.
"They should start with 'What do you need' and 'What does that total up to,'" says Easton, "not 'How much do we have' and then 'Let's divide it up.'" 
Rebell goes a step further, calling the current system unconstitutional and comparing it to the system in place before the ruling in the Campaign for Fiscal Equity case.
"What the Court of Appeals said in CFE was that the major constitutional violation was 'three men in a room.' (The governor and legislative leaders) were not basing their distribution of state aid to education on relative need," Rebell said. "Instead they went into the back room and made a political deal, presumably based on who had more influence."
Rebell is again suing New York state for violating students' education rights by neglecting its constitutional obligation to ensure every school has sufficient funding. 
While the Foundation Aid formula changes annually, the shares agreement hasn't varied much since it was instituted. Since each share is calculated as part of an increase, the agreement went out the window when aid was cut in 2011-12. Additionally, the shares figures were not adhered to when Democrats controlled the Senate. Otherwise, the percentages going to the regions have been fixed. 
Even in 2007, when Gov. Eliot Spitzer promised more education aid than most legislators expected, there was a bruising battle over shares led by then-Deputy Majority Leader Dean Skelos who, according to Newsday, explained to the governor that "the shares are sacred."
Skelos had a point. This year, just like it was eleven years ago, the "share" for New York City is 38.86 percent and the share for Long Island is 12.96 percent.  
If you take a trip into the vast world of school budget runs, you'll see plenty of examples that fail Lowry's test of equity.  
Here's one.
The Hudson Valley's Ossining Union Free School District enrolls 4,891 students and has seen an increase in the number of poor students it serves.
When you compare Ossining to the Long Beach City Schools, a district on Long Island, things look worse for Ossining.
Long Beach City enrolls 3,660 students and has seen a decrease of almost 200 students. Nearly 40 percent of Long Beach City's students receive free and reduced lunch, compared to Ossining's 59 percent, while the district's Foundation Aid per pupil is $4,740 compared to Ossining's $2,441. 
This comparison illustrates why the shares agreement moves the state even further away from equity.  
The disparity between Long Beach City and Ossining is arguably due more to the state's addiction to save-harmless than the shares agreement, but both contribute to that particular example of unfairness.
Save-harmless ensures that a district will not receive less aid in a category than it received the year before. The result is that Long Beach City gets an aid increase whether it needs it or not.   
McMahon of the Empire Center notes that save-harmless, which predates the shares agreement, became a flashpoint in the 1970s under Gov. Hugh Carey.
"Carey inherited the need to be an austere corrective to the Rockefeller era, so they had school aid battles every year," McMahon recalled. "And what the Republicans did was get something called 'save-harmless' because the school aid formula, at that time, left to its own devices, would have been slashing aid faster for the districts they cared about – which then, as now, are principally suburban." 
Part of the problem, McMahon said, was that at the time "newly assertive unions were winning contracts which were proving to be very expensive."  
Between falling enrollment and higher fixed costs through contracts, districts were stressed. And save-harmless was born.
It's one of the things about school aid that frustrates Timbs. "Not only can no one lose anything," he said, "the politics of the situation seems to require that everyone has to gain something."
There is no agreement on how to fix the state's school aid formula. 
There's not even agreement on whether the formula should be fixed. 
"I've been hearing complaints like that (that the formula is screwed up) for 30 or 40 years," McMahon said. "It's a different kind of Frankenstein than it was 25 years ago, but it's still a mess. But that's politics. And that's not meant to be a pejorative. We have a democracy here." 
But over the last nine years, inequity has been getting worse. 
"The gap between wealthy and poor school districts in New York state is at a record level now – $9,923 per pupil. That's the difference between the 100 poorest and 100 wealthiest schools based on the combined wealth ratio," said AQE's Easton. "So when the governor says the real inequity is not at the state level, it's a joke. The joke's on us, though."
Timbs disagrees with McMahon's analysis that the formula should be politically driven. "If everyone was interested in fairness, then they should take it out of the political realm," he argued. "They should create a kind of Berger Commission, a blue-ribbon panel but for school aid."
Easton says the focus should be on fully funding Foundation Aid. "Currently 74 percent of Foundation Aid is owed to black and brown students," he said. "I don't think anything should be used as an excuse not to pay the districts what they are owed."
Lowry and Timbs both believe the Foundation Aid Formula is long overdue for an update. And like Easton, they believe the issue has to do with race and poverty.
"There comes a point at which the politics aren't helpful.  (You have to ask yourself) what's the right thing to do, not what's going to get you re-elected," Timbs said. "This is a civil rights issue."
Should Cuomo and Nixon's mutual interest in educational equity spark a new urgency on the issue, then perhaps both politics – and students – will win the day.