New York City
New York City should teach older children outdoors
For the next school year, follow the science on who is most likely to spread COVID-19 and where.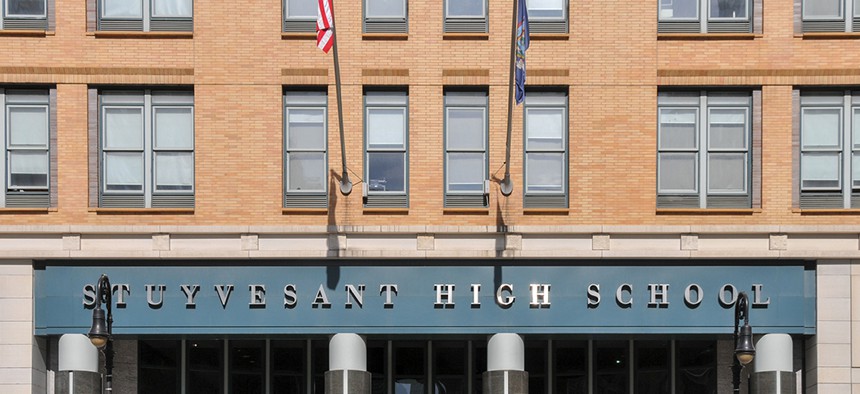 New York City Mayor Bill de Blasio and Schools Chancellor Richard Carranza's half-baked plan to open public schools part-time this fall ignores emerging data about the lower risk of coronavirus transmission outdoors and among younger children. As a result, it gives New Yorkers the worst of both worlds. But instead, if they think creatively about how to use the city's public spaces, they could set up a system that's safer and more educationally rewarding.
Having all 1.1 million public school students attend in-person classes two or three days per week in rotation, as de Blasio and Carranza would, doesn't solve the childcare problem created by school cancellation. If you have a full-time job, who is supposed to safely and affordably watch your kids on the days they aren't in school? The realistic answer is that many will resort to informal group-care settings, essentially underground day care.
This doesn't mitigate children's potential exposure to the virus and may even exacerbate it. In addition to being exposed in school, kids could be exposed to a whole other group of children and adults on their off days. As a result, the students will be coming into school with more potential sources of exposure and going to daycare with the exposure they got on their school days. – 
If we want to get New York's economy running again we must have elementary school students going to school in a classroom five days a week. Anything less, will create a daycare crisis and lead to rampant absenteeism and lower productivity for their parents.
Moreover, this plan poses a danger to the 135,000 people who work in New York City schools, including teachers, administrative, support and janitorial staff. Many of these teachers and school personnel are over 50 years old and some have underlying conditions that increase their risk if they catch the virus.
Attending class half time and filling in the balance of the week with distance learning – which so far seems to exacerbate the achievement gap between rich and poor students - will continue to damage many student's educational progress. Once the COVID-19 crisis abates – and who knows when that will actually be – we will be spending years remediating the damage in this period.
But there are two data-driven solutions to these problems: outdoor learning for older students and limiting classroom instruction only to very healthy teachers under the age of 50. New York Times columnist Ginia Bellafante made a compelling case recently for pursuing outdoor learning. She cites its successful historical use in the early 20th century to combat a tuberculosis outbreak and a convincing Chinese study of 7,000 COVID-19 cases that showed only one of those was contracted through outdoor transmission. If outdoor transmission is much less likely than indoors, and if younger students are much less likely to transmit than older students, why not move the older students outdoors?
Here's how a this could work: plan five-day per week in-person instruction for just elementary school students – but spread them out through all 1,866 school spaces in the city, including middle schools and high schools. This additional space will allow for classes to be moved to larger rooms – or smaller classes in more rooms - thus allowing for greater social distancing. Obviously, more smaller classes requires more classes, which would require more teachers. Hopefully, Congress will include aid to schools in the next COVID-relief package. With a little extra money, New York City and the United Federation of Teachers could partner with Teach for America and AmeriCorps, or some similar organization, to recruit and train young people to become teachers in elementary school classrooms. Certainly, there are plenty of currently unemployed New Yorkers who would be interested in participating. (The UFT and Teach for America may have their differences, but ideological battles should be set aside temporarily to save an entire generation's education.)
All the elementary school students should be required to wear masks and gloves whenever they are in the school building – providing double protection for young children who are less apt to put their fingers in their mouths or noses when they have an unsavory glove on their hands.
Additionally, indoor classrooms and schools will be staffed by teachers only under the age of 50, while also excusing any younger teachers who have health conditions that put them at risk. Repurpose all those over 50 teachers to focus on supplementary online instruction, after school review and remediation as well as all test preparation. 
For middle school and high school students, let's rip a page from the expanded outdoor dining protocols that seem to be working well in boosting restaurant revenue without increasing coronavirus transmission. New York City has more than 1,700 parks – including huge ones like Central Park in Manhattan, Prospect Park in Brooklyn, Van Cortlandt Park in the Bronx, Flushing Meadows Corona Park in Queens and Freshkills Park in Staten Island. The Parks Department oversees 30,000 acres of land, including 800 athletic fields and nearly 1,000 playgrounds, 1,800 basketball courts, 550 tennis courts and 14 miles of public municipal beaches. What could be a better use of this glorious outdoor space than open air classrooms during the temperate months of September through November and next April through June, if the virus is still a threat next spring?
Studies have shown that students actually are more attentive outside and wouldn't it be uplifting for these middle school and high school students to gaze out at nature while listening to class discussions of the deeper meaning of Shakespeare's Richard II or while learning the Pythagorean theorem in geometry?
For the colder, winter months, middle school and high school students would unfortunately have to do online learning. But at least experiencing part of the year in person would hopefully mitigate the ill-effects of that.
There will clearly be bugs to work out in this innovative approach: dealing with inclement weather, mitigating noise that could interfere with instruction and, of course, it's more challenging to use audiovisual equipment or go to the bathroom in the middle of Central Park.
Finding answers isn't impossible, however. The city could rent thousands of mobile bathrooms, like those that are used at outdoor concerts, and erect tents to protect students from the sun and unexpected rain showers. On days with a bad forecast, school could be switched to online-only or to large indoor buildings that are currently unused, such as theaters.
But these minor obstacles pale in comparison to the flaws in the half-time plan that was put forth and which is receiving negative reviews from parents, teachers and students all over the city.
These two macro changes – shifting older students to outdoor learning to free up classrooms for the youngest and least at-risk students and limiting classroom instruction to young and healthy teachers – is the only data-driven solution that makes sense.
Coordination and precise planning will be imperative so that the city does not duplicate the mistakes made early in the epidemic, when hospitals were beyond capacity while overflow spaces such as the U.S.T.A. Billie Jean King National Tennis Center in Queens was underutilized. Mapping out which classes can use which slice of each park will require some ingenuity and careful planning. Shifting around younger and older teachers will cause some disruption and necessary retraining. Ending the outdoor school term by the end of November will require planning so that December will be for online curriculum review and finals preparation.
No plan for teaching 1.1 million children in the midst of a global pandemic will be risk-free. But we need to follow the data and the statistics and mitigate any danger to our students and teachers.
Can the mayor and chancellor do the simple math and solve this equation with only six weeks before classes start? Well, that's dependent on whether they can correct their miscalculation and follow the numbers.
Powered By
NEXT STORY: Cuomo's nursing home panel overlooks important fact