Opinion
Opinion: Top political operatives weigh in on New York's 2022 midterm elections
These consultants identified a number of important emerging trends.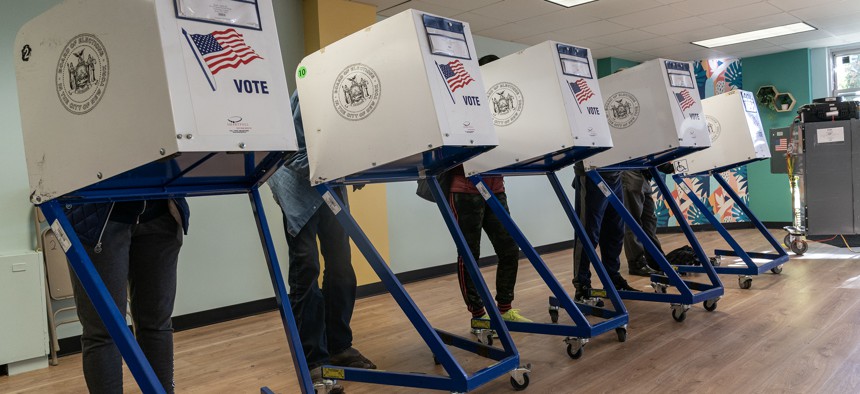 The recent statewide and local elections across New York state drew national and even international attention for what was taking place in the Empire State. For the first time in a very long time, New York became one of the most closely watched states showcasing a number of the most competitive races in the entire country.
The 2022 midterm elections came at a time when there are important transformations and inflection points taking place in how political campaigns and public affairs battles are being waged and won. As Chapin Fay, a Republican communications consultant, and myself, a Democratic pollster and data analytics expert, prepare to re-launch the New York Metro Chapter of the American Association of Political Consultants, we sought to gather the perspectives from some of the leading political operatives and consultants about what they made of the most recent election results.
What we heard pointed to a number of important emerging trends. For more background on the consultants and who they've worked for, check out City & State's Top Political Consultants 2022 list. 
Politics is a game of political nimbleness and dexterity
While most observers expected the 2022 midterm elections to present Democrats with significant political headwinds, the issue environment ended up being much more challenging than Democrats expected in a blue state like New York. One comment we continued to hear is that Democratic candidates and their campaigns were not sufficiently nimble in adapting to a politically hostile issue environment and that resulted in much closer races, as well as a number of critical losses on Long Island and across the Hudson Valley.
Melissa DeRosa, former secretary to the governor and veteran Democratic strategist:
In running a nationalized campaign on reproductive rights while failing to acknowledge and respond to the crime issue, New York Democrats forgot the cardinal rule that all politics is local. What's worse is they failed to internalize and act on the lessons from 2021 when Democrats on Long Island were vanquished as a result of concerns on rising crime and New York City voters chose a law and order mayor based on his pledge to clean up the city. Democrats need to remember that they work for the voters, not the other way around, and when their constituents communicate clearly what their priority is, elected officials must demonstrate empathy with their concerns and respond with governmental competence to address them. Bill Clinton famously met voters where they were and told them he felt their pain – more importantly, he then acted on it. That lesson rings very true today. The party of the people needs to hear the voices of the people.
Media engagement is not optional
In our modern and highly decentralized media environment, print media, in particular The New York Post, went a long way towards setting the agenda for the gubernatorial campaign – putting Democratic Gov. Kathy Hochul on the defensive and amplifying the crime message for Republican Rep. Lee Zeldin. A number of operatives we spoke with emphasized the need to engage with the agenda-setting media outlets, or run the risk of fighting a preverbal 800-pound gorilla every day the race is waged.
Neal Kwatra, founder and CEO, Metropolitan Public Strategies:
The recent elections, nationally and in New York, demonstrated that we are operating in an earned and paid media environment where voters are, and will continue to be, fed a steady stream of propaganda and misinformation.That's true whether we are talking about a political campaign or a policy fight. If you want to win, it's insufficient to simply decry the propaganda and those propagating it, but rather it's incumbent on candidates and parties to be responsive and engage the propaganda with facts and context. Simply ignoring the issue in hopes it will go away is not a particularly winning strategy.
Dark money flowed into New York
For the first time in a long time, there were multiple competitive races all across New York – including the most competitive state wide race since 2002. Rather than being the traditional source of campaign cash for candidates running in other states, New York become for the first time in a long time, the receipt of out of state campaign spending, a trend that will likely recur in two years' time, at least focusing on the swing congressional seats.
Jefrey Pollock, president of Global Strategy Group:
There is no question that you can sense frustration from New York voters. You hear it in focus groups and you see it in polling. But Kathy Hochul was able to withstand a torrent of outside spending ($20 million in the last weeks) and in congressional races, candidates were pummeled by enormous dark money coming out of Washington, all yelling about crime. Add to that the single largest in-kind contribution in campaign history called The New York Post, and you have a recipe for a tough year. As a party, we are going to have to look at what the voters want, especially in Long Island, and make sure we are hearing them and addressing their concerns. Governor Hochul is the best person to do that given her ability to bring together various factions of the Democratic party as well as Republicans and independents.
Democratic defections cost congressional seats
There is ample evidence that there was significant – and worrying defection in the ranks of grassroots Democrats many of whom ultimately voted Republican. A Democratic registration advantage doesn't by any means guarantee a Democratic victory, especially with issues like crime and inflation on the top of the minds of voters, and Democratic candidates failing to fully hear the concerns of swing voters.
Isaac Goldberg, senior vice president, Berlin Rosen:
What we saw on Tuesday was that Long Islanders are unhappy with the direction of New York state and they blamed the party in power for it. Bail reform and congestion pricing, rightly or wrongly, continue to weigh us down politically – and that impacted the votes of people from all parties. In the northeastern Queens portion of the 3rd Congressional District (now held by Rep. Tom Suozzi), Democrats had a 13,000 voter turnout advantage, but the Democratic candidate for Congress, Robert Zimmerman, only won Queens by 800 votes and it seems likely that the governor did even worse in these communities (this is not inconsistent with the mayoral results from last year, either). Middle class voters – including Democrats – are screaming loud and clear that they are dissatisfied and Democratic party leaders and elected officials would be wise to listen to them. Looking forward, I am keeping an eye on the North Hempstead town supervisor race to see whether Republicans are squatting in or long-term leasing some of the more traditional Democratic areas, or whether Democrats are able to put the GOP back on the defensive.
Robust field organizing not optional
With massive amounts of campaign spending directed towards TV advertising – broadcast, cable, and targeted OTT (streaming) buys, many campaigns felt that there on the ground organizing had a particular impact – and in the case of Democrats allowed them to win districts that their fellow congressional and gubernatorial candidates were losing.
Joe Reubens, partner, The Parkside Group:
Going into 2022, we knew the traditional historical patterns well. Midterms for the party in power would present challenging terrain for the Democrats, compounded with the fact there were rising costs and Donald Trump wasn't on the ballot. Together these factors were certain to create real headwinds for Democrats. But the story of the 2022 midterm elections was about how the "Set It and Forget It" approach to campaigning – messaging almost exclusively through TV advertising costs the Democrats higher margins where they won races and cost them seats they perhaps could have won. By contrast, the state Senate Democratic Conference knocked on over 600,000 doors and had boots on the ground in key marginal seats as early as August. Our candidates met with and engaged activists and political clubs in every neighborhood across the state. On Election Day, our candidates won many races where congressional candidates with overlapping districts lost. Indeed, many of our members won their races at the same time that Zeldin was winning their districts simultaneously – showing there are indeed many ticket splitting voters left in key districts. TV is a powerful medium we use, but the story of 2022 is that the power of grassroots organizing is not to be overlooked.
Voter segments are far from monolithic
We picked up in our work multiple conversation streams about different segments of the electorate. We heard about the "the Black vote", the "Suffolk Vote", and the "Jewish vote", among others. It seemed to many that treating voter segments so monolithically was far too blunt of an instrument to carefully study and dissect critical voter segments.
Hank Sheinkopf, Sheinkopf Communications:
The challenge that Democrats face is not seeing today's diverse electorate simply as four monolithic groups of voters. Just because someone is Black or Hispanic doesn't mean they are poor and it doesn't mean they will listen to welfare state type messaging. There was at most a small increase in Black support for the GOP. The broader challenge Democrats face is Blacks moving out of the city to places on Long Island where they have more at stake and thus a message without cultural relevance to their lives, will almost certainly fall on deaf ears. 
There was also a similar view towards some of the political geography as being monolithic territory, too.
Doug Forand, partner, Red Horse Strategies:
The 2022 midterm elections demonstrated that thinking about voter segments or even boroughs or counties as single monolithic entities doesn't get at the necessary nuances. Brooklyn, as an example, has 2.6 million voters and a diversity of neighborhoods and political geographies. The red wave came ashore in south Brooklyn, and we saw the Reagan and Giuliani Democrats become full on Republicans. But that trend is unique and distinct from the turnout challenges in traditionally Black Central Brooklyn election districts, where we did not see a strong coordinated effort to mobilize and turnout key elements of the Democratic base. Looking ahead to the New York City Council races in 2023, we are projecting fairly low turnout numbers and that means the winners will be determined as much by who shows up on Election Day as by the underlying politics that seemed to create a red wave in 2022. Strong Democratic candidates can prevail in these races next year with the right kind of voter-centric campaigns.
Looking ahead, we heard some important themes about how politics can or should be transformed.
Republicans need long term strategy of political engagement
Given the success that many Republicans had, including nearly winning the governor's race, some expect we may see GOP candidates spend more time cultivating non-traditional voter segments.
Chapin Fay, CEO of Lighthouse Public Affairs:
Great candidates, favorable conditions and hard work brought New York Republicans a lot of success on Election Day. Every county in the state got redder, turning New York purple. But if Republicans do not start right now in building and cultivating sustained relationships in communities of non-Republican voters in NYC and across the state, we are never going to win statewide.
The state GOP is more aligned with the national party than before
There is also a sense that while redistricting really threw much more sand into the gears than anyone expected the larger possible trend is that Republican Party voters may be less accepting of moderate Democratic candidates than they had in the past. Today's NY state GOP party is not your father's party – it is much more conservative and much more aligned with the outlook of the national Republican Party.
Basil Smikle, Ph.D., director of the Public Policy Program at Hunter College:
There were two broad trends out of the 2022 elections. First, the impact of redistricting, where elected officials were getting to know new voters in a very short period of time that created a dynamic that threw everyone into a state of chaos. State leaders exhibited some hubris in drawing districts that were far more Democratic than any judge would allow. Second, there was a long held belief that the NY GOP was not like the national GOP. Trump, among other dynamics, have shaped the Republican Party – and Republican voters – to be more akin to national conservatives and less likely to tolerate moderate Democrats or centrist Republicans. An election denier came within a few points of defeating Hochul and the turnout trend of Suffolk versus Brooklyn turnout tells you all you need to know about the gap in voter interest and engagement. Democrats need to find the center of energy in the party, including and among younger voters, with a focus on old-school outreach and voter engagement.
How robust of a postmortem will democrats dive into?
There is also the outstanding question of how much soul searching that Democrats will do and how far they go in terms of building out the necessary political and organizing infrastructure to allow them to take back some of the swing races in 2 years time.
Bill Hyers, co-founder, The Win Company:
New York isn't a political island. We are bordered by states where the GOP often performs well like Pennsylvania, New Jersey, Connecticut, and states like Massachusetts, where there is currently a GOP Governor. While Democrats can likely win back perhaps all but one of the swing congressional races in two years' time, they must start by rebuilding the infrastructure of the state party. We need a professional chair and a professional staff. New York has the political talent in spades, the question is whether there is the political will to professionalize the operations of the state party.
New York politics may be heading for a new normal, where many of the races for Congress and state legislative seats increasingly become high profile battle ground races that again draw in national attention and campaign spending. Polling shows dissatisfaction with the direction of the state and it's not inconceivable that while Democrats will overwhelmingly win the state in the presidential contest, that many races for Congress on down will be as competitive as almost any other races across the country. The new normal for New York politics is likely to be highly competitive, very expensive races that perhaps have national implications – well beyond the borders of New York state.
Bradley Honan is CEO & president of Honan Strategy Group, a Democratic polling and data analytics firm, and co-president of the New York Metro Chapter of the American Association of Political Consultants.
NEXT STORY: Opinion: ULURP shouldn't be taken for granted