Opinion
Opinion: Passing the Grieving Families Act will drive up insurance rates for all
The legislation awaiting Gov. Kath Hochul's signature would be a reckless departure from the current law.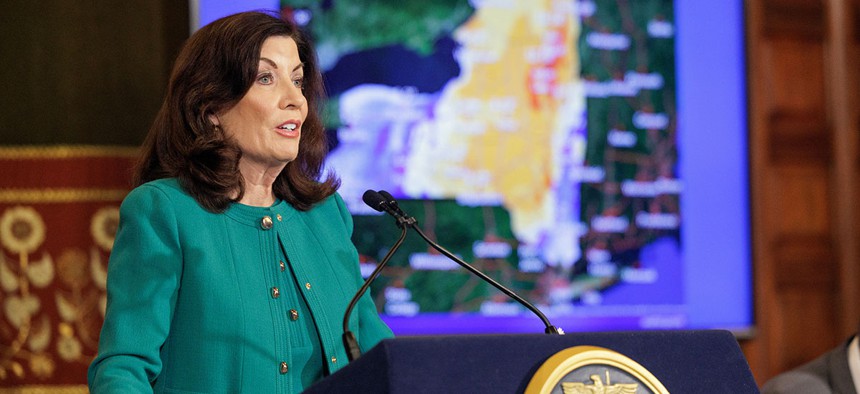 With the clock ticking toward the new year, Gov. Kathy Hochul will soon decide on legislation that would radically expand, in scope and cost, New York's long-settled wrongful death statute. Dubbed by its supporters the "Grieving Families Act," advocates overlook the impact key components of this legislation would have on every New Yorker, especially those most financially vulnerable. 
Rather than maintaining the current claimant definition to immediate family members, the bill upends and expands, without limit, the class of claimants to include an undefined "close family member" – this could be a third cousin, step-grandchild, great-great uncle, among others. This will lead to arbitrary awards that will dilute and reduce the financial support for those who most relied on the decedent for financial support and security (i.e., spouse, children, et al.). 
Moreover, this bill represents a drastic and reckless departure from current law that will hyper-inflate civil justice costs for every New Yorker. Under current law, a wrongful death claim may be brought on behalf of surviving family members seeking economic damages, including medical aid, nursing, and funeral expenses. This legislation would grossly expand the types of damages to include a laundry list of non-economic compensation, including loss of society, comfort, companionship, consortium, nurture, guidance, counsel, advice, among other claims. This will result in runaway litigation costs that will hurt every New York resident, business, and local government. In fact, a recent actuarial analysis prepared by the New York Civil Justice Institute of the proposed legislation estimates that, if enacted, the bill could increase liability premiums by $2.2 billion annually. Auto and general liability premiums are estimated to increase by 11% as a direct result of this legislation, while medical liability premiums would increase 40% to 45%. That is why the bill is strongly opposed by doctors and hospitals, local governments, and insurers, as well businesses of all sizes.  
So, who gains from the enactment of this legislation – law firms that are most often entitled to one-third of the settlement or judgment plus additional reimbursable expenses that can run into hundreds of thousands of dollars or more, resulting in claimants receiving less than half of the final award. Key to this debate, unlike other states that allow for non-economic damages and have placed limits on lawyers' fees and/or awards, this bill provides no such consumer protections. Under this proposal, there would be no limit to the amounts of awards, costs to our healthcare system, insurance rates and economy – nor any limits on how much these specialty law firms will profit from these cases. 
Despite advocates' claims to the contrary, the historical purpose of New York's wrongful death statute was not designed to determine the worth of any deceased person's life, but to appropriately compensate the immediate family members who deserve financial compensation in the absence of their loved one's financial support. For these reasons, Gov. Hochul should veto this misguided measure. 
Rory P. Whelan is the northeast regional vice president for the National Association of Mutual Insurance Companies.