Editor's Note
Editor's Note: Hochul's film tax credit supports a lot more than the industry
The ripple effects of giving such breaks go well beyond the movies.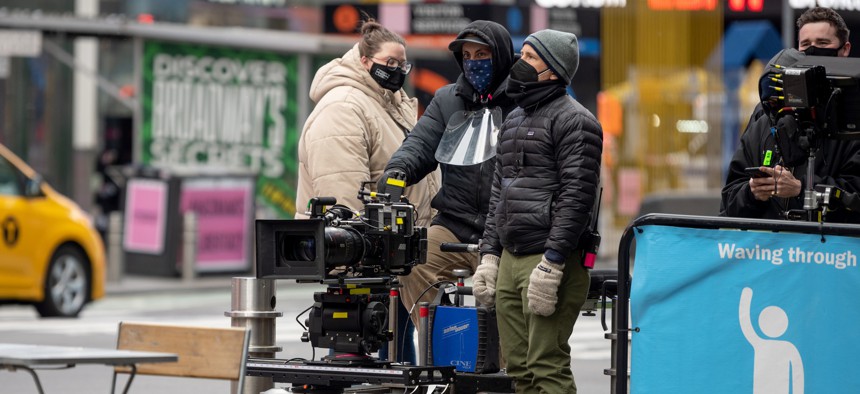 Gov. Kathy Hochul has proposed increasing the state's tax credits for the film industry from $420 million a year to $700 million starting in 2024. The increase would again be the largest tax incentive for any single industry in New York state. Critics don't see this as a practical investment and some have called it a pay-to-play scheme, since Hollywood big names like director Steven Spielberg have donated to Hochul's campaign. 
One only needs to look upon the vacant stores and office buildings of New York City to see how other sectors are still hurting after COVID-19. So are the movies, with Cinépolis Chelsea closing in January followed by Union Square's Regal Theater this month. But, this same industry has been reinventing itself, opening recently the Alamo Drafthouse Cinema in Lower Manhattan and next the reopening of a theater on West 57th Street that shuttered in 2021 as a Look Dine-in Cinema. Both chains serve dinner and drinks along with a movie.
Top stars, visual effects and good storytelling made Oscar-nominated films like "Top Gun: Maverick" and "Avatar: The Way of Water" must-sees in theaters across the five boroughs. And the benefits from film go even further, which is why it's been the focus lately for Anne del Castillo, commissioner of the New York City Mayor's Office of Media and Entertainment, who was interviewed by our intern Sunny Sequeira. 
Film is an $82 billion industry in New York state, according to del Castillo, that provides a communal experience and drives local economies. Further support with an increased tax credit might even have some spillover to those sectors that have not yet recovered.