Opinion
Opinion: Increasing CUNY and SUNY tuition is a working and middle-class tax increase in disguise
It's time for the state to reinvest in both institutions and follow through on Gov. Kathy Hochul's vision for higher education.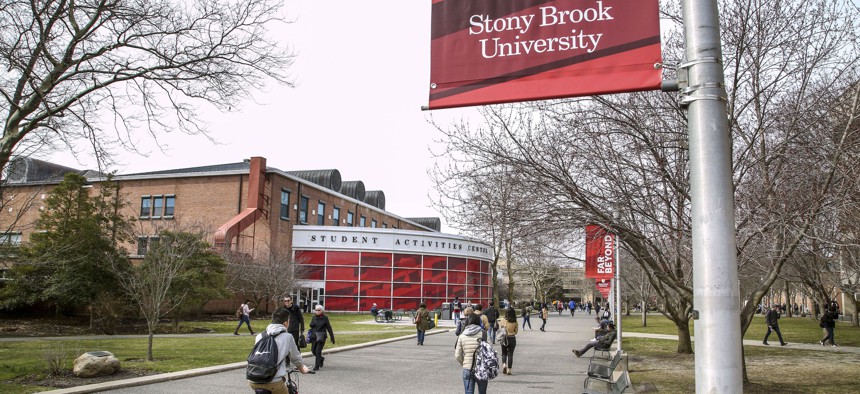 In 2022, Gov. Kathy Hochul laid out an ambitious agenda for public higher education in New York. She committed to increasing CUNY and SUNY funding by $1.5 billion over five years, and by 2030, she aims to ensure that two thirds of all New Yorkers have a post-secondary credential.
The legislature worked eagerly with her last budget cycle, commending and enhancing this vision, fighting for additional steps toward the New Deal for CUNY (A5843), which would ensure adequate numbers of full-time faculty, mental health counselors, and academic advisors. Importantly, the New Deal for CUNY would make the institution free to attend, as it was for more than a century, until 1975.
I am passionate about CUNY because I know the transformative power of public higher education. When I worked in a university library, I saw day in and day out the students who were in the process of bettering their economic and intellectual lives. Make no mistake: CUNY transforms lives at a striking scale. In my district alone (the state Assembly's 22nd in Nassau County), there are 439 CUNY employees, 1,764 CUNY students, and a stunning 4,309 CUNY alumni. 
While the Executive Budget has some good elements for public higher education, it falls short of the vision from 2022. Troublingly, for the first time in years, Gov. Hochul is proposing to increase tuition.
New York has the opportunity to step up where the federal government fell short, and make public higher education free, fulfilling the vision of President Joe Biden's Build Back Better Act, in its original and intact form. Raising tuition sends us in the opposite direction, away from this aspiration.
The comptroller recently reported that New York state has generated $7.7 billion in revenue above projections from last year. Without raising taxes one cent on the ultra-wealthy, we already have nearly $8 billion to deploy for New Yorkers. If we choose to raise taxes on those with great wealth, we will have even more.
CUNY and SUNY are intuitions of the highest quality, and they should also be fully accessible. Instead of hiking tuition, we should be taking steps toward eliminating tuition. For approximately $200 million, we could reverse the last tuition hike under Governor Cuomo and not raise tuition this year, while maintaining current levels of funding at both CUNY and SUNY. 
But we should not stop there. Community colleges have seen the steepest enrollment declines in recent years, and if that trend continues, it will be virtually impossible to meet the governor's goal of two thirds of New Yorkers holding a post-secondary credential. If we applied just a fraction of the $7.7 billion that the Comptroller recently identified, we could eliminate tuition at all community colleges, statewide.
In this context, the idea that we would raise tuition on the poor, working-class, and middle-class students, a majority people of color at CUNY, is anathema. After all, what is tuition at a public institution, but a tax by other means?
Imagine if the New York State Library charged rental fees to the ordinary New Yorkers who come to read and explore. Like other public services, libraries are funded with public dollars, generated from regular tax receipts. It should be no different at CUNY and SUNY, especially since these institutions serve those who are in economic need and who are actively aspiring to economic stability and mobility.
The vision for public higher education that Gov. Hochul expressed to the state last year was a really important step in the right direction. This year, we should build on that vision, not drift away from it. CUNY and SUNY need to be funded properly, so that when students arrive, they have the academic and mental health supports they need, and so that when they go into the classroom, they meet faculty who are reasonably compensated and who have job security – so that those students can come back for a letter of recommendation a year or two down the line and find that their professor is still there, ready to help with an application for a job or a master's degree.
We are blessed to live in a state with extraordinary wealth. We do not have to wait for the federal government to expand our social services, to make inspiring and economically wise policy decisions, like making public higher education free. And we certainly do not need to raise state revenue on the backs of low-income students who are struggling to get a post-secondary degree. We have the resources to pass a New Deal for CUNY, and to ensure a fully funded SUNY. Let's do it.