Opinion
Opinion: NY Legislature – fight for the film tax credit! Sincerely, NYC borough presidents
The film biz brings jobs and cachet to New York City.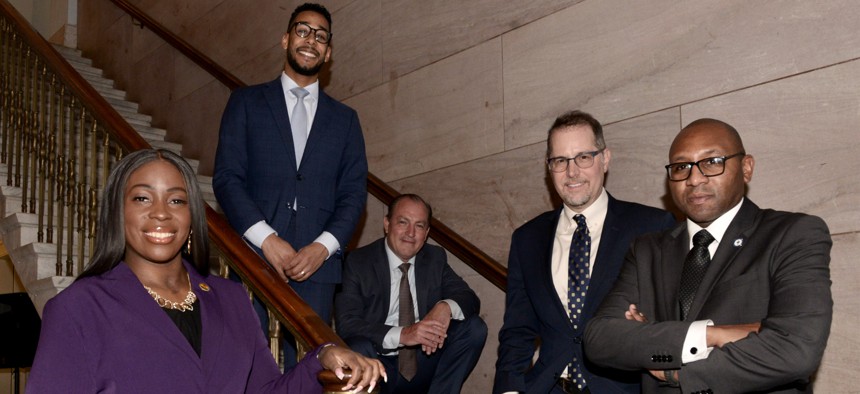 The film industry has a special history in New York City. Across the five boroughs, from indie flicks to major blockbuster hits, our city has provided the backdrop and workforce that produced thousands of great films and television shows. 
As borough presidents, we celebrate that each of our boroughs has played a key role in the history of filmmaking – one that stretches back long before Hollywood was Hollywood. We urge our colleagues in the state Legislature to support this crucial industry by passing Gov. Kathy Hochul's Film Production Tax Credit proposal.
Staten Island is not only considered by many to be the birthplace of the Western and home to some of the first ever Nickelodeon movie studios, but today, it is home to a 69 acre production facility that has hosted numerous films and TV shows. In The Bronx, Edison Studios opened in 1908, located a block away from the New York Botanical Garden. It was there that one of the first adaptations of Mary Shelley's Frankenstein was filmed. Manhattan's Chelsea Studios, which opened in 1914, was the set for dozens of notable productions and is still in use today. In Queens, Kaufman Astoria Studios opened in 1920 as a hub for silent films. Since then, it has filmed myriad famous television shows and movies, and is designated as a national historic district. And lastly, Brooklyn was home to the American Vitagraph Company, which produced silent films in the late 1890s. Today, the borough is home to Steiner Studios – the largest film and television production complex in the United States outside Hollywood. 
Since these studios first laid the foundation for the film industry in New York City, it has blossomed. Our skilled workforce means that production companies can execute their visions from start to finish right here. From scouting the perfect location, to writing, editing and lighting, to hosting star-studded red-carpet events, it can all be made in New York. These opportunities have become a real economic engine in New York City, generating $82 billion in economic output and 185,000 jobs, according to the Mayor's Office of Media and Entertainment. And these aren't just any jobs: The film industry is one of the most unionized in the country, and its average salary in New York is $90,000 a year. Forty-four percent of industry jobs do not require a four-year college degree, and the pay is 37% higher than the median wage.
Productions large and small also support the economies of the communities in which they film. They support thousands of small businesses from coffee shops to hardware stores. The film industry paves the way for other related businesses to open, from soundstages to prop houses, that have a mutually beneficial relationship. Additionally, when the city is chosen as the backdrop for blockbuster films and shows, it drives tourism dollars into these communities. A prominent recent example is the step street in the Bronx that was featured in 2019's "Joker," and has since driven thousands to the borough to get their perfect snapshot. 
While film and television have produced jobs and direct income in our communities for decades, the industry is at risk. Since New York first introduced film incentives in 2004, states including Massachusetts, Georgia and New Jersey – as well as other countries – have enacted their own competing programs. As we have faced increased competition from other states, productions have moved elsewhere. This competition has rippled through our communities, taking away revenue from our small businesses and forcing our talented workforce to travel to nearby states for work. 
That's why we support Gov. Hochul's proposal to expand and extend the existing program, making it competitive once again. This historic investment will help New York maintain and grow its film industry, supporting thousands of high-paying jobs in every corner of the state. Additionally, the plan allocates millions of dollars for career development and workforce training, to expand our already talented workforce and make the industry more diverse and equitable. This investment will generate more jobs in the film industry than ever before and drive greater opportunities for New Yorkers. 
As borough presidents, one of our main priorities is bringing new opportunities to our communities. While the success of certain industries ebb and flow, one thing is certain: The film industry has played a pivotal role in driving tourism and securing jobs for our neighbors across New York City. We are always excited to hear when productions choose to film in our boroughs, and we want it to stay that way. Albany must approve Gov. Hochul's tax credit expansion. This is an opportunity to showcase our city from the South Bronx to the South Shore, and we strongly urge our colleagues in Albany to support this proposal in ongoing budget negotiations – or else it may be curtains for New York's time on the silver screen.