Opinion
Opinion: Adrienne Adams must bring bill to end home care workers' 24-Hour workday to a vote
What good is a women-majority City Council that won't protect the lives of immigrant women of color?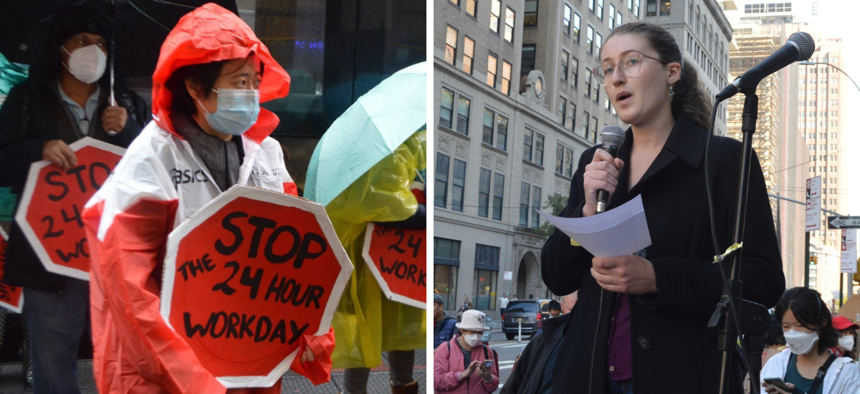 Last month, City Council Speaker Adrienne Adams congratulated herself and the first-ever women-majority Council on their accomplishments in commemoration of Women's History Month. She claimed to uplift women who "exist at the margins" and those who face economic, racial and healthcare disparities. She promised that "we will continue to enact investments and legislation that prioritize workers and working families across the city."
These are empty words coming from the same speaker who's currently blocking the No More 24 Act (Int 175), which would end inhumane working conditions and massive wage theft for exactly these kinds of women: immigrant women of color who work as home attendants.
Only in New York City, home attendants are forced to work 24-hour shifts for only 13 hours of pay. They have been organizing against these violent and inhumane conditions for almost a decade. Not only do these jobs require intense physical and emotional labor, but also deprive them of time to spend with their families or any kind of life outside of their patient's care. As a result, these women are getting sick, injured and suffering damage to their mental health. While the rest of the city sleeps, these women help their patients with diaper changes, or carry them to the bathroom, or lay half-awake, ready to get up at a moment's notice. 
What does the "historic" women-majority City Council mean for these women?
The No More 24 Act was introduced to end the 24-hour workday by mandating that a 24-hour shift be split into at least two shifts of no more than 12 hours each. (Upstate, 24-hour shifts are generally split into three separate 8-hour shifts.) This would ensure that patients have better quality care from well-rested, fairly-treated caregivers, and would end this shameful practice of forcing women of color into barbaric working conditions. 
As individual women break glass ceilings, we must also ensure this translates to progress for all working women. Yet Speaker Adams, the first black female leader of the Council, has blocked the No More 24 Act from coming to a vote. While the Speaker claims to champion pay equity, she overlooks more than $60 million in unpaid wages stolen from these workers. As a result, almost a year after the bill's introduction, home attendants continue to suffer in the shadows.
The first women-majority City Council must stop insurance companies and home care agencies from exploiting women of color. Otherwise, their representation in positions of power will be meaningless. Or worse, women and girls of color will learn that representation means nothing more than upholding racist violence against other women of color and sheltering bosses from paying their workers what they are rightfully owed.
Now that Women's History Month has come to an end, women and people of all genders should unite to end the 24-hour workday to keep hope in women's progress alive and end this inhumane practice once and for all. We will be holding a rally outside City Hall on Wednesday, April 12, to demand that Speaker Adams bring the No More 24 Act to a vote, and everyone's invited.