Opinion
Opinion: NYC's 'Right to Counsel' program in dire need of funding life raft
Provider staffing shortages have left people alone to navigate housing court.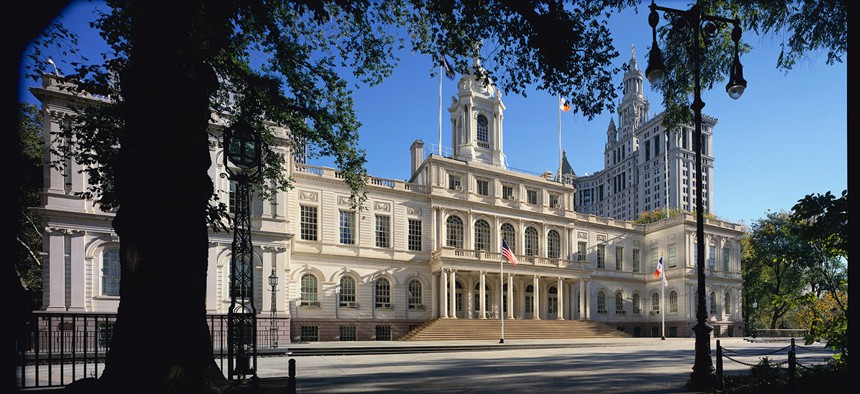 While the Right to Counsel Law guarantees eligible New Yorkers facing eviction a free housing attorney if they need one, the city has not kept up with funding to providers to fully staff the program – a program that has greatly expanded in scope over the last few years­ – leaving thousands of tenants to navigate housing court alone.
To maintain this vital anti-eviction program, New York City must fully fund Right to Counsel providers, attorneys, and advocates so we can continue keeping low-income tenants in their homes – tenants like Maria Carrasquilla, a 64-year-old Queens resident who lost her job during the pandemic and fell behind on her bills.
Like thousands of New Yorkers who are severely rent burdened (defined as paying more than 30% of your income toward rent), Maria had a pension, but it wasn't enough to fill the gap and eviction loomed. Right to Counsel attorneys and staff helped her apply for Social Security and for a federal relief program, which allowed her to pay her back rent.  
When Maria faced eviction again due to unforeseen circumstances, Right to Counsel providers were right there to help her, this time securing a housing voucher which knocked her rent down to $200 per month, providing a more permanent solution to her housing insecurity. Maria can now afford to stay in her rent-stabilized apartment without fear of eviction.
But the city's chronic underfunding of Right to Counsel providers is now putting efforts to keep people like Maria housed at risk. Year after year, budget shortfalls combined with skyrocketing eviction caseloads have put the Right to Counsel program in peril at a time when the number  of eviction filings are climbing at a frightening rate.
According to the Cornell ILR Eviction Filings Dashboard, eviction filings in New York City more than doubled from 44,495 in 2021 to 112,274 in 2022. In January, executed evictions more than doubled from 5,505 last year to 11,687 this year. 
Providers anticipate an astonishing 120,000 eviction cases this year – more than 71,000 of which are likely eligible for Right to Counsel representation. But the city's current contracts only fund providers to take on 35,000 of those cases, leaving more than 36,000 tenants without an attorney, all but assuring mass evictions.
To make matters worse, rents are soaring across the city. A recent report from Douglas Elliman stated the median rental price in Manhattan for this past February rose to $4,095, a 10.7% increase from $3,700 in February 2022. In Brooklyn, the median rental price jumped 17.2% to $3,400 compared to $2,900 the previous year. Rents in northwest Queens also increased 12.1% from February 2022.
We know the Right to Counsel program works and is one immediate solution to combat our sprawling affordable housing crisis. It provides a safety net for tenants, predominantly families of color, who would otherwise fall through the cracks of the housing court system. Since the law passed in 2017, roughly 84% of tenants represented by a lawyer through the program stay in their homes.
But because of the city's underfunding, attorneys and staff are exiting the field due to long hours, high caseloads and low pay which makes it unaffordable for them to stay. Among our organizations, we currently have 50 Right to Counsel attorney vacancies, representing thousands of tenants who will go without legal representation.
The city can and must address this rolling crisis by investing an additional $351 million so tenants can stay in their homes. This would allow us to hire more lawyers and advocacy staff, boosting our capacity to represent tenants in all eligible eviction cases, fund necessary staff salary increases and bridge the funding shortfall plaguing providers.
City Hall must also fix long standing problems in the city's procurement and payment processes – a move both Mayor Eric Adams and Comptroller Brad Lander have called for—which has forced legal aid agencies to go months and months without any payments on existing contracts. These delays have forced us to incur banking fees and take out loans to make payroll, and have jeopardized our lines of credit with banks. This contracting debacle also prevents us from offering competitive and fair wages to our staff, exacerbating the flood of resignations.
The time is now for City Hall to step up and make the Right to Counsel program a reality so that low-income tenants can get the legal help they need. It's not only the law, it's also the right thing to do and a critical component of any viable plan to address the city's growing housing crisis.
Adriene Holder is the chief attorney of the Civil Practice at The Legal Aid Society. Raun J. Rasmussen is the executive director of Legal Services NYC. Lisa Rivera is the president and CEO of New York Legal Assistance Group.
Powered By
NEXT STORY: Opinion: New York's public safety and affordable housing crises are inextricably linked