Opinion
Opinion: New York's public safety and affordable housing crises are inextricably linked
Amid stalled budget talks, it's time we treat them as such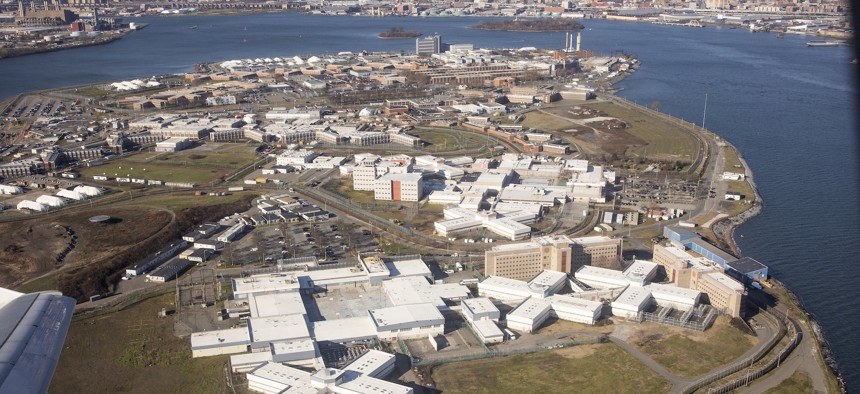 Last week, New York state budget conversations stalled once again as lawmakers disagreed over two key issues: Gov. Hochul's proposed plans to roll back bail reform and ongoing affordable housing initiatives. It's clear to me – as a former Bronx public defender who has spent over a decade working to promote public safety – that these two issues are inextricably linked, and amid budgetary hold-ups, New York's lawmakers must treat them as such. 
To do so, state officials should oppose the proposed wave of rollbacks to bail reform and think more strategically about what constitutes true progress toward improved public safety. Doing so will not only make the state a safer place for its residents – it will simultaneously help address the housing crisis. This is because while Hochul's target of constructing 800,000 new affordable housing units statewide over the next decade will undeniably ease homelessness, her proposal to eliminate the state's least restrictive bail standard would have a contradictory effect. If passed, this measure would roll back prior bail reforms (which were proven to boost community stability and have no negative impact on public safety), likely increasing wrongful convictions and excessive sentencing, as well as create destructive cycles of jailing that target more Black and Brown New Yorkers.
Any increase in the number of folks involved with the criminal legal system, especially when that involves an increase in pretrial jailing, will directly impact the number of unhoused New Yorkers. This is because measures which increase people's involvement with the legal system are enormous (and often overlooked) drivers of housing loss. In other words, if leaders fail to block this bail law rollback, New York's housing crisis will worsen.
To be sure, the lack of affordable housing is undeniably New York's largest driver of housing insecurity. But unnecessary entanglement with the legal system is a critical, close-ranking root cause. For example, a 2018 survey of 2,281 women with incarcerated relatives by the women's rights advocacy organization Essie Justice Group found that 48% of women who owed money to the bail bond industry (often to pay the bail of a loved one) experienced housing insecurity. There are strong indications that being detained pretrial threatens housing stability, job stability, and even makes it more likely someone will be convicted. Consequently, no plan to address homelessness can be considered complete without measures aimed at quelling the housing loss that is caused by unnecessary arrests, pretrial jail time, predatory bail practices and other clashes with the criminal legal system which have no positive bearing on public safety. Housing insecurity in turn leads to more exposure to the justice system: Many human acts our system categorizes as crime are activities which homeless people must engage in simply to survive – such as loitering, sleeping in public, and panhandling.
It's past time that every state legislator in New York state (except Latrice Walker, currently engaged in a brave hunger strike) wakes up to the fact that every stage of the criminal legal system – from arrest, to processing a criminal case, to the conviction itself, to probation or parole, to incarceration, to release – sparks consequences that contribute to housing insecurity. First and foremost, under current laws, arrest alone – even without a conviction – often leads to eviction by a private landlord or public housing authority. In fact, the New York City Public Housing Authority has the power to "permanently exclude" any person who has been arrested. This means that families can face the heartbreaking choice of either forcing a loved one who has been arrested to leave the home (in some cases, one's own child) or subjecting the entire household to the prospect of eviction. 
The cyclic link between arrests and homelessness does not stop there. Being arrested and subsequently subjected to criminal proceedings often triggers job loss, inherently stripping an individual – innocent or otherwise – of their income and ability to participate in the housing market. Even if one does have a source of income, trying to find housing with an open case can be monumentally difficult, as 90% of landlords surveyed in 2017 by TransUnion reported conducting criminal background checks on applicants, and as many as 32% of arrest records entirely lack a case disposition (meaning the landlord cannot even see the outcome of the housing applicant's case and is making decisions based on accusation alone). 
As fiscal year 2024 budget proceedings trudge ahead, it's critical that legislators understand that as long as the link between housing infrastructure and incarceration remains unaddressed, the state will struggle to make a dent in either homelessness or public safety, let alone both.
Beyond investing in public defense as an upstream means of helping New Yorkers gain access to housing and avoid detrimental, unjust entanglement with the criminal legal system, the state must also reevaluate the safe housing options it offers to those who are emerging from carceral settings. As it stands, the issues of incarceration and affordable housing are inextricably linked, as thousands of formerly incarcerated people take up residence in New York homeless shelters after completing their time behind bars. 
This patchwork approach is far beyond dysfunctional. More permanent solutions are needed from both a housing and public safety angle. In January 2023, a glimmer of hope emerged when state Sen. Brian Kavanagh reintroduced the Housing Access Voucher Program. This measure – which provided voucher assistance to New Yorkers facing the immediate prospect of eviction or homelessness – had support from both the Assembly and the state Senate last year, but it was ultimately not put forth in the governor's final budget proposal. Other common-sense housing solutions, such as "good cause" eviction measures, have also not been given the attention they deserve. This not only marked a distressing blow to the Legislature's progress toward addressing homelessness, but also a missed opportunity to promote public safety by increasing access to affordable housing. 
By weighing the current proposals for bail reform and affordable housing in tandem, New York's leaders will do themselves the favor of avoiding unintended policy consequences and duplicative efforts – and make plain the benefits of keeping bail reform intact as a larger measure to ensure stability and success for more New Yorkers. In turn, New Yorkers across the state will thank them for deftly addressing safety and housing costs – the two issues they clearly care most about.
Emily Galvin-Almanza is a former Bronx public defender and the executive director of Partners for Justice, a national nonprofit working to bolster public defense.
Powered By
NEXT STORY: Opinion: Good Cause is good economic development