Editor's Note
Editor's note: Hochul still has an ally when it comes to her housing ideas
The governor said she will be following up with New York City Mayor Eric Adams on several initiatives they both want to "get done."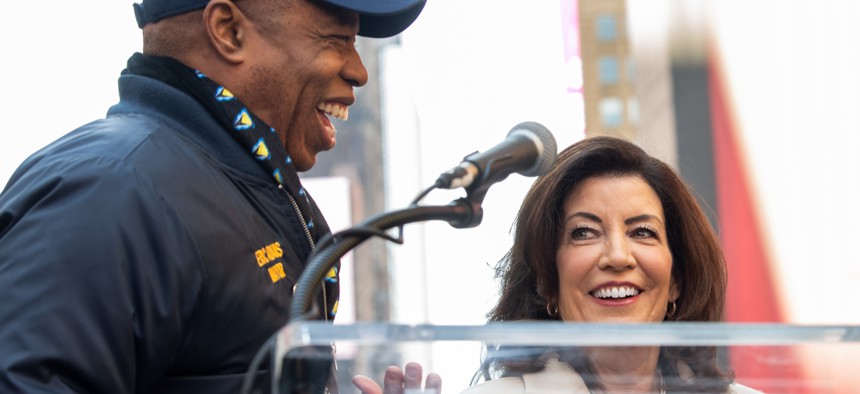 In the days leading up to her announcement of a tentative deal on the state budget last week, Gov. Kathy Hochul had to abandon her plan to build 800,000 new homes across the state by setting production targets for local governments. Lawmakers pushed back on the proposal, which would have allowed the state to step in when zoning decisions failed to reach the targeted goals.
"I proposed a bold housing plan. And I believe major action is required to meet the scale of this crisis. The Legislature saw it differently," Hochul said at Thursday's budget announcement. "They're not ready to commit to the kind of transformative change I proposed." Fortunately, there is someone she can turn to right now who's willing to take immediate action on housing: New York City Mayor Eric Adams. "I'm going to take a fresh look at everything we proposed. But I do know that there's four or five initiatives that are important to the city of New York. It's something Mayor Adams and I want to get done," she said.
Hochul said earlier in her remarks that she was focused on "stimulating housing growth," a priority for Adams, who also is pushing for office-to-residential conversions, extending tax credits for developers and allowing for more density, The City reported. Hochul in her comments specifically mentioned making changes to the now expired 421-a program to incentivize developers to build affordable housing. Her ideas may lead to more debate, but working with Adams may bring progress to the housing crisis, if not for the state, at least for New York City.
Powered By
NEXT STORY: Opinion: Who's left holding the bag?