Interviews & Profiles
How AOC and the left reinvented NY politics
The young, diverse progressives she inspired are winning races and pushing out longtime incumbents.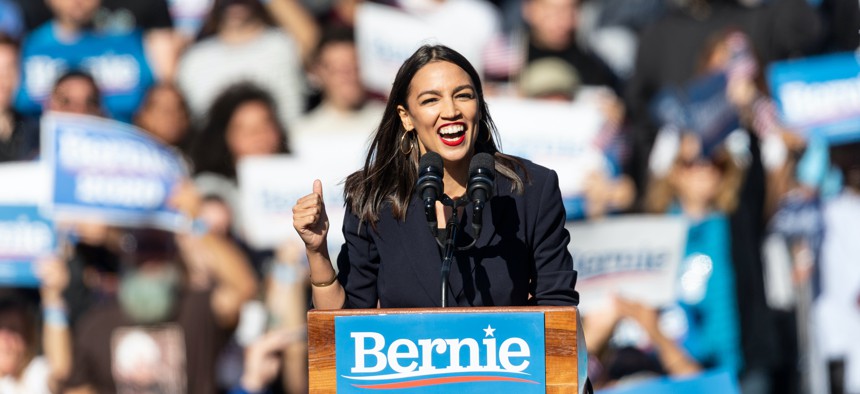 When New York City Mayor Bill de Blasio and Gov. Andrew Cuomo enthusiastically pursued Amazon's second headquarters, they surely expected any success to be celebrated. But when the tech giant announced in 2018 that Long Island City, Queens, would be one of their two new major office locations, the news was derided by many local legislators. State Sen. Michael Gianaris, who is now deputy majority leader, and New York City Council Member Jimmy Van Bramer – both of whom represent northwest Queens districts that include the once-planned Amazon HQ2 location – came out against the deal on the grounds that the financial incentives offered were too generous, even though they both had signed a letter encouraging the company to come to the neighborhood.
But it wasn't Gianaris or Van Bramer who dominated national headlines about the anti-Amazon backlash. Rep. Alexandria Ocasio-Cortez, who wasn't even in Congress yet, having just won her first term in a Bronx-Queens district that is near, but doesn't include, Long Island City, made news with her every utterance on the subject. Van Bramer's tweet announcing his and Gianaris' concerns received 125 retweets and 399 likes, which is a lot of interaction for a social media post by a member of the City Council. The next day, AOC – so instantly recognizable and oft-discussed that she is commonly referred to by just three letters, like FDR and JFK – sent a string of tweets expressing her own objections. The most popular message received more than 34,000 likes and more than 7,000 retweets.
You might say Amazon, Cuomo and de Blasio got AOCed. Like former Rep. Joe Crowley and anyone else who didn't see her coming, they didn't appreciate the appeal of the messenger and her message of economic fairness, diverse representation – and a more frankly antagonistic attitude toward large corporations and the wealthy than even fairly liberal Democrats have typically articulated.
Gianaris, Van Bramer, then-City Council Member Jumaane Williams and economic justice advocacy organizations such as New York Communities for Change rallied the opposition (though it was hardly a secret that Amazon was seeking inducements when some politicians had previously supported the effort). Many competing locations offered more money, and the opponents argued that the nearly $3 billion in tax breaks was excessive. Amazon ultimately backed out after being subjected to hostile City Council hearings and facing the possibility of Gianaris exercising a veto through an obscure regulatory body.
Yet in the public's imagination, AOC was the one who killed the deal. Fairly or unfairly, she is the individual most credited by sympathizers with scaring Amazon away and, at least according to a Siena College poll taken in the wake of the deal's collapse – most blamed by Amazon HQ2 supporters. Despite not being the first to weigh in, or the most involved in the dispute, she is in a sense the leader of every local cause she supports, because she is the leader of the left-wing opposition in New York.
Gianaris and state Senate Majority Leader Andrea Stewart-Cousins can justifiably claim credit for a number of hard-fought electoral and legislative victories for what unapologetic liberals like Vermont Gov. Howard Dean used to call "the Democratic wing of the Democratic Party."
Majority party leaders, however, aren't oppositional figures, by definition. To many on the left, especially those under 40 years old or so, that means they can never be fully trusted.
A large and growing cohort trusts AOC though. She can shift the entire political landscape on an issue when she speaks.
In terms of power under the law and legislative accomplishments to date, elected officials such as U.S. Senate Majority Leader Chuck Schumer and Cuomo are the most important New York politicians of the past five years. State Attorney General Letitia James, whose report on multiple allegations of sexual harassment by Cuomo created the conditions that led to his resignation, holds both a powerful office and is apparently trusted by both moderates and liberals.
But New York politics has been utterly transformed over the past few years by the progressive insurgency, of which AOC is the most high-profile and influential exemplar. She – and the panoply of organizations that support candidates like her, such as Justice Democrats, the other candidates themselves and advocacy groups like the Democratic Socialists of America, to which she belongs – are the most significant ongoing force in Empire State politics.
"You can't compare her power, because her power comes from the people," said Ilona Duverge, New York City director for the Movement School, a nonprofit founded by veterans of Ocasio-Cortez's 2018 campaign that trains political organizers. "And that's something that is really hard to build."
AOC was not the only young progressive to challenge the political establishment in 2018, but her victory in the congressional primary held in June of that year was a political earthquake, because it showed that such an upset was possible. Without AOC, would state Sen. Julia Salazar and the six candidates who ousted former members of the Independent Democratic Conference (or IDC), which had shared power with state Senate Republicans, have won three months later? Would more socialists and other progressives have gone on to win state legislative races in 2020 and New York City Council races in 2021? Would New York City's northern suburbs now be represented in Congress by Reps. Jamaal Bowman and Mondaire Jones, two staunchly progressive Black men who had never run before their 2020 bids? Would India Walton – a former teenage single mother, first-time candidate and self-identified socialist – be the Democratic nominee for mayor of Buffalo, having defeated four-term incumbent Byron Brown?
Not necessarily, according to some of the leading operatives in New York progressive politics. "AOC has changed the algorithm of viability, and what people see as a viable candidate," said Sochie Nnaemeka, New York state director of the Working Families Party. A conventional politician's résumé, connections to donors and political power brokers are no longer needed. "The other side of that equation was also that to remove an incumbent, they must have been a deeply egregious actor, either in terms of legality, morality," Nnaemeka said. "There has to be a clear, morally understood reason why a Democratic leader should be challenged for institutions to get behind (a challenger). AOC threw out the rule book and forced people to ask what is the leadership our people deserve?"
The WFP, which exists to hold Democrats accountable to their base, didn't endorse Ocasio-Cortez in 2018. As it usually did with Democrats who hadn't committed any notable ethical or ideological transgressions, it backed the incumbent. It has since supported a number of winning progressive insurgents, including Jones, Walton and Bowman – who was tapped to deliver the WFP's response to President Joe Biden's State of the Union in April.
In 2020, when AOC endorsed Bowman, then a middle school principal in the Bronx running against veteran Rep. Eliot Engel, Bowman's campaign sent an email bragging that it had secured "the most coveted endorsement in NYC politics" – a bit of campaign puffery that actually rings true.
New York political operative Luke Hayes has worked for three insurgent candidates endorsed by AOC in recent years: state Sen. Alessandra Biaggi in 2018, Tiffany Cabán's Queens district attorney race in 2019 and Bowman in 2020. "It brings earned media and the attention of the online left, which can be small donors, texters, phonebankers," said Hayes, of an AOC nod. "It creates energy and buzz around a candidate."
In the New York City mayoral election, AOC's power as a queenmaker was on full display. Just as The New York Times, long considered the holy grail of New York City Democratic primary endorsements, delivered upscale liberal neighborhoods (Manhattan's Upper West Side and Greenwich Village, Brooklyn Heights) for Kathryn Garcia, AOC delivered leftier, more recently gentrified areas (Astoria, Brooklyn's Fort Greene and Prospect Heights) to Maya Wiley with her late endorsement.
"What she did for Maya Wiley was, almost overnight, transform Maya Wiley into a top-tier candidate," said Rebecca Katz, a veteran Democratic consultant who worked for New York City Comptroller Scott Stringer in the mayoral race. "Maya did great in places that love AOC. And it just changed the whole narrative around Maya's race. It wasn't a long shot; it was winnable."
Cabán, a DSA member and former public defender who fell just 61 votes short of upsetting then-Queens Borough President Melinda Katz in the 2019 Democratic primary for Queens district attorney with proposed reforms such as eliminating cash bail and not prosecuting minor drug crimes, recently went on to win the Democratic nomination to replace Costa Constantinides on the City Council.
In every case, though, AOC's endorsement is one of many, and each candidate is one in a string of left-wing challenges to the Democratic establishment that goes back at least to U.S. Sen. Bernie Sanders' surprisingly strong performance in the 2016 presidential primary. "I think it's been building for a while," Katz said. "Go back to Occupy (Wall Street). In 2013, none of the moderates won for mayor. Bill de Blasio ran on a very progressive platform. And then Bernie (Sanders) happened in 2016."
Hayes noted that all three of the AOC-endorsed candidates he worked for were already gathering momentum when she weighed in. The DSA and WFP had gotten behind Cabán. Other high-profile endorsers, such as Sanders and U.S. Sen. Elizabeth Warren, followed AOC's lead. Bowman had the support of the WFP, Justice Democrats and New York City Public Advocate Jumaane Williams. Biaggi, who was running against then-state Sen. Jeff Klein, the former head of the IDC, was already attracting support from activist groups like the WFP.
Each new effort to move the Democratic Party leftward builds upon its predecessors and lays the groundwork for its successors. Every campaign trains new staffers, or even future candidates, and builds the larger progressive movement. Ocasio-Cortez canvassed for Sanders in 2016, and in 2017 for now-state Sen. Jabari Brisport, who first ran unsuccessfully for City Council as a Green Party candidate. Ocasio-Cortez's 2018 campaign, in turn, trained a new generation of young activists. Movement School alumni have gone on to staff winning campaigns for Bowman and Rep. Cori Bush of Missouri.
Ocasio-Cortez's upset victory has parallels to another New Yorker's shocking win in the preceding election. In a rebuke to career politicians, Republican 2016 primary voters chose a first-time candidate with an unprecedented ability to galvanize supporters on social media through his accessible, unfiltered communication style. Then, a group that might be described as the New York left's inverse – older white voters who didn't graduate from college – put Donald Trump in the White House, even though he trailed Hillary Clinton in preelection polling.
It was this political earthquake that set the stage for the next one. Just as the 1974 election, held in the wake of Watergate, yielded a bumper crop of young liberal reformers in Congress, the shock and horror of Trump's victory brought a new generation of Democratic activists and candidates into electoral politics.
"Our two biggest bumps in New York City DSA (membership) have been Trump's election and AOC's election," observed Brisport, a DSA member from Brooklyn. "I think in the first one, there was a strong fear of what was going to happen and a strong desire for solidarity and a vision of a better world being possible. ... On the opposite end of the emotional spectrum is AOC, who is just giving outstanding hope that like, 'Oh my gosh, we can topple these giants who have sat in their offices for so long and stopped connecting with their community … and put in amazing progressives or socialists. … That was really inspiring."
The DSA is far from the only progressive advocacy group to surge in the wake of Trump's election. The New York affiliates of Indivisible, a national grassroots organization founded by former Democratic congressional staffers in December 2016, have been a font of volunteers canvassing for anti-IDC candidates and Democrats who flipped GOP-held seats in swing districts.
In response to Trump's flagrant sexism, litany of sexual assault allegations and anti-women's rights agenda, the 2017 Women's March brought hundreds of thousands into the streets of Manhattan and the complementary increase in women running for office has led to the anticipated first female majority on the New York City Council.
Millennials' and Gen Z's leftward turn in some ways predates even Trump, as young Americans reached adulthood amid an accelerating climate crisis and more expensive housing, health care and higher education in an increasingly unstable economy. Young Americans are significantly more amenable to ambitious public investments and safety-net expansions, such as a Green New Deal and "Medicare for All" and less afraid of anti-capitalist labels such as socialism.
Still, it took a candidate to run and actually win to convince everyone from party bosses to first-time voters that left-wing challenges weren't inevitably hopeless. "It changed the conditions within which we would run for office," said Assembly Member Zohran Mamdani, a DSA member who defeated incumbent Aravella Simotas in his first race, the 2020 Democratic primary, and now represents Astoria. "Her victory really changed the way people understood primaries as something they could be a part of. Had AOC not won that race, I don't think the last few years would have looked the same. A lot of campaigns are built around the same energy, the same belief, the same strategy that was so successful."
AOC also demonstrated that candidates who speak assertively, in their own identifiable voices rather than the cautious platitudes of typical elected officials – and who often do so directly and casually via social media, rather than through advertisements and carefully worded press releases – could appeal to Democrats as much as it did to pro-Trump Republicans.
Since arriving in Congress, she has continued to attract fans with her compelling, unfiltered communications – most famously in her moving recounting on Instagram Live of the Jan. 6 attack on Congress by Trump-supporting insurrectionists.
Ocasio-Cortez wasn't necessarily the first New York candidate to develop a distinctly human presence on social media and in interviews. Williams speaks openly about his personal life, including on Twitter. Some other young elected officials with engaging online personas, such as New York City Council Member Justin Brannan and Assembly Member Yuh-Line Niou, were elected a year or two before AOC. But her reach – 12.7 million followers on Twitter and 8.7 million on Instagram – is unique.
Before the 2018 primary, most people asked to guess the base of a forthcoming left-wing rebellion would probably have said one of the Manhattan or Brooklyn neighborhoods renowned – at least once upon a time – for being on the cultural cutting edge, like the East Village, Williamsburg or Bushwick.
Instead, it came from Queens, the borough lodged in the American imagination by network sitcoms like "The King of Queens" and "Everybody Loves Raymond" as a bastion of middle-class, quasi-suburban conventionality.
AOC lives in the Bronx and is Latina, while Crowley, who is white, was the chair of the Queens Democratic County Committee. So you might have expected AOC's margin of victory to come from Latino areas in the Bronx. Although she won a number of majority-Latino election districts, Crowley carried some too, along with mostly Black areas, such as LeFrak City. Crowley actually performed better in the Bronx portion of the district than in the Queens portion, because Ocasio-Cortez's largest margins were often found in some of the whitest areas of the district, including the gentrifying northwest Queens neighborhoods of Astoria, Woodside and Sunnyside.
Queens is also the borough where Cuomo and Trump grew up. Cuomo's brash, hard-nosed style and centrist approach (think Ed Koch) and Trump's resentful, demagogic fear-mongering (like Rudy Giuanli) each embody archetypes of a white New York City that is disappearing.
Queens is now only one-quarter white, and Ocasio-Cortez was just the first of many candidates of color to replace a white elected official in Queens. Next year, the borough's City Council delegation will likely include at least three more Asian American members and one more Hispanic member.
The outflow of working-class and middle-class whites from New York City means that the moderate white outer borough politician typified by Crowley – and his cousin Elizabeth, who just lost a close race to Borough President Donovan Richards – can no longer win anything bigger than a city or state legislative race in a few remaining strongholds like Middle Village and Bayside. Astoria, Woodside and Sunnyside, with their shift from mostly blue-collar Irish, Italian and Greek residents to a polyglot melting pot from Asia, Latin America and the suburbs (by way of liberal arts colleges) embodies this transformation. (Coincidentally, in "All in the Family," Archie Bunker – the original avatar of outer borough conservatism – lived in Astoria.)
This new paradigm – in which white voters are now more likely to cluster on the Democratic Party's left flank rather than its right – has been seen in recent races. Sanders and Warren – the left-most contenders for the Democratic presidential nomination in 2020 – failed to make significant inroads among Black voters, who instead delivered the presidential nomination to Biden, the quintessential moderate institutionalist. In 2021, Brooklyn Borough President Eric Adams, a Black former NYPD officer and ex-Republican, won among Black and Latino voters and in lower-income precincts in the New York City mayoral primary.
But even when the left loses, its mutual enmity with centrist Democrats is inescapable. In late July, Adams spoke at a fundraiser for Republican City Council Member Eric Ulrich and declared, "I'm no longer running against candidates. I'm running against a movement. All across the country, the DSA socialists are mobilizing to stop Eric Adams." He later disputed the widespread assumption that this was a shot at Ocasio-Cortez.
Although DSA campaigns, such as Salazar's in 2018 and Cabán's in 2019 saw similar voting patterns to Ocasio-Cortez's first race – with the leftists winning the gentrified, Manhattan-adjacent areas and losing more blue-collar neighborhoods to the east – DSA candidates and their supporters dispute the claim that they are less popular in working-class communities of color than among white-collar professionals. Ocasio-Cortez's office noted that Crowley enjoyed an incumbency advantage, but when facing a well-funded challenger from the right, former CNBC contributor Michelle Caruso-Cabrera, in 2020, AOC won the public housing projects in her district and neighborhoods she lost in 2018, such as East Elmhurst, Queens, by wide margins. That same year, Brisport and Phara Souffrant Forrest, a DSA-backed candidate who defeated Assembly Member Walter Mosley in the Democratic primary, carried their districts' majority-Black precincts.
However they've done it, the bottom line is that they've won. And in districts without even a wisp of gentrification, candidates who are not in the DSA but are to the left of incumbents – and who sometimes represent demographic change – are also making inroads.
The Sanders campaign and Ocasio-Cortez's victory also reverberated in the other borough she represents, as political newcomers have challenged the Bronx political establishment. Bowman, a DSA member who ousted Engel in a 2020 primary, represents an adjacent district that is split between the Bronx and Westchester. In another Bronx district, Rep. Ritchie Torres, the first openly gay Afro-Latino member of Congress, was elevated from the City Council in a 2020 primary to fill an open seat. The left had feared homophobic City Council Member Rubén Díaz Sr. would win, but Torres defeated him, Assembly Member Michael Blake and the DSA's choice, political newcomer Samelys López, among other candidates.
Despite the Bronx Democratic Party's historic reputation as an old boys' club, it recently did its part to change the City Council's gender balance. Next year, five of the nine council members from the Bronx will likely be women, up from two.
Although AOC's and the DSA's endorsements did not bring López anywhere close to winning, a number of Black and Latino women, many of them running to the left of their opponents, won other Bronx races recently. City Council Member Mark Gjonaj, a relatively conservative white Democrat, backed out of running for reelection against District Leader Marjorie Velázquez, who had unsuccessfully run against him in 2017 and this time had the backing of the WFP and unions such as District Council 37 and the Hotel Trades Council. Amanda Farías – who lost a race against Díaz Sr., the party-backed candidate, in 2017 – won the race to replace Díaz Sr. this year. This time, Farías had the party's support against Díaz's pick, Bronx Community Board 9 District Manager William Rivera. City Council Member Vanessa Gibson also just won the Democratic nomination to likely be the first woman to run the Bronx as borough president.
"She's definitely moved the needle a bit more left in the communities," said Farías, of Ocasio-Cortez. But, Farías noted, an array of organizations and little-known activists also deserve credit for the changing face of New York's political leadership. "Over the last handful of years, there have also been really super highly engaged women of color, immigrant groups, that have focused on finding the local leaders in communities, putting them through trainings and supporting them to feel prepared to run for office. I worked with New American Leaders; I worked with Women of Color for Progress. There's other groups like Amplify Her, Higher Heights, that have looked at Black women, first- and second-generation Americans, immigrants, and have focused a lot of energy on preparing the next bench of people that could run insurgency races and win."
The effect of the insurgent left can be felt in new laws passed since Democrats took control of the state Senate in 2019, including an expansion of access to voting, driver's licenses for undocumented immigrants, strengthened rent regulations, bail reform and one of the most liberal and equity-focused marijuana legalization regimes in the United States. Many of these measures were being championed by liberals in the state Legislature for years, but they needed a Senate with comfortable Democratic majorities to pass.
Marijuana legalization, for example, was sponsored by Assembly Majority Leader Crystal Peoples-Stokes and state Sen. Liz Krueger, and it fell just short in the upper chamber in 2019 despite the new Democratic majority, due to resistance mainly from the downstate suburbs. It got the margin it needed in 2020, when Democrats flipped three Senate seats in Western New York. And, foreshadowing the Buffalo mayoral race, these were not all moderates: the WFP backed now-state Sens. Samra Brouk and Jeremy Cooney in the Rochester area.
Peoples-Stokes, though she told City & State that the change in control of the Senate was important, had been previously quoted as a skeptic of the impact on outcomes that the four DSA members elected to the Assembly in 2020 have had in the 107-member Democratic conference. "The tail can't wag the whole dog. … There's not enough of them," she told The Buffalo News in July.
Nonetheless, she told City & State that Ocasio-Cortez and others "have energized and mobilized a generation."
"I'm particularly encouraged by their focus on the climate," Peoples-Stokes said. "I'm also hopeful that (AOC) can use her platform to bring us to really begin to discuss the racial implications in every system that operates in New York."
Cuomo, historically a cautious moderate, signed all these measures as part of an overall shift that began in his previous term, after Fordham Law professor Zephyr Teachout won one-third of the vote when she challenged him in 2014. Teachout's anti-fracking stance won her the Sierra Club's endorsement and she won upstate areas facing the specter of fracking, such as the Finger Lakes. Shortly after his reelection, Cuomo surprised even anti-fracking activists by banning fracking.
In 2018, actress Cynthia Nixon challenged Cuomo in the Democratic primary. This time, Cuomo's leftward repositioning came during the campaign, when he reversed his previous opposition to legalizing recreational marijuana and banning plastic bags. While she only received roughly the same 34% vote share that Teachout did, Nixon and her supporters, who referred to Cuomo's moves as "the Cynthia effect," could argue that their effort had changed state policy.
Although both groups could be described as beneficiaries of political polarization, New York's new progressive elected officials aren't much like young right-wing firebrands, such as Reps. Madison Cawthorn of North Carolina and Marjorie Taylor Greene of Georgia, whose main accomplishment is gathering headlines for trolling their political opponents and promoting unsubstantiated conspiracy theories. (Greene, a first-term member, recently called Ocasio-Cortez a "little communist," which AOC deftly dismissed by saying, "First of all, I'm taller than her.")
AOC and her allies are much more serious than their counterparts on the right about having a tangible impact on constituents through policy. In her first term, AOC had no success in getting bills she sponsored passed, even out of committee. It should probably come as no surprise that her ambitious proposals like a national ban on fracking didn't get through Congress. But her bill to repeal a long-standing ban on new federal public housing construction passed the House of Representatives in June and she worked with Schumer to get funeral assistance for families that lost members to COVID-19.
New state legislators who ousted incumbents or party-backed opponents have been instrumental in passing recent landmark legislation. State Sen. Jessica Ramos wrote a law that increased labor protections for farmworkers, and Sen. Zellnor Myrie sponsored new voting rights laws, including the creation of early voting. Assembly Member Catalina Cruz – who grew up undocumented – helped lead the charge on the driver's license law.
Young women in Albany are combating sexual harassment in workplaces, including their own. The Sexual Harassment Working Group, a group of former New York state legislative staffers formed in 2018, promoted legislation to address the issue. In 2019, after chairing the first joint hearing on sexual harassment in 27 years, Biaggi sponsored a law that strengthens legal protections for victims of gender-based discrimination and harassment. The former Cuomo staffers who have spoken out about his alleged harassment may have been emboldened by this changing climate. Cuomo's resignation will make Lt. Gov. Kathy Hochul the first woman to serve as governor of New York.
While the #MeToo movement inspired women across the country to speak out, and Black Lives Matter has led to police reform in other cities, New York has been one of the places most affected by these movements for the same reason it has had the most dramatic blossoming of progressive politics: because of New Yorkers, people who boldly fight for their beliefs, people like AOC.
Correction: An earlier version of this story incorrectly described how Tiffany Cabán won the Democratic nomination to replace Costa Constantinides on the New York City Council. Due to an editing error, the story also incorrectly described the people who defeated members of the Independent Democratic Conference.
Powered By
NEXT STORY: David Paterson on Kathy Hochul's history-making governorship