Personality
OK hear us out: New York Gubernatorial Squid Game
Maybe it's time to shake up the Democratic process (minus the violence)?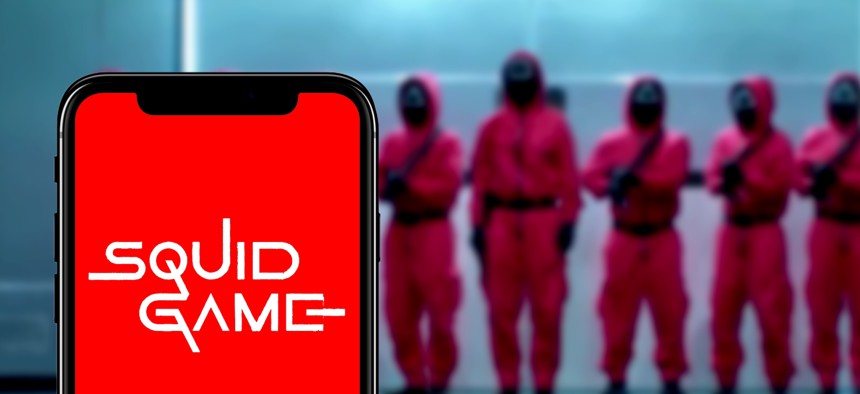 Before the race for governor really kicks off (and the entire borough of Brooklyn decides to run), we'd like to offer an alternative to the normal election cycle, a suggestion that we think will save everyone a lot of time, money and energy: Everyone who wants to be governor in 2022, including Kathy Hochul, should compete in the inaugural Gubernatorial Squid Games, based on the immensely popular (and incredibly violent) Netflix series of the same name. 
Candidates will compete in a series of six games, with the winner taking office. Unlike in "Squid Game" the TV show, losers won't die, they just won't be allowed to run for election ever again (for Bill de Blasio, this may be a fate worse than death). 
Here's how we think the games should be run:
Red Light, Green Light: You can only talk about running for governor when state Democratic Party Chair Jay Jacobs has his back turned. Red light, green light, 1, 2, 3!
Honeycomb: Forget stars, circles and umbrellas. Candidates have to painstakingly carve a honeycomb candy version of the state seal … Good luck with that "E Pluribus Unum" addition. Anyone who cracks the mold has to drop out.
Tug of War: Primary debate time! In lieu of talking about substantive issues (which they probably wouldn't talk about anyway), each candidate and their top staff play tug of war, with the losers falling into a bottomless chasm of no name recognition.
Marbles: Instead of making up a game to trade marbles with a partner, you're allowed to take your opponents' donors by any means necessary except violence. 
Glass Bridge: Door knocking for potential voters, but 50% of the people who answer are actually registered to vote in a different state, but don't tell you until after you've spent five minutes talking to them. It might be physically safer than falling through alternating unstable glass tiles, but it's a bigger waste of money.
Squid Game: The main event! The general will just be the Democratic and Republican nominees going at each other in a knife fight, except the Democrat is supported by everyone who dropped out in the primary and the Republican is on their own. The GOP will love this one because they have better odds than a normal election.