Interviews & Profiles
How Karen Persichilli Keogh became secretary to the governor
A 2003 phone call between Kathy Hochul and Hillary Clinton cemented the relationship between the now-governor and her most important hire.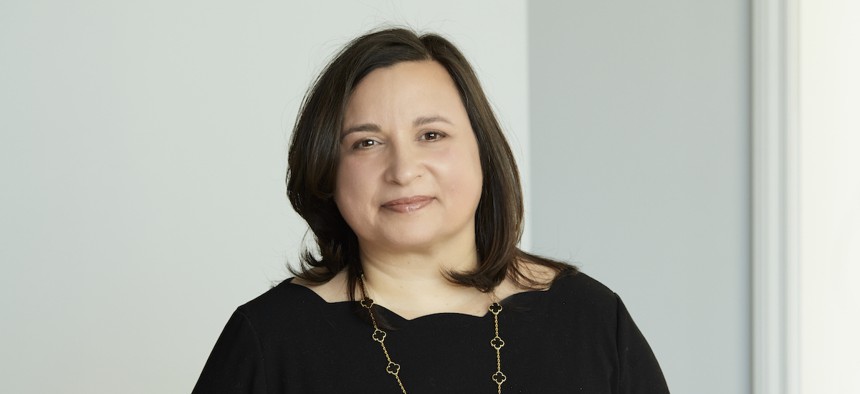 Secretary to the Governor Karen Persichilli Keogh has helped a lot of Democrats transform their political brands. She directed the transition of Kirsten Gillbrand from a relatively moderate member of Congress to a champion of leftist causes. She later helped then-New York City Mayor Michael Bloomberg build support among women as he pushed for an extraordinary third term in office. And there were the five years Persichilli Keogh – widely known in political circles as KPK – spent as statewide director to then-U.S. Sen. Hillary Clinton following a contentious 2000 U.S. Senate election where the former first lady faced accusations of carpetbagging. That job has become newly consequential for millions of New Yorkers when Gov. Kathy Hochul appointed Persichilli Keogh as her top lieutenant shortly before taking office in August.
The relationship between Persichilli Keogh and Hochul, both longtime fixtures in New York Democratic politics, truly began in May 2003. Hochul, then a member of the Hamburg Town Board, attended a roundtable discussion and press conference in nearby Cheektowaga about helping steelworkers keep their health care following the closure of a plant by Bethlehem Steel. Hochul sought out Clinton after the event to get her support for removing toll booths on the New York State Thruway in her hometown – a big issue for local commuters. "Kathy grabbed me and was like: 'I need to talk to her,'" Laura Krolczyk, the Western New York director for Clinton at the time, said in an interview. "'I need to talk to her about the Hamburg tolls.'" Clinton called Hochul later that day to say that she was designating a top aide – Persichilli Keogh – to help Hochul. "We became fast friends – just really hit it off," Persichilli Keogh said of Hochul in an interview. "Her energy is just boundless, and she's always working."
A relationship cemented over toll booths, which were removed years later, became a matter of statewide importance when then-Gov. Andrew Cuomo announced his resignation on Aug. 10 following a litany of scandals that included sexual misconduct, self-enrichment and a cover-up of data showing COVID-19 deaths among nursing home residents. "I got a call from her team shortly after it was known that she would ascend to be governor to ask if I'd be interested in meeting with them about a senior role in the administration," Persichilli Keogh said. "She wants the best and the brightest, and she has tasked us to build a team that will work to not only execute on her vision – but change the culture in Albany." She told Hochul she would accept the position of secretary to the governor at a meeting held at the governor's midtown Manhattan office on Aug. 17.
The appointment of Persichilli Keogh, a Long Island native who has a master's degree from Columbia University, as Hochul's top aide is emblematic of the wider choices Hochul has made while assembling a senior team of mostly female senior aides who come to state government after long careers in local and federal government. They all have big roles to play in helping Hochul keep her promises to make the state government more ethical and effective, but no one has a bigger role in getting things done than the top aide in her administration. "The secretary has to be almost an extra arm of the governor," William Mulrow, who held the position under Cuomo, said in an interview. "The state operations director is running the day-to-day aspects of the government. The counsel is running all that legal stuff that has to get done. … The secretary has a sense of politics, has a sense of government, has a sense of business." The job involves being a governor's top surrogate with legislators, political leaders and gubernatorial staff alike.
The state operations director is running the day-to-day aspects of the government. The counsel is running all that legal stuff that has to get done … The secretary has a sense of politics, has a sense of government, has a sense of business.
– Williams Mulrow, former secretary to the governor under ex-Gov. Andrew Cuomo.
A top task for the new governor was distancing herself from Cuomo, an alpha male who she loyally served for years, by setting a new tone in state politics. This work began even before she officially took office when she began meeting with a range of city officials long antagonized by Cuomo. The most high-profile of these meetings was with New York City Mayor Bill de Blasio, the most famous target of bullying by the former governor who knew how to leverage state power over the city. Former Erie County Democratic Party Chair Leonard Lenihan saw the unmistakable mark of KPK in the Red Room in the state Capitol – where Cuomo held many of his once-celebrated COVID-19 briefings – on Aug. 24 when Hochul donned a suffragette white dress for her a ceremonial swearing-in as the first female governor in state history. "Karen had her fingerprints all over that event," Lenihan said in an interview.
People who have worked with Persichilli Keogh before say she has cultivated a reputation for niceness over the years, especially during her time working for Clinton. "When they were maybe doing something we weren't going to like or saying something that would be viewed as being critical of the governor or the administration – without fail – (Persichilli Keogh) gave us a heads up," Mike Elmendorf, a former aide to then-Republican Gov. George Pataki, said of Persichilli Keogh while she was working for Clinton. Such consideration many people say is a hallmark of Persichilli Keogh's leadership style. Former Clinton staffer Sarah Clark, now an Assembly member representing the Rochester area, recalls how after she gave birth to her first child in 2008, Persichilli Keogh made sure to have the future secretary of state, then running for the Democratic presidential nomination, call Clark from Texas to offer congratulations. Krolczyk also recalled how KPK took on many of the duties of managing Clinton's Buffalo office so that Krolczyk could help her ill father.
Persichilli Keogh, whose most recent position was as head of global philanthropy at JPMorgan Chase & Co., also reflects a focus on competence by the new administration. "The role is executing on our bold vision," Persichilli Keogh said of her position in an administration that has vowed to enact sweeping changes to how state government works. "That includes appointments at senior levels." Incoming Director of State Operations Kathryn Garcia was a "go-to fixer" for de Blasio during her various stints as sanitation commissioner, city hunger czar during the pandemic and temporary head of the New York City Housing Authority following a lead paint scandal. Soon-to-be state Health Commissioner Dr. Mary Bassett was celebrated years ago for preventing a mass outbreak of Ebola in New York City without any major disruptions to the area. 
Counsel to the Governor Elizabeth Fine, whose appointment was announced on the same day as KPK's, has a long career in city, state and federal government that includes a stint as deputy attorney general under then-President Bill Clinton in the 1990s. Adrienne Harris, who Hochul has nominated as superintendent of the Department of Financial Services – which oversees the multitrillion-dollar insurance and financial industries – was a top economic adviser to former President Barack Obama. One of Persichilli Keogh's top lieutenants, Deputy Secretary for Intergovernmental Affairs Amit Bagga, was deputy director of the census outreach effort credited with preventing New York from losing an additional congressional seat in next year's redistricting process.
She keeps her counsel close, and she's not one for gossip and anything beyond doing her job.
 – political consultant Hank Sheinkopf
Appointments, however, are about a lot more than just getting things done. Hochul is running for a full term in office next year, and connecting to the right people is just as important now as it was when she was an elected official in Western New York where she could safely appeal to the political center without worrying too much about backlash from the political left. The dozens of appointments and nominations made by the new governor include just a handful of white men like Cuomo – but a whole lot of women and people of color who highlight how the governor and her team are seeking to build bridges to key constituencies. The selection of Brian Benjamin of Harlem as lieutenant governor was widely seen as part of her wider efforts to appeal to the Black downstate voters she will need in the 2022 primary against state Attorney General Letitia James and New York City Public Advocate Jumaane Williams, two native Brooklynites, either one of whom could become the first Black person elected as governor. Gubernatorial appointments have also brought apparent political benefits to the new administration. The focus that Bassett has demonstrated throughout her career in public health on the intersection of public health and racism makes progressive legislators happy. Appointing Jessica Garcia and Tremaine Wright, a former legislator with deep ties to the Brooklyn Democratic establishment, to the Cannabis Control Board built ties with influential advocacy groups like the Drug Policy Alliance and powerful unions such as the Retail, Wholesale and Department Store Union, which could represent workers in future marijuana dispensaries.
Governors have historically leveraged appointments to strengthen their political coalitions, according to Bruce Gyory, an adjunct political science professor at the University at Albany. For example, Franklin D. Roosevelt and Thomas Dewey focused on getting people into their administration who could reflect fast-growing groups like the Jewish community and white Catholics. In much more recent times, Pataki appealed to Black and Latino voters in his third term by appointing people of color. Cuomo, a Queens native, balanced his gubernatorial tickets with upstaters like Hochul and former Rochester Mayor Robert Duffy, while also cultivating support among women by naming Melissa DeRosa as the first female secretary to the governor in state history. Now that Hochul is in power, she appears to be checking off a few boxes through her various appointments. "She's really threaded the needle finding highly credentialed appointees, but also finding regional balance and diversity," Gyory said. "That really shouldn't be a surprise that she's particularly done that as the first female governor." A big question for the administration from the get-go, however, was how this would translate into getting things done as governor.
Hochul came into office at a tumultuous time. Hurricanes Henri and Ida struck the state in her first week. The delta variant of the coronavirus was driving a surge in COVID-19 cases. An unexpected decision by the U.S. Supreme Court made tenants across the state fear that mass eviction notices might soon be on their way. Cuomo might have dealt with such problems by playing the role of the can-do, "master of disaster," which gained such national notice earlier in the pandemic. Team Hochul is taking a different approach to showing who is in charge while it continues efforts to remake state government to be more competent and ethical. "You have a talented team of folks who are working collaboratively against all of these ambitious goals and we're turning the page and beginning this new inclusive era of leadership," Persichilli Keogh said in an interview. One photo recently tweeted by Hochul shows her sitting while Garcia looms over her while presumably briefing Hochul on the state response to potential flooding in late October – a notable contrast to how Cuomo would play the tough guy in times of emergency.
The new administration has had some success already where Cuomo notably failed in his final months in office. Just a small number of undocumented workers and tenants accessed COVID-19 relief funds while he was governor even though the money was approved more than six months ago. Hochul's people have distributed the money so fast that she was already calling for more federal support after just a few weeks. A legal weed market was stymied for months because Cuomo declined to make key appointments to the Office of Cannabis Management and its associated board. While Cuomo took action to delay releasing details of a multimillion-dollar book deal, Hochul and Persichilli Keogh have signed recusal agreements to address concerns about how their husbands – both of whom work for firms with business before the state – might have undue influence in the administration. The recusal policies they signed (part of a broader effort of government transparency) and released in October are now being held up by good government groups as the quintessence of – good government. "Common Cause/NY is in the uncommon, and welcome, position of being able to applaud the Governor of New York for prioritizing ethics and accountability," Susan Lerner, the group's executive director, said in a statement.
The transition has not always been smooth for the new administration. Not all progressives like Harris' background in business. Hochul had to defend her appointment of a person with long ties to Cuomo as acting chair of the Joint Commission on Public Ethics, the much-criticized state ethics body that has appeared to be beholden to the former governor since it was established in his first term in office. White women have dominated her top appointments, and groups like the New York Immigration Coalition say her administration should name more Latinos to important posts. She has also had to answer questions about Benjamin's and Bagga's past support for defunding the police and what it means for her own administration as she seeks a full term. And then there is the ongoing surge of COVID-19 cases across the state and ongoing uncertainty about how the upcoming state budget and legislative session might test her administration.
Yet, political watchers have noted that her ability to avoid antagonizing powerful public unions while pushing a vaccine mandate on their members is one of many examples of the political pitfalls she has managed to successfully avoid by adopting a more collaborative approach than her predecessor. High-profile examples of this include meeting de Blasio for cookies or working with legislative leaders to hash out a compromise on extending the state eviction moratorium through an extraordinary legislative session weeks ago. Gyory said another area of success for the governor is the absence of distractions from her key initiatives in recent weeks. "The lack of controversy is actually a quiet nod of the head that this is working for them," Gyory said.
If Hochul was looking to limit drama in her own administration, political insiders say she found the right person to act as her top aide. "She keeps her counsel close and she's not one for gossip and anything beyond doing her job," said political consultant Hank Sheinkopf, who worked with Persichilli Keogh in Bloomberg's campaign "It's hard to imagine someone being smarter about picking someone." KPK honed her skills as an all-around problem solver during the five and half years she worked for Clinton as her statewide director. That position meant helping out local officials like Hochul handle problems like removing toll booths on the thruways so Hamburg residents could have a cheaper commute. The team they have assembled nearly two decades later is now focused on matters much grander in scale. KPK is hardly about taking credit for herself. "We have looked at this through a number of different lenses," she said of staffing up the administration. "Folks who are brand new to government, folks who have government experience. I'll just say that most of the senior team knew each other, but we had never worked together – and it has been a real joy to build this team from the ground up in the vision of Gov. Hochul."
Powered By
NEXT STORY: This week's biggest Winners & Losers