Interviews & Profiles
Jason Myles Clark steps in to lead Tech:NYC
The new executive director talked about workforce development and championing the city's tech sector.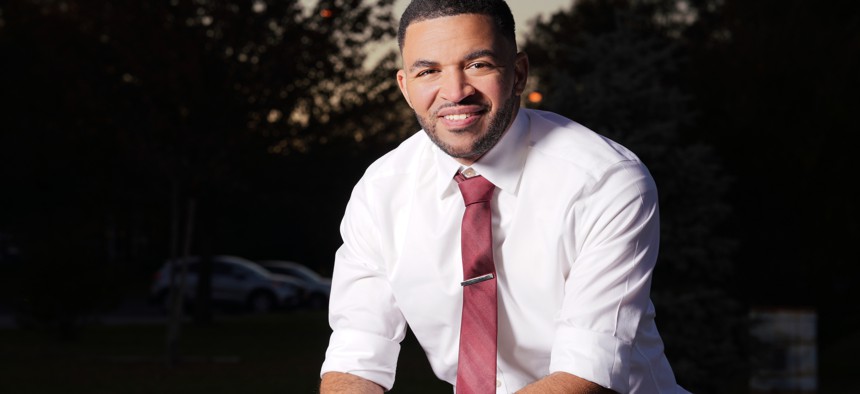 As the technology sector has boomed in New York City, the industry group Tech:NYC has been in the thick of it, cheerleading growth and helping to advance the interests of their hundreds of member companies. That included during times when both state and city lawmakers have attempted to rein in uses of technology or regulate tech companies.
Julie Samuels, the founder of Tech:NYC, announced last summer that she would step down as the group's executive director, paving the way for a new leader as New York City welcomes a mayoral administration that is not only cheerleading for the tech sector but aims to take a new approach to how government uses technology.
Tech:NYC's new leader is Jason Myles Clark, a former New York City Council candidate in Queens, former assistant attorney general in New York and founder of an education nonprofit that aimed to diversify New York City's specialized high schools. City & State caught up with Clark recently to talk about his vision for Tech:NYC, the strides the city has to make in workforce development and how tech companies are thinking about increasingly regulatory-minded governments in the city and state. This interview has been edited for length and clarity.
What attracted you to Tech:NYC and led to you taking this job?
I feel like we are at a flashpoint when we're talking about technology and its relationship with New York City. If there's one thing that we've seen over this past year during the pandemic, it is that the tech industry has really been doing a lot to bolster the economy and (making) sure that we have jobs and figuring out innovative solutions to issues we've been dealing with for a long time. Especially coming in at a time where we have Mayor Eric Adams, who has talked a lot about what we can be able to do with technology, with a governor (like) Kathy Hochul who has also expressed an interest in really being able to reach the potential that we see for the tech industry – it just seems like an opportunity where we can really be able to have a meaningful impact.
Is technology, or the issues facing technology companies, something you focused on in your previous jobs?
Yeah, I have a little bit of a unique relationship when it comes to technology and getting to this point. Before this, I had actually been a partner at a litigation firm called HamiltonClark, where some of the work that I did was assisting with making sure that tech startups in the criminal justice space were able to reach their strategic goals. Likewise, one of the things that had always been important to me was education and knowing how the education I got here in New York City helped be able to give me opportunities that, frankly, a lot of folks in Southeast Queens just didn't have. To that end, we started a program called DREAMChasers, which provides digital and virtual online learning to folks from low-income and underrepresented backgrounds so that they can be able to get into some of the top high schools and some of the specialized high schools here in the city.
In your City Council campaign, you spoke about your experiences with racial discrimination and education equality. How can the city play a role in workforce development and ensuring that those opportunities are accessible to all?
I think that's one of those areas where there's a lot of work that has been done, but there's a lot more work that needs to be done. I'd love to be able to see if we can start to put together apprenticeship programs so that individuals who are interested in getting into the tech industry can be able to do so. And to figure out ways that we could be able to reskill workers who have historically been underrepresented in some of these areas and be able to have an introduction to some of the technology jobs out there. I'd love to see if we could be able to do more, especially with our younger folks, especially between 16 and 26, where we could be able to develop partnerships or internships – not even just during the summer, but all year long – so that they can have an opportunity to be able to develop a microcredential by working at a Google or working at an Etsy or working at a lot of these different tech companies that are out there.
Tech:NYC's work is pretty expansive – working with government leaders to bolster the sector, attracting new startups, advocating for tech-focused policies solutions as well as favorable regulations. Are you looking at any particular areas as initial points of focus?
I would definitely say workforce development. I want to make sure that we're doing everything we can to build jobs out here. I want to make sure that the tech industry is something that's accessible to all New Yorkers, regardless of your background. We need to do more to ensure that there are more entry points, so that folks can be able to have some of these software engineering jobs or have some of these IT jobs or be able to build the next startup out there.
Mayor Eric Adams is clearly putting a focus on technology, whether it's championing cryptocurrency or reorganizing the city's information technology agencies. What do you think of some of those steps he's taken so far? Is there something you'd like to see him do that he hasn't talked about yet in terms of harnessing technology or building up the city's tech sector?
I'm very excited about a lot of what I've been hearing. I think that there are some amazing opportunities, especially when we talk about building out cryptocurrency and just fintech in general here in New York. What I also really like is when he's talked about figuring out ways to use technology really as a way to reduce some of the inequities that we've seen for so long. For example, if we're talking about being able to access social services out there, there should be a uniform or central area where people can be able to get some of these resources. Probably the most important thing is that, as you said, he's just been a cheerleader when it comes to technology.
Technology companies, including some Tech:NYC members, continually come under scrutiny at all levels of government, whether we're talking about state legislation to change the gig worker model or state Attorney General Letitia James leading nationwide antitrust cases. Do you see Tech:NYC playing a role in mitigating the appetite to rein in different kinds of tech companies?
Really my first priority as executive director is making sure that I'm talking with the member companies and hearing from as many of them as possible – what their priorities are – and making sure that we figure out the things that they support and why they do support certain regulations out there. I think that one of the things we want to be able to figure out is ways that we can have uniform sets of regulations so that the rules in New York aren't different than the rules in different states out there. It makes it easier for companies to be able to put the right systems in place to make sure that they're complying.