Politics
Dealer's Choice: What Matters Most in Selecting New York's Casino Bids?
In early May of last year, Gov. Andrew Cuomo laid out his plan for siting new casinos in New York. Promising an influx of jobs for economically depressed upstate communities, the proposal also repeated the governor's pledge that any new casinos would double as resort destinations in order to attract tourists and keep locals from flocking to places like Atlantic City and Connecticut.
Under his plan, the governor said, the state would license several "gaming resorts" through an "independent, non-political process, to fairly and strategically capitalize on the enormous potential gaming has for growing our state's economy."
Now, following the approval of casino gambling by state lawmakers and voters, the state's siting board has 16 casino bids to pick from this fall—and it is becoming clear just how difficult it will be to winnow them down to no more than four winning projects.
Officially, the winning applicants are supposed to be based 70 percent on "economic activity and business development," 20 percent on "local impact and siting factors" and 10 percent on "workforce factors." At least one casino can be chosen in each of the three designated regions of the state: the Capital District; the Hudson Valley and the Catskills; and the Southern Tier and part of the Finger Lakes region. A fourth casino can be sited in any one of the three regions.
But the tidy-looking set of criteria belies a messier reality. In some cases, the governor's goal of boosting financially strapped communities appears to be at odds with his desire to build lucrative attractions that can compete with major out-of-state casinos. His aim to award licenses to projects with a quick turnaround time further complicates the equation, especially for developers whose projects could be delayed by legal or financial troubles. Even ranking the bids based on their projected revenues is a risky endeavor, since there is no guarantee that developers will live up to their own expectations.
"It's a question of, are you looking for the greatest financial return to the state, or is your primary focus the greatest local economic impact?" said James Featherstonhaugh, an Albany-based lawyer and lobbyist who used to serve as president of the New York Gaming Association, and who holds a financial stake in two of the casino bids. "There are a couple of other things. But somebody has to decide to prioritize them in order for the board to be able to exercise its judgment."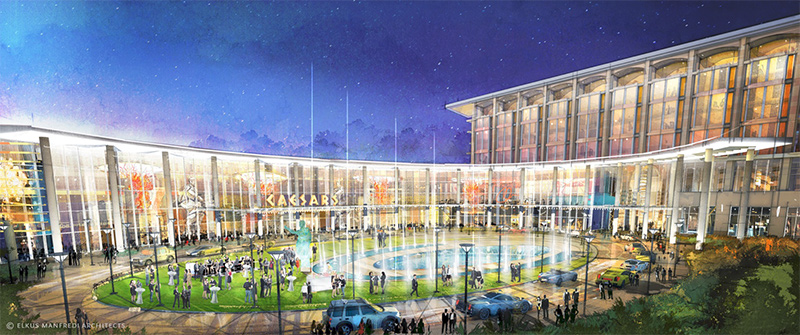 An artist's depiction of the $880 million Caesars New York casino.
A day after voters approved the legalization of casino gambling in New York this past November, Cuomo joined local officials and residents in an auditorium in Sullivan County to revel in the victory. Stepping up to a podium that read "Funding for Schools, Jobs for the Catskills," Cuomo touted the jobs and revenues that would soon come to the economically depressed region.
"This is a huge, huge win for the state of New York," Cuomo told the audience. "It's especially a huge win for the Catskills, and for the Hudson Valley. … This is a game-changer. I think it's going to fundamentally change the trajectory of the Catskills. I think it's been a long time in coming, but it is finally here."
Yet placing a casino in the Catskills is a gamble. The region encompassing the Hudson Valley and the Catskills is easily the most competitive in terms of the number of proposals, a total of nine. Six developers submitted bids in Orange County alone. (The area, of all of the allowable sites for a casino, has the advantage of being the closest to New York City and of its huge, largely untapped market.) Among these six are some of the most expensive casino proposals of any in the state, and three of them would be located in southern Orange County, approximately a mere 50 miles from Manhattan.
Speculation that New Jersey will allow casino development even closer to New York City, at the nearby Meadowlands sports complex, could persuade the state to award a license to one of the larger scale Orange County bidders—such as Genting's Sterling Forest Resort & Casino or the Caesars New York proposal near the Woodbury Common outlet mall—to boost its competitiveness and keep New Yorkers gambling in their home state. Signs of market saturation in the Northeast and market stagnation across the country only heighten the concern that New York could get left behind.
If the selections were based solely on the level of investment or anticipated revenue, the process would be relatively simple: Orange County would win one or even two casinos, leaving the Catskills out of the game.
"If they were truly looking at what will make the state the most money, create the most secure jobs, and the casinos that will do the best—it's open and shut: There is no doubt that the Orange County casinos, the closer ones to New York, will do better than a Sullivan or an Ulster County casino," said Alan Woinski, president of Gaming USA Corp. and editor of a subscription-only gambling report for industry insiders.
Mindful of this analysis, Catskills bidders and their backers are increasingly worried that an Orange County casino would make it difficult if not impossible for them to secure financing. One would-be Catskills bidder, a partnership of Connecticut's Foxwoods casino and Muss Development, has already dropped out, citing a lack of funding.
"The legislative intent was definitely not to have a casino at the shopping mall in Orange County right off Exit 16 … that's Woodbury, one of the proposals," said Assemblyman Gary Pretlow, the chairman of the Assembly Racing and Wagering Committee, in a radio interview in September. "I mean, that would definitely hurt Sullivan County because … the market is New York City and Westchester and thereabouts, and people aren't going to drive 45 miles past a casino to go to another casino unless there's something really good happening in Sullivan County."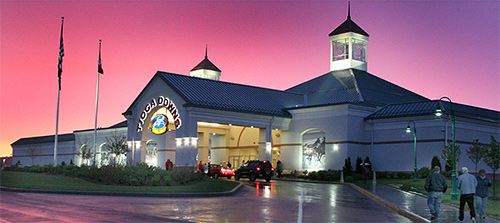 Tioga Downs Racetrack & Casino would expand on an existing racetrack casino. (Photo: Tioga Downs Racetrack & Casino)
Still, many observers give the Catskills strong odds. Cuomo has paid particular attention to the area, where local officials have long wanted to use gambling to turn back the clock to the era when it was a bustling vacation destination. And this summer, the head of the state Gaming Commission shot down the idea that there would be any advantage given to Orange County, writing that it would be "inconsistent with both the statute authorizing the competition and the request for applications."
That dynamic could benefit the "northern" Orange County sites, including the Grand Hudson Resort & Casino proposed by Alabama-based Greenetrack at Stewart International Airport; the Hudson Valley Casino & Resort in Newburgh by Rush Street Gaming and Saratoga Casino and Raceway; and Resorts World Hudson Valley, Malaysian gambling giant Genting's second proposal in the county. What sets apart these proposals—which range from $670 million to $1 billion—from the three southern Orange County bids, in terms of their relation to Sullivan and Ulster Counties, is their location some 20 miles north of Route 17—the main artery to the Catskills. Some analysts say this means that a northern Orange County casino could realistically co-exist with a Catskills casino, while one in the southern part of the county could effectively block New York City-area gamblers from visiting Ulster or Sullivan counties.
"My gut feeling is that New York is going to end up approving one of the Concord casinos [in Sullivan County] and something like the Newburgh casino," Woinski said. "It's going to be a political move. They're going to want one in Orange County because they know it will do better, but they're going to be afraid to do the southern ones, for example— the Tuxedo one [Genting] or the Woodbury one [Caesars]."
---
That same tension between anticipated revenue and local revitalization could also come into play in the Capital Region, where four bids are on the table. Two— the Hard Rock Rensselaer, to be developed by Och-Ziff Real Estate, and the Capital View, a joint venture between Saratoga Casino and Raceway and national casino operator Churchill Downs—are planned within miles of each other across the Hudson River from Albany. The Hard Rock proposal anticipates generating the most gaming revenues of any of the four proposals—some $260 million per year. Another proposal in nearby Schenectady, Rivers Casino & Resort at Mohawk Harbor, is projected to rake in an estimated $223 million a year.
Based on revenues alone, the most logical place in the region to site a casino would be in or around Albany, the largest population center in the region and a major transportation hub. However, the casino referendum received only tepid support at best from local voters. And the capital, despite pockets of poverty, also has a stable state workforce that keeps unemployment relatively low in its metropolitan area. Those factors could prompt the siting board to take a closer look at the Howe Caverns Resort and Casino, which expects to bring in just $131 million a year but could have more of an impact in Schoharie County, which is in worse shape economically.
"I find in the Capital District that … when there are economic down times, it's not affected as much," said Gary Greenberg, a minority owner at Vernon Downs, a racetrack casino that is not among the competitors for a full commercial license. "Albany County voted against the referendum, and it passed in Rensselaer County, but not by much. Schoharie and Montgomery County, they passed it, but they need it. The need is in Howe Caverns, but even though they have a good plan, I'm not sure it's the right spot, because it's away from everything. There's no airports there, no train station. I think some of these are going to be knocked out because they are not in areas that are deprived."
---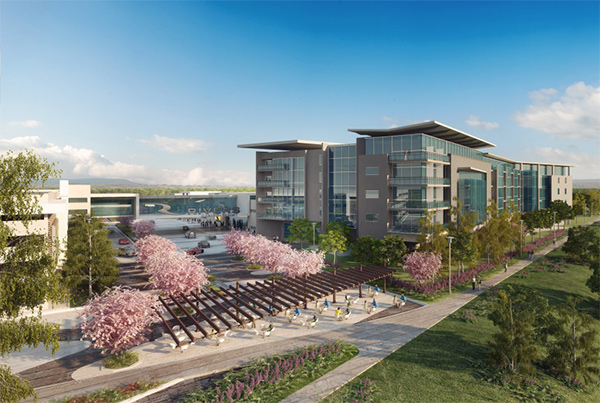 The proposed Rivers Casino & Resort at Mohawk Harbor in Schenectady would be incorporated into a 60-acre waterfront site featuring retail, office and residential properties. (Photo: Rivers Casino & Resort at Hohawk Harbor)
Two of the three Southern Tier proposals are relatively modest by comparison. One, from the owners of the racetrack casino Tioga Downs, is the only proposal in the state that would permanently add on to an existing gambling facility. That distinction could make it easier for the $187 million plan to move forward quickly, since it would not have to go through a time-consuming environment review. Moreover, its owner, Jeff Gural, actively campaigned for the casino amendment and reportedly spent more than $400,000 to get it passed.
Traditions at the Glen—a resort and conference center—is looking to break into the gambling business as well with a $212 million investment in a casino, new hotel rooms and an entertainment venue. Both Tioga Downs and Traditions are seeking to draw gamblers from northern Pennsylvania and to keep New Yorkers from leaving the state for places like Mohegan Sun at Pocono Downs.
Up in Seneca County in the Finger Lakes Region, developers are seeking to build a more ambitious $425 million resort and casino called Lago in the Town of Tyre. The Lago Resort & Casino would have little impact on either Tioga Downs or Traditions, but the region is widely expected to be awarded only one full-fledged casino.
The three-way competition highlights another wrinkle that the siting board will have to deal with: cannibalization of existing gambling facilities. For instance, the Lago Resort & Casino would be located about 30 miles east of the existing Finger Lakes Gaming and Racetrack—which, like all of New York's gambling venues, is currently taxed at 68 percent on gaming revenues, the highest rate in the nation. Should Lago win a license, it too would pay a 68 percent tax in its first year on slot machines, but Lago would also have table games—the element that makes these New York's first "full" casinos—which are only taxed at 10 percent. After a year's worth of play, the Gaming Commission would differentiate between revenue from table games and from slots, then calculate a blended tax rate to assess Lago that would inevitably be lower than the current 68 percent. In the spirit of fairness, this new blended tax rate would then be retroactively applied to the racino at Tioga Downs. But it would not be applied to the Finger Lakes Gaming facility—which, though 30 miles from Lago's proposed site, falls outside the Eastern Southern Tier by the Gaming Commission's definition of the region's boundaries. As it currently stands, this discrepancy would affect other established New York casinos as well, like Turning Stone in Oneida County and Batavia Downs in Genesee County.


The Lago Resort & Casino in Seneca County is one of three bids in the Southern Tier, but is geographically separated from the other two proposals. (Photo: Lago Resort & Casino)
Resolving these complications is only the tip of the iceberg. Legal and financial issues could also play a central role, and some wonder how apolitical the process will actually be. Caesars, whose parent company is bogged down by massive debt, is embroiled in a legal battle with bondholders over the subsidiary that submitted the New York bid. Greenetrack, which is behind another Orange County proposal, has been investigated by the state attorney general in Alabama, where the company is based. The CEO of the Nevele, a proposed casino in Ulster County, temporarily left his role after the disclosure of a 2007 assault conviction. Genting's lavish Sterling Forest proposal has prompted legal threats from locals concerned about the environmental impact on the adjacent state park, and some experts worry that other projects could get delayed during the environmental review process.
In the Southern Tier, Lago has been met with organized resistance in the form of two lawsuits brought against the project by Tyre residents, which have since been dismissed. As for the Hard Rock proposal in the Capital Region, the would-be owner's parent company, New York City-based Och-Ziff Capital Management, is under federal investigation for other parts of its business. Capital View has also met local opposition from residents of East Greenbush, the town in which it would be built. A number of developers have disputed the allegations against them.
Politically, some observers also wonder if Genting could end up being a victim of its own success. The company's Resorts World New York racetrack casino in Queens has become the most lucrative gambling facility in the country since opening a few years ago, and awarding another casino to one of the three bids associated with Genting chairman K.T. Lim could prompt accusations of unfairness. (In addition to the two Genting bids, Lim's family trust has a controlling stake in Empire Resorts, one of the Catskills bidders.) Another wild card for Genting is its public breakup with the governor in 2012 over a scuttled convention center that was to be built alongside the Resorts World site in Queens.
And even a proposal that looks strong on paper might not be the best choice, experts say, since the bidders' projections about revenues and profits could very well be overly optimistic. While some observers say that Empire Resorts' Montreign Resort and Casino, which would be part of a larger complex called Adelaar, is a strong contender in the Catskills, others worry that none of the bids in Sullivan or Ulster counties—which also include Mohegan Sun at the Concord and the Nevele Resort, Casino and Spa, and range in scope from $500 million to the $1 billion Adelaar extravaganza— can live up to expectations. Indeed, Empire Resorts owns the only existing gambling operation in the region—the Monticello Raceway, which has been struggling for years. Woinski says a $200–300 million casino would be a better fit for the Catskills market.
"They have a racetrack casino in there that has no competition at all and they lose money there," Woinski said. "It tells you right away the market does not need anything that big."
Developers argue that such big investments are necessary to create true vacation destinations that will draw families and non-gamblers from afar. The risk, however, is that aiming too high could cause such a casino to wind up following in the footsteps of neighboring New Jersey, which has suffered a recent string of failed casinos in Atlantic City.


The proposed Traditions Resort & Casino would be built in Broome County in the Southern Tier. (Photo: Traditions Resort & Casino)
Nobody really knows which criteria the siting board will prioritize, of course, or to what degree politics will seep into the process, let alone who will emerge as the winners. Even after the licenses are awarded, the landscape may not be set in stone. In Massachusetts, which also legalized casino gambling in recent years, voters will have a chance to halt expansion by reversing that decision at the polls in November. In New York, the racetrack casino at Aqueduct had to be put out for bid again after allegations of favoritism in the selection process.
Some observers even speculate that the state will not award all four casino licenses that have been authorized, given the risks involved. Jonathan Silverstein, a lawyer representing the City of Albany's interests in the process, suggested that the siting board could take a pass on the question of an Orange County casino, noting that the state ultimately gave the Empire Raceway in Yonkers seven years to establish itself before siting another racetrack casino at nearby Aqueduct in Queens.
"It's conceivable they might hold that fourth license, issue a license to a Catskill area facility, give that facility a period of time to build up a customer base, and then go back and look to whether to issue one in Orange County or not," Silverstein said. "I haven't heard anyone suggest that, but if you think about it that's sort of the way the system was set up in the first place."
Editors Note: A previous version of this article said that all developers facing opposition or legal challenges to their proposals have "shot down" the claims against them. To clarify, not all claims or legal actions against developers have been refuted or settled.