Labor
Making Triangle Shirtwaist matter to millennials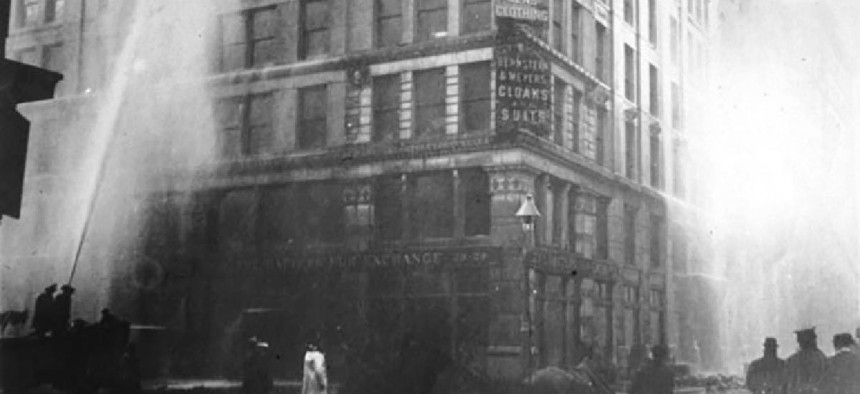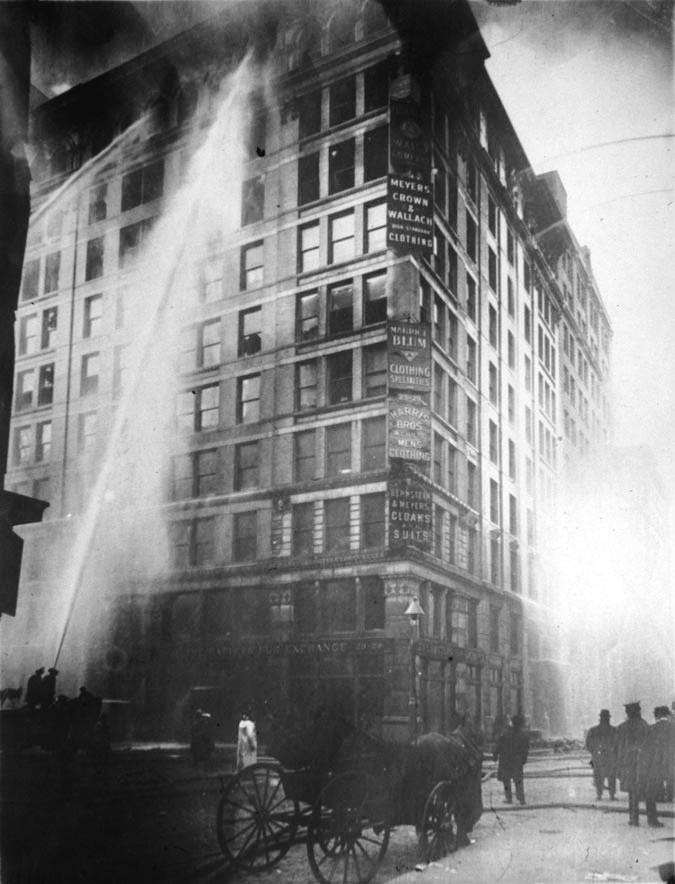 Firefighters try to douse the infamous, deadly fire at the Triangle Shirtwaist Factory, as seen on the front page of the New York World, March 26, 1911.
On a cold, wet day in late March, a couple hundred hardy souls turned out near Washington Square Park to mark the 106th anniversary of the Triangle Shirtwaist Factory fire. The tragedy killed 146 workers, mostly young immigrant women. By contrast, this year the crowd was predominately older, even elderly. Some of the grandchildren of the fire victims were now, themselves, old enough to be grandparents.
As union members age, union leadership will say privately their central challenge is engaging millennials. They have reason to be optimistic. In 2014, Governing magazine cited polling data that found labor enjoyed a 60 percent approval rating among those under 30, compared with a 40 to 45 percent approval rating with older Americans.
Edgar Romney, the secretary-treasurer of SEIU affiliate Workers United and one of the organizers of the Triangle fire commemoration, said the Fight for $15 campaign to raise the minimum wage for fast food workers helped unions get back in the under-30 conversation.
RELATED: Facing a threat, will public and private sector unions unite?
"At SEIU, we are focusing on how we get younger people involved. But we have to be aware that from the outside, unions can look like an establishment resistant to change or responding to their needs," Romney said. "This movement will only survive with new blood, and labor has to explain and reach out to our younger members and their peers to make the case that this movement can actually brighten their future."
Part of making that case, Romney said, has to be reanimating labor's history so that young people understand the direct link between things they take for granted today, like the 40-hour work week or not being locked inside their workplace. These gains, he said, were fruits of labor's sometimes bloody struggle and sacrifice.
And knowing about the tragic 1911 fire is only part of the narrative. "In 1909 there was a strike led by Clara Lemlich when 20,000 people went out on strike here in New York City and it produced the protocol of peace between the owners and workers, but Triangle was not one of them," Romney said. "So while the owners said they were locking the factory doors to prevent workers from stealing garments, it was actually done because they did not want organizers getting in."
The 1911 fire had repercussions that actually altered the course of American history, according to one of the commemoration's speakers, state Department of Labor Commissioner Roberta Reardon. She mentioned workers' rights advocate Frances Perkins, who was having tea across the street from the factory, "and she saw the young women leaping to their deaths from this building," Reardon said. "And what she witnessed that day changed the trajectory of her life forever."
RELATED: How will New York unions fare in the age of Trump?
Years later, then-Gov. Franklin Roosevelt appointed Perkins as industrial commissioner, and U.S. secretary of labor when he became president. "Later, (Perkins) remarked the New Deal was born in the tragedy of this fire," Reardon said.
This year, in addition to laying the 146 roses on the sidewalk where so many Triangle fire victims jumped to their death, participants added 31 additional flowers to mark the deaths of 31 New York City construction workers, 28 of whom were working non-union sites and most of whom were undocumented immigrants.
Gary LaBarbera, president of the Building and Construction Trades Council of Greater New York, told the crowd at the memorial that there were similarities between the catastrophic loss of life in 1911 and the month in, month out death toll for undocumented construction workers today.
"We think to ourselves that 106 years ago these precious lives perished tragically. Why were these lives lost? The theme is profits over people, that's the theme," he said. "Today, the theme has not changed. Today, still greedy employers, greedy owners, are putting profits over people."
Powered By
NEXT STORY: LaGuardia: From Third World to First World