Donald Trump
At Somos, House Democrats dream big infrastructure dreams
At Somos, House Democrats said they were bullish on an infrastructure bill thanks to their new majority.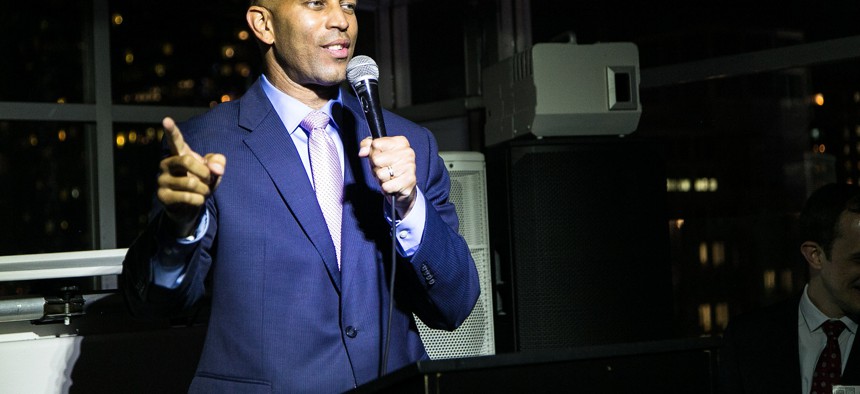 When Rep. Hakeem Jeffries took off from JFK Airport in the morning, he was just a rank-and-file member of the House of Representatives. But by the time he landed in San Juan, Puerto Rico, he was officially a candidate for Democratic Caucus chair, the fourth-highest ranking position in the Democratic conference, which just won a majority in Tuesday's elections.
Jeffries' office had sent out a press release while the Brooklyn Democrat was in the air, announcing that he hoped to succeed Queens Rep. Joseph Crowley, who held the position for the last two-year session, but lost his re-election bid to Alexandria Ocasio-Cortez in the Democratic primary.
Jeffries has always had star potential in Washington, D.C., but beating California Rep. Barbara Lee to win the the vote among fellow Democratic representatives could put him in prime position to one day lead the body as speaker. Jeffries' chances improved hours after his announcement – Rep. Linda Sánchez of California dropped out of the contest when the news broke that her husband had been indicted.
But Jeffries had local issues on his mind as well when City & State caught up with him at the annual Somos conference in San Juan on Thursday. The conference, focused on building Latino political power New York, officially kicked off Wednesday, but many of the politicians, staffers and advocates arrived before the Thursday night party at the Museo de Arte de Puerto Rico. Jeffries, always on message, was quick to talk about fulfilling the promises that House Democrats campaigned on, like lowering health care costs, cleaning up corruption in Washington and passing an infrastructure bill to fund construction projects.
With a divided Congress, House Democrats have pointed to infrastructure funding as a bipartisan pleaser that could pass even in a highly polarized Washington. President Donald Trump has long promised increasing infrastructure investments, but his only proposed bill was panned by many as weak and never got a vote.
But Jeffries was feeling hopeful. "We have crumbling bridges, roads, tunnels, ports, airports and a mass transportation system here in New York City that needs federal assistance," he said. If a bill were to pass, Jeffries said he would want federal money to fix up public housing in his district, as well as to make certain subway stations accessible to disabled riders. He would also direct money towards coastal resilience for parts of his district susceptible to flooding, including Coney Island.
Other members of New York's House delegation were dreaming about where money could go in their district. While Rep. Grace Meng of Queens ate chicken wings poolside at the El San Juan Hotel, her mind was 1,600 miles away on the Long Island Rail Road. Meng has been asking the Metropolitan Transportation Authority to re-open the LIRR's long shuttered Elmhurst stop since at least 2012, but has never found the funding. She's hoping a federal infrastructure bill could be the breakthrough.
Meng, who is a vice chair of the Democratic National Committee, was beaming over the growing power of New York Democrats since the party took the majority. Rep. Nita Lowey is expected to chair the House Appropriations Committee, Rep. Jerry Nadler the Judiciary Committee and Rep. Eliot Engel the Foreign Affairs Committee, among other leadership positions.
Rep. Nydia Velázquez, who is expected to assume the chairmanship of the Small Business Committee, seemed to stay clear of the pool, instead running meetings all day as New York politicos visited her native Puerto Rico. Velázquez told City & State she would push for an infrastructure bill to fund not just public housing improvements, but renovations to public schools in New York City. She would also push for coastal resilience funding, particularly for parts of her district like the Lower East Side and Red Hook that were flooded during Superstorm Sandy. The Brooklyn-based congresswoman also mentioned finding funding to replace the Gowanus Expressway with a tunnel, but admitted the project, which would be incredibly expensive, may be a pipe dream.
Democratic Rep. Tom Suozzi spent part of his afternoon drinking a frozen mojito by the El San Juan pool and dreaming of a cleaner future back home. He'd love to see public housing improvements, he told City & State, but his primary concern was getting federal funding for clean water and sewage treatment, a constant concern on parts of Long Island.