New York City
Relocation of homeless not biggest concern with New York City program
A better payment process is vital for the program housing the city's homeless, critics say.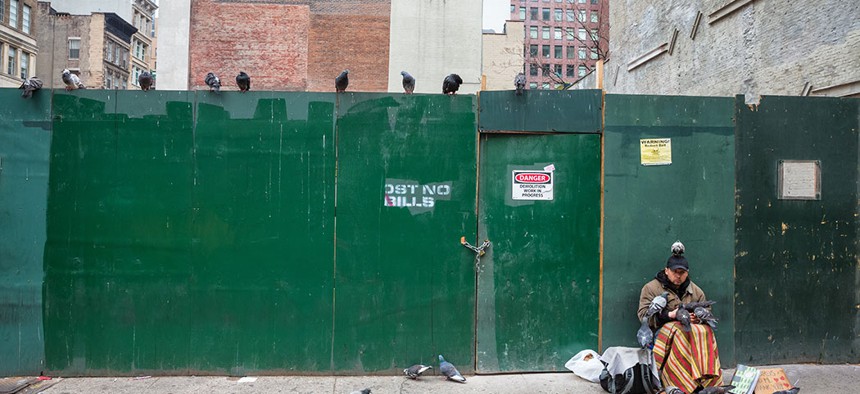 New York City's controversial program relocating homeless people has other problems than displacing poor people from the city, experts and advocates say.
New York City has been sending homeless people around the country, and now the cities they move to are pushing back. Newark and Elizabeth, New Jersey are now suing over New York's Special One-Time Assistance program, which has placed some ex-patriots in substandard housing. Newark also passed an ordinance to stem those coming in through the program, while elected officials from Broome County, in upstate New York's Southern Tier, to North Carolina have also complained.
Although much reporting has focused on New York City "shipping" the homeless crisis away, the program does not exist solely to relocate people. And homeless advocates criticize its payment system and evaluation of homes, as well as relocation. 
Finding housing beyond the city can be helpful in some cases."There (are some) people who are making a clear choice to move outside of New York City because they found someplace that is more affordable and, you know, many of the cities in New Jersey are within commuting distance of New York City," Jacquelyn Simone, policy analyst with Coalition for the Homeless, told City & State. "There's a distinction between people choosing to move to places like Newark and people feeling they're being coerced – or if they are being told if they don't take this apartment, they're going to be retaliated against in the shelter system."
Special One-Time Assistance's primary goal is to provide a full year's rent to individuals and families who've been in the shelter system and are looking for a home. The one-time temporary assistance is offered to those earning enough to be able to make future rent payments if they don't exceed half of their household income – which includes social security – and can pay for housing anywhere in the United States, including Puerto Rico.
About one-third of households used the assistance to move into apartments within New York City, but more than half ended up outside the state between August 2017 and August 2019, with the remainder going to other parts of New York state. This is unsurprising, given that the average cost of rent in the city for participants is $20,500, while elsewhere in New York state the average is $17,900 and the cost for out-of-state homes is $15,600. 
"The increasing reliance on SOTA does really underscore that our current housing market in New York City is not providing nearly enough units at rent levels that extremely low-income households can afford," Simone said. 
A major cause of the poor conditions some people ended up in was the language in the city regulation, according to a New York City Department of Investigation report released on Thursday. The verification of humane living conditions – a certificate of occupancy from the New York City Department of Buildings – was inapplicable outside of the city. In response to concerns raised by the investigation, which started in February, the city has since adjusted that language to apply more clearly to outside jurisdictions and overhauled its review process for apartments, particularly those in and around New York City. Staff from the city Human Resources Administration now conduct walkthroughs in nearby apartments with a checklist tool. And while units beyond neighboring counties don't face in-person inspections, staff use online records to confirm locations and structure of the unites, and have the broker and landlord sign attestations that could subject them to criminal penalties if proven false.
The payment method, which gives landlords the year's worth of rent upfront, also led to continued pains with housing quality. "This gives no bargaining power to the tenant, as far as the quality of the unit, for instance," Brendan O'Flaherty, a professor at Columbia University, said. The city is currently looking at ways to stagger payments to ensure accountability with landlords. Still, the city touts the fact that only 4.4% of the 5,074 households in the program end up returning to shelters.
Though this program has seen renewed scrutiny, facilitating the relocation of homeless people is not new in New York. Such initiatives date back to 1987, and they were renewed under former Mayor Michael Bloomberg's tenure under the name Project Reconnect. Project Reconnect merely paid for people to travel back home or to other locations where they could live with relatives, while Special One-Time Assistance began in 2017 to enable participants to find their own housing. 
New York is not the only city that engages in the practice of relocating homeless people. One analysis from The Guardian found 21,400 bus relocation trips within the United State over the past six years and identified 16 cities and counties, including San Francisco and Portland, Oregon, that provide free bus tickets to the homeless. Many of them don't provide help with finding stable housing. 
Powered By
NEXT STORY: How Tish James is taking on Big Tech