Education
The inequities of remote learning
New reports reveal that students still do not have tablets or internet service required to participate in remote classes.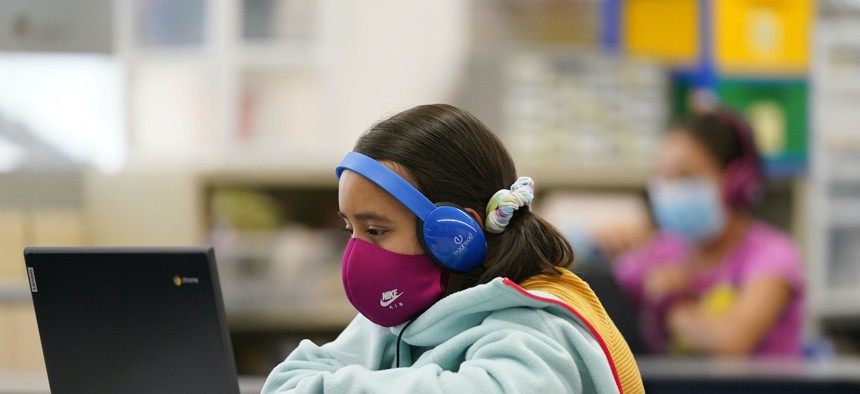 New York City public school students residing in homeless shelters are still having difficulty accessing remote lessons. 
While the city has delivered tablets that come with their own cell service plans, at least four homeless shelters are in cell service dead zones, according to the Daily News. This results in spotty service for students who are required to participate in video calls and access assignments online, making many students feel that they are falling behind. Education advocates have been calling upon the city to set up wifi at these shelters and ensure all students have internet access, rather than forcing students to rely on faulty cell service.
When it comes to remote learning inequities, a lack of internet service is just the tip of the iceberg. Many students are still waiting on supplies, such as tablets and laptops, to make remote learning possible to begin with. A New York City Council hearing on Friday revealed, according to NY1, that 25% of schools "with majority Black-and-brown student populations suffer a low attendance rate for remote learning," compared to just 3% of schools without majority Black-and-brown student bodies. The discrepancy is attributed to a lack of supplies and poor internet connections. 
There are currently 25,000 homeless students attending the city's public schools. While four homeless shelters have already been identified as having especially bad internet service, advocates from the Legal Aid Society are calling for a full audit of the internet service across the city. The organization has also threatened to take legal action if the city does not move quickly to ensure that students have access to the resources they need to participate in remote classes. "The city has a moral and legal obligation to ensure that these families have dependable access to broadband-based internet access, especially those with children who are attending school remotely," Susan J. Horwitz, supervising attorney for the Education Law Project at the Legal Aid Society, told the Daily News.
Even students who are attending in-person classes will need to spend some time online as the city is operating under a hybrid in-person/remote learning model during the pandemic, making internet access a major issue. At the onset of the coronavirus pandemic in March, the city's Department of Education shipped 300,000 iPads to students that needed them, prioritizing 15,000 students living in shelters. Last week, it was reported that 77,000 students are still without tablets and laptops, despite New York City Mayor Bill de Blasio insisting that all students who need devices have received them. 
"The fact that thousands of our kids, particularly from under-resourced communities, still don't have a device is unacceptable and shameful," City Council Member Mark Treyger, chair of the council's Education Committee, said during a Council hearing on Friday. "And I want to lay the fault squarely with the mayor and his office for being in denial about the severity of this issue."
New York City Schools Chancellor Richard Carranza has said that this doesn't necessarily mean that 77,000 students are without internet access. "In some cases, schools may be requesting devices to fulfill a supply in their school," Carranza said during Friday's hearing. "They may have had five computer carts, and three were signed out, and they want those computer carts replenished."
On Sunday, city officials, education advocates and concerned parents banded together at a rally outside of the department of education's headquarters in Lower Manhattan, asking that the city address the inequities facing its most underprivileged pupils. Brooklyn Borough President Eric Adams and Council Members Treyger and Ben Kallos were in attendance, along with Tanesha Grant, who works with the nonprofits Moms United for Black Lives and Parents Supporting Parents.
"The people of this city should be outraged, impacted or not, over what we are doing to children in temporary housing and in communities that are economically challenged," Adams said during the rally. "It is unbelievable what the DOE has clearly normalized, the lack of education for these students. Every child we fail to educate is a child that will potentially be incarcerated. When you don't give children the basic education, and you move about as though it is normal, acceptable, you write them off."