Energy & Environment
Schumer faces pressure over climate change
Advocates want to create a polluters climate fund, but a similar measure can't even pass in New York.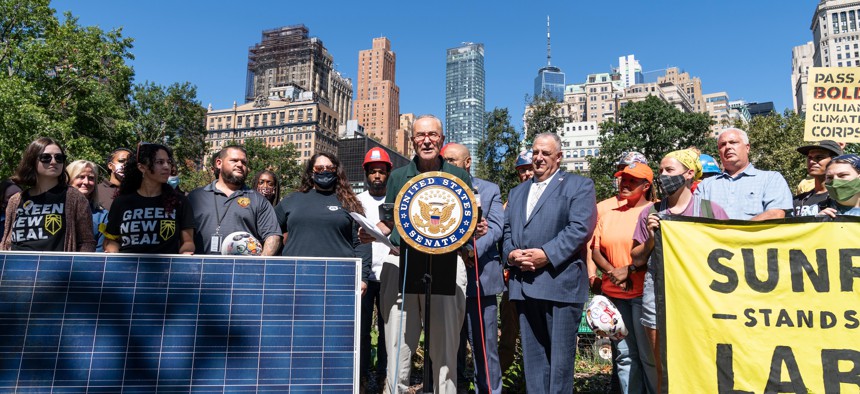 Climate activists rallied outside the Manhattan office of U.S. Senate Majority Leader Chuck Schumer on Wednesday and delivered a petition with over 100,000 signatures calling for the creation of a polluters climate fund. Advocates want the fund passed as part of the spending bill Congress and the White House are negotiating now. But similar legislation has failed to pass even in New York, with Democratic supermajorities in both chambers of the state Legislature, so its approval at the hotly divided federal level seems unlikely.
Congress is scrambling to avoid another government shutdown and pass a $3.5 trillion spending bill. Climate advocates want to include the Polluters Pay Climate Fund Act as part of that budget package. "We are here to call on Sen. Schumer and Democratic leadership to not miss a once-in-a-decade opportunity to generate billions of dollars that we need in order to recover from the damages that climate change has already caused and future damages that we anticipate," said Betamia Coronel, senior national organizer for climate justice at the Center for Popular Democracy. Introduced in part by Rep. Jamaal Bowman in August, the bill would impose an annual fee on major polluters based on their historic levels of carbon emissions, which is expected to raise $50 billion a year to pay for climate initiatives. It's supported by over 40 members of Congress, including Reps. Jerry Nadler, Tom Suozzi, Alexandria Ocasio-Cortez, Ritchie Torres and Mondaire Jones.
The spending package will be done through reconciliation, which cannot be filibustered and thus can pass with just the 50 Democrats in the Senate. "All of us here today … and so many others have put in the work to make sure the Democratic Party could win the White House, could win the Congress," said Patrick Houston, climate and inequality campaigns associate with New York Communities for Change. "And now they have an obligation to deliver." He added that including the Polluters Pay Climate Fund Act as part of the budget process is "the least" Schumer could do.
Many of the same activists helped Democrats win supermajorities in the state Legislature too, yet have still failed to get a similar carbon tax passed in the state. The Climate and Community Investment Act in New York would raise $15 billion a year to help the state reach its environmental goals by taxing major corporations based on their carbon emissions. Still, efforts to pass the bill fizzled this year as business interests and Republicans waged a campaign against it based on the falsehood that the bill would impose a 55-cent surcharge on each gallon of gas.
Moderates never signed on to the legislation, and it never had support from the governor. That hasn't changed. Gov. Kathy Hochul – who describes herself as a "Biden Democrat" – would not commit to supporting a carbon tax to pay for climate initiatives, instead citing a multibillion-dollar bond act voters are expected to pass in November. Her comments came not long after deadly flooding from the remnants of Hurricane Ida had politicians in New York City talking about the need for bold climate action.
Despite the pressure being placed on Schumer, the situation at the federal level is even less favorable, even if the two bills and the narrative around them are not exactly the same. The Polluters Pay Climate Fund Act is not currently part of Biden's spending bill that lawmakers are negotiating, and just one rogue Democrat can derail reconciliation. The Senate certainly has one in Sen. Joe Manchin of West Virginia, friend of the coal industry and consistent thorn in the side of Schumer and President Joe Biden. He already has issues with the climate rules already included in the $3.5 trillion bill. The 100,000 signatures delivered to Schumer likely won't sway Manchin, who is likely relishing the power he now wields – especially in shaping environmental policy – in divided Washington.