Policy
New York hospitals see significant upticks in COVID-19 admissions
Gov. Kathy Hochul has urged calm and said the state is not in the same situation as earlier in the pandemic.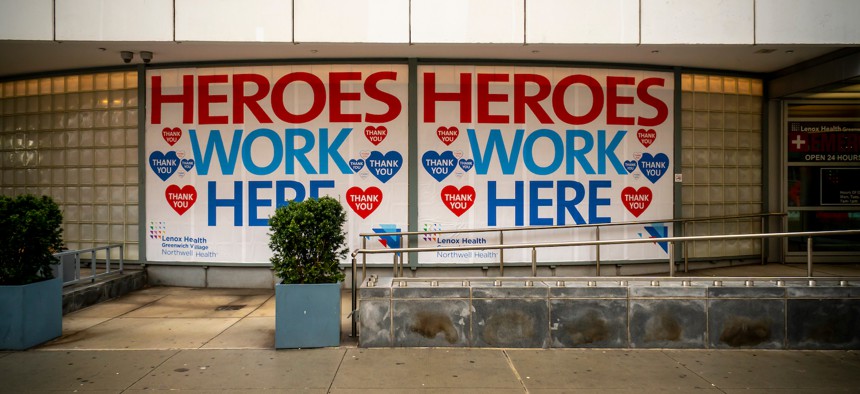 Gov. Kathy Hochul has continued to urge calm as the state hit a new record high of 67,090 positive COVID-19 tests on Tuesday. Despite the skyrocketing case numbers, the wide use of vaccines and boosters have kept hospitalizations relatively low in comparison to the positivity rate. But even though the state has not reached crisis levels in the majority of its hospitals yet, new hospitalizations have jumped in recent days as New York speeds closer to levels not seen since January. 
Gov. Kathy Hochul likes making comparisons to earlier times in the pandemic, before the highly contagious omicron variant began spreading worldwide. She consistently reminds New Yorkers at her press briefings that this is not March 2020, when hospitals were completely overwhelmed and the state counted daily deaths in the high hundreds. "It's not even December of 2020," Hochul said at a COVID-19 briefing last week. "So we have to keep this in context." In December of last year, the state began experiencing a winter surge that peaked in mid-January with over 9,000 people hospitalized with COVID-19. 
But recent jumps in new hospitalizations after the holidays now has New York's trajectory trending steeply upwards. On Dec. 24, the state logged 4,891 people hospitalized with COVID-19. That number increased by over 600 people to 5,526 on Dec. 26 (the state did not make data from Christmas Day available) and went up by another 600 each of the next two days, hitting 6,767 people in the hospital due to the coronavirus on Dec. 28. That's about 1,200 shy of the same day in 2020. If the recent trend continues, the state is set to surpass peak hospitalization levels from the last winter surge in a matter of days – and it's only the beginning of winter.
So far, Hochul's actions regarding hospital capacity have focused largely on the percentage of staffed beds hospitals have available. In November, she signed an executive order allowing the state to halt elective surgeries in hospitals that have 10% or fewer beds that are free. The order took effect on Dec. 6, when she announced 32 hospitals met the criteria to pause nonessential surgeries like hip replacements or removing kidney stones. However, the state didn't make hospital bed capacity data readily available and easily accessible to the public until Dec. 22. The state Department of Health published a dashboard with that information not long after City & State inquired about bed capacity.
According to state data, New York as a whole still has an average of 23% of its hospital beds available. But some regions are faring worse than others. Central New York had just 10% of its beds open on average in the past week, while the Finger Lakes had only 14%. Those numbers appear even bleaker when looking specifically at intensive care units, which the state does not specifically consider right now when making hospital capacity decisions. The Finger Lakes had just 3% of its ICU beds available on average the past seven days, and both the Capitol Region and Western New York had just 10%.
When asked why the state doesn't specifically take into account ICU capacity, a spokesperson for the Department of Health said last week that overall bed capacity at hospitals serves as a better metric. "There is flexibility in the number of ICU beds at a particular facility," DOH spokesperson Erin Silk said in an email last week. "In moments of crisis, like we saw in March and April of 2020, hospitals have the flexibility to convert regular beds into ICU beds."
As the state prepared for a winter surge last year, then-Gov. Andrew Cuomo ordered hospitals to increase their capacity by 25% on Dec. 7, when COVID-19 hospitalizations stood at 4,602 people and statewide positivity was at under 5%, paling in comparison to the nearly 20% positivity rate the state now faces. He threatened renewed restrictions on indoor dining if hospitalizations didn't stabilize and had at the end of November mandated "load balancing" within hospital systems to help overwhelmed hospitals transfer patients elsewhere in the region with more capacity.  
At the time, vaccines were not widely available to the public, and getting vaccines out consumed much of the COVID-19 energy at the beginning of 2021. And public health data shows that although fully vaccinated and boosted individuals may still catch COVID-19, they are significantly less likely to get seriously ill or end up in the hospital. Hochul has pointed this out repeatedly when highlighting the differences between the current surge, and those that came at the beginning of the pandemic and last winter. "We're not as vulnerable as we were this time last year," Hochul said at a press briefing on Wednesday. "We have vaccines widely available, we have testing widely available."
The governor on Wednesday did not offer any new additions to her winter plan to address the pandemic, even as she acknowledged that case rates and hospitalizations will continue to go up. "We know it's coming, and we're naive to think it won't," Hochul said of an anticipated January spike. She pointed to actions already taken by the state to address hospital capacity and staffing levels, including sending members of the National Guard to help staff nursing homes so hospitals can discharge more patients into their care. 
Hochul has not yet publicly mandated load balancing to ensure that hospitals with extra room help those with a critical number of patients. But the state Department of Health issued guidance to hospitals last week "to work together" to address overcrowded hospitals through load balancing as part of the state's "Surge and Flex regulations." Some hospitals are already doing this. A spokesperson for Northwell Health, one of the largest hospital systems in the state, said its health care facilities helped pioneer load balancing earlier in the pandemic and has continued to utilize it when asked by City & State about limited capacity at a few of its hospitals. 
Hochul has promised more details about an updated winter surge plan on New Year's Eve. "We're preparing for all scenarios, including the worst case scenarios, which we're not at," she said at a press conference on Monday. "I've said from the very beginning, I want to have the ability to deploy whatever actions need to be taken if we get to a crisis situation." She hinted at potential new restrictions and the prospect of clearer metrics to govern state action, emphasizing her desire to keep both schools and businesses open while keeping all options on the table.
Certainly, the state's situation is nowhere near as dire as it was earlier in the pandemic, when hospitals and intensive care units were filled to the brim with coronavirus patients before vaccines became available. But as new cases skyrocket thanks to the omicron variant and staffing concerns that could hinder hospitals' ability to care for its sickest patients with or without COVID-19, public health experts warn New York should be prepared. "The truth is, we don't yet know whether the surge in cases will translate into a surge in hospitalizations and a need for ICU slots," Denis Nash, distinguished professor of epidemiology at the CUNY Graduate School of Public Health, told City & State last week before the post-Christmas numbers came in. "But we should plan for the worst given the unprecedented level of spread and the magnitude of the surge that is yet to be really quantified."