Technology
Adams orders consolidation of city tech agencies under one authority
Reorganization seems to answer the calls of civic technologists looking for more efficiency.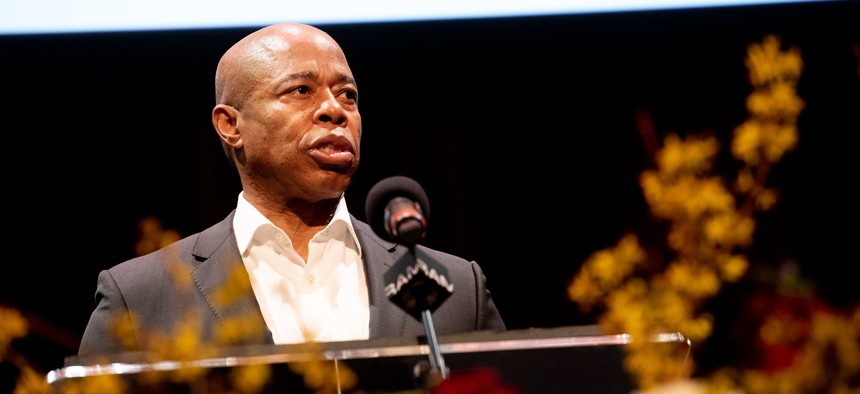 New York City Mayor Eric Adams has big ambitions to revamp the way that the city uses technology, and in a move that may help him get it done, he is consolidating the city's technology and IT-related agencies.
On Wednesday, Adams signed Executive Order 3, transforming the existing Department of Information Technology and Telecommunications into a new "Office of Technology and Innovation," which will oversee the work of other existing agencies including the the Mayor's Office of Data Analytics, the Mayor's Office of the Chief Technology Officer, the Mayor's Office of Information Privacy, New York City Cyber Command, NYC 311, and the Algorithms Management and Policy office. The new Office of Technology and Innovation will be led by Chief Technology Officer Matt Fraser, who will report to the first deputy mayor.
The new office will spearhead projects including MyCity, Adams' proposed one-stop portal for New Yorkers to access city services and benefits, along with other of the mayor's tech proposals. "Before serving as a transit cop, I worked as a programmer at the NYPD, so I understand how important it is to bring our city's government into the 21st century," Adams said in a statement on Wednesday. "With today's announcement, we are ensuring that all of our technology agencies are unified under one voice and one leader."
The executive order builds on Adams' appointment of Fraser as the CTO late last year. In making the appointment, both Adams and Fraser alluded to the possibility of the city's technology and IT agencies falling under the primary authority of the CTO. (Previously, the office of the CTO, DoITT, MODA and other offices all operated separately.) "What we're doing under this, which makes it different, is if you think about the traditional lines of technology in the city – the Department of Information Technology and Telecommunications, Cyber Command, 311, a lot of the services that have been fragmented – we're pulling all of those things under a single office," Fraser told City & State in December. The executive order signed on Wednesday seems to make that official. 
The reorganization isn't as simple as tossing all these agencies under a new umbrella, however. Specifically, the executive order re-designates DoITT as the Office of Technology and Innovation. It re-establishes the Office of Data Analytics, the Office of Information Privacy and New York Cyber Command as offices within – rather than outside of – the new Office of Technology and Innovation. The order discontinues the Algorithms and Management Policy Officer role – which was launched by executive order in 2019 – but has the new Office of Technology and Innovation continue its guidance of how the city uses algorithms. 
Fraser added on Wednesday that in addition to spearheading projects like MyCity, the new office will be tasked with safeguarding the city's technology assets, closing the digital divide and building relationships with the technology sector. 
Civic technologists and other tech leaders have long called for consolidating the city's technology functions, noting that the status quo has been one of siloed inefficiency. Though New York City has an array of technology and IT resources at its disposal, the city has been criticized for not deploying them sufficiently or coordinating among separate agencies and offices to deliver effective services. One recent example of this was the glitchy deployment of a COVID-19 vaccine sign-up system last year – something the state struggled with as well.
Andrew Rasiej, the founder of Civic Hall and a co-chair of Adams' technology transition committee, welcomed the news. "Finally, the city of New York will have a proper organizational structure, with a single clear and capable leader, leveraging technology to make the city more effective, efficient, and accountable in delivering services while also ensuring it is safer both online and off," he wrote in a text to City & State. 
Noel Hidalgo, the executive director of the civic technology organization BetaNYC, praised the reorganization and said that it was a long time coming. Coordination among the city's tech offices will be necessary to deliver some of Adams' key proposals too. "To build the (MyCity) portal that he wants, he needs a content management system that's going to be feeding information from different agencies. There are going to have to be unified data flows. There needs to be a simplified log-in system," Hidalgo said. "Those are all achievable tasks if you have the pooled resources that are working across silos and interagency."
In a draft report last May, Cornell Tech's Urban Tech Hub recommended breaking up the city's Department of Information Technology and Telecommunications, as well as appointing a deputy mayor of technology to oversee all of the city's tech-related agencies.
Adams did not say on Wednesday whether the consolidation of these seven technology agencies under a new umbrella agency would be accompanied by a specific number of layoffs. "We are going to do a real analysis of the duplication of jobs. If we need them, we're going to keep them," he said, noting that civil servants were not their focus. "Upper management that are going through the motions, that is our focus."
Protecting the city from cyber threats will also be under the purview of the new office, as New York City Cyber Command is included in the consolidation. Adams said that former Mayor Bill de Blasio suggested cybersecurity should be one of the new mayor's top priorities. Ransomware and other cyberattacks have plagued municipalities in recent years, and New York City agencies have been no exception. The New York City Law Department was breached through an employee's stolen email password last year, and The New York Times reported that the department failed to implement multifactor authentication, despite being required by the city to do so.
This is a developing story.
Powered By
NEXT STORY: What does Hochul's budget do for New York City?