Transportation
FAQ on the MTA's $6 billion federal grant
The payout is being called the "largest federal grant in transit history."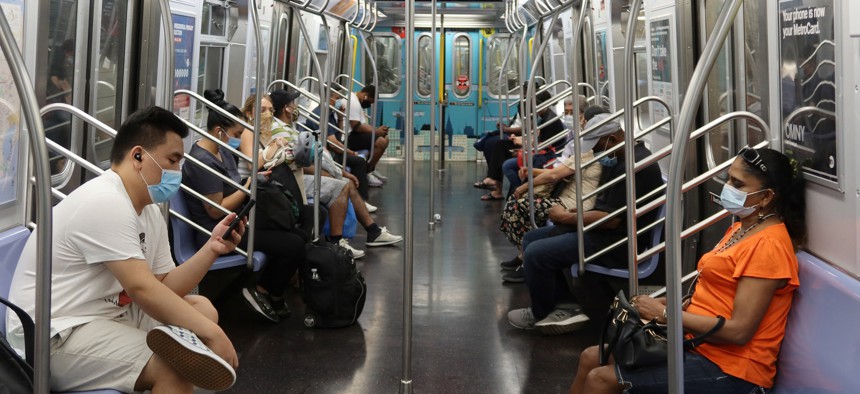 The MTA received $6 billion in federal aid money this week to help deter pandemic-induced budget cuts that threatened to slash service and hike fares.
The cash, part of a COVID-19 relief package, is "the largest federal grant in transit history ever," Senate Majority Leader Chuck Schumer said while announcing the payout, which, in addition to subways and buses, will help fund the LIRR-Metro-North system. 
Here's what we know about the funds and what riders can expect as a result. 
Why did the MTA need the federal money?
Transit revenue plummeted during the pandemic as ridership dipped to 90% at one point. MTA officials predicted dire financial consequences and floated a 40% cut to services if the agency did not receive enough federal aid. Schumer said Wednesday "the $6 billion gives (the MTA) deep, deep liquidity. Now. The bottom line is that without the money that we were able to get, the subway system never would have bounced back." 
What effects can riders expect to see immediately?
The money is expected to help the MTA maintain baseline services without raising prices. After passage of the federal infrastructure bill in November – which is separate from the funding doled out Wednesday – Gov. Kathy Hochul nixed proposed fare hikes until at least mid-year, and tabled service cuts and wage freezes until at least 2025. Transportation Secretary Pete Buttigieg said in a statement that the funding received Wednesday would "keep transit service running, protect transit employees from layoffs, and ensure people can get where they need to go."
How did the state secure the funds?
The money is part of a package of federal COVID-19 relief bills, which also includes $14 billion that was split between New York, New Jersey and Connecticut. Schumer's office negotiated the latter deal to secure $11 billion for New York. The COVID-19 relief dollars are in addition to the approximately $11 billion the state's transit agencies are expected to receive as part of President Biden's infrastructure bill.
What projects will the money help the agency complete?
Gov. Kathy Hochul has vowed to start this year on the next phase of the Second Avenue subway project and is moving forward with a scaled back version of former Gov. Andrew Cuomo's plans to redesign Penn Station. The state began awarding contracts for the Penn Station project last month, which is expected to raise the ceiling at the transit hub, increase walking space and expand the number of tracks.
How long will the $6 billion last?
The money will cover the agency's operating expenses, but the MTA still faces a $1.4 billion deficit come 2025 that it will need to find additional revenues to close. "The farebox pays some of the MTA's expenses, but I believe it is a public service, and the higher percentage we can get that comes from city, state and federal help, the better," Schumer said Wednesday.