Budget
What did Eric Adams get in the state budget?
Some bail changes and an enhanced Earned Income Tax Credit are in the budget. Mayoral control and an increased borrowing authority are not.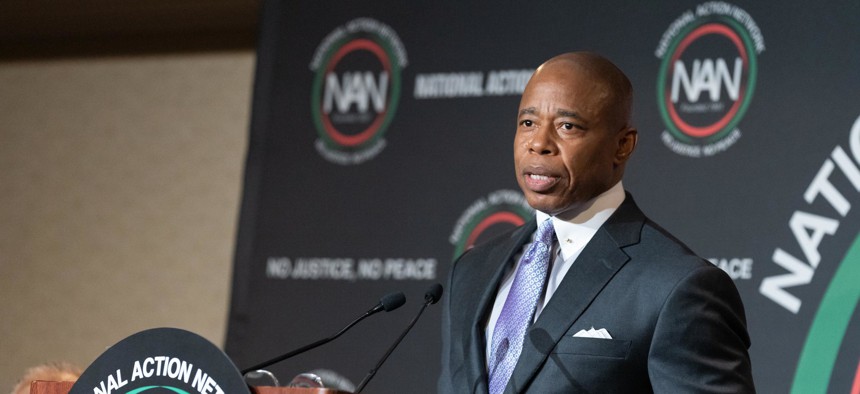 Almost a week after it was due, Gov. Kathy Hochul announced a "conceptual deal" with the state Legislature on the budget. Hashing out the $220 billion budget has kept lawmakers in Albany busy for the past few weeks, but in New York City, Mayor Eric Adams is closely watching the developments too. 
In February, Adams made a trip to Albany to advocate for a number of priorities, including amending the state's 2019 bail reforms and extending mayoral control of New York City schools. Though the details of the budget are still coming out, it looks like Adams will emerge with a mixed record on his asks. In a statement on Friday, Adams said it is clear that "many of my top priorities" will be included in the final deal, mentioning increased funding for child care and an enhanced Earned Income Tax Credit – two priorities he laid out earlier this year. But Adams added that while the budget includes changes to the state's bail law – allowing judges more leeway in setting bail – they don't go as far as he'd like. "While I commend the Legislature and the governor for making some progress on public safety, it is also evident that a good deal more work will be needed on this issue, as well as on mayoral accountability, housing, and other city priorities in the ongoing legislative session, which is only half over," Adams said in the statement.
Here's what we know about the state of Adams' major budget asks so far.
Bail reform rollbacks
Adams staked an early position on what became one of the most debated issues in Albany this budget season, calling for changes to the state's 2019 bail reforms, which eliminated cash bail in most misdemeanor or nonviolent cases. He called for the state to create a "common sense bail law" that would allow for judges to consider "dangerousness" when deciding whether to release a defendant. Adams also called for closing a "loophole" in the state's 2017 Raise the Age law that lifted the age of criminal responsibility to 18 years old, arguing that 16 and 17-year-olds should be able to be tried in criminal court. Adams has said that the law is being used as a loophole for kids under 18 to take the fall for ownership of guns that don't actually belong to them.
Amending bail reform has become a part of Adams' efforts to reduce crime in the city and to promote more gun control legislation since coming into office. (Experts at the Brennan Center for Justice as well as Democratic leaders like Senate Majority Leader Andrea Stewart-Cousins have said there is no correlation between increased crime and the state's bail reforms.) 
Nonetheless, Hochul managed to get enough lawmakers to agree to some changes to bail reforms, including allowing judges to consider the seriousness of crimes or whether they were gun-related crimes, when setting bail. The budget also closes the so-called Raise the Age "loophole." The "dangerousness" standard that Adams wanted judges to be able to consider, however, is not among the changes. 
Mayoral control of schools / "mayoral accountability"
As expected, mayoral control is not in the state budget, meaning Adams will have to advocate in Albany for control of the city's schools later this session. Adams stated in his budget priorities memo that, "in order to improve education outcomes for all New York City public school students," he would like to retain "mayoral accountability" of city schools for the next four years. (He's also asked for "home rule" over the city's streets, to make changes to speed limits and cameras at the city level.) Hochul was on board with a four-year extension of mayoral control of schools, but the Legislature isn't giving in to the ask so easily. Mayoral control was put into place twenty years ago by Mayor Michael Bloomberg after campaigning on a platform that included the control of New York City public schools by his office. Since then, mayoral administrations have been able to decide on policy and appoint officials to office within the Board of Education, but it has to be regularly renewed by the state legislature. 
Earned income tax credit
Adams supported increasing the amount of state funding that goes towards the Earned Income Tax Credit – a tax credit for low- and moderate-income people – and asked the state to allow the city to boost its own match by up to 30% of the federal benefit. Both houses in the State included an increase in their budget proposals, and the bills including the increase both passed on Thursday. 
421-a
Left out of the budget is an extension or revamp of the state's 421-a program – a tax break for developers to incentivize the creation of affordable housing units set to expire this year. Adams broadly supported the concepts of Hochul's proposed revamp to the program, dubbed 485-w, with "minor changes." But progressive lawmakers have called the 421-a program – and Hochul's only slightly different 485-w program – a giveaway to developers, and it was taken off the negotiating table during budget discussions. Though it could return later this session, New York City Comptroller Brad Lander was among those who were glad to see it not included in the budget.   
Child care funding
Adams logged a win in securing new funding for child care subsidies and tax incentives for creating more space for child care centers. The budget agreement includes $7 billion in additional child care funding. Subsidized child care has been a cornerstone of budget negotiations for both Adams and state legislators, including Hochul. Adams said in his budget priorities memo that he'd like to see more tax incentives tied into the budget for developers to create space for child care settings. A key piece of child care funding that seems to have been left out of negotiations, however, is funding for undocumented children and their care. 
Increased borrowing authority
In his pitch to Albany earlier this year, Adams asked the state to increase the city's borrowing authority by $19 million. "This is to help for existing projects," New York City Budget Director Jacques Jiha said in February. "Because the property value in New York City has dropped, so our debt capacity has dropped. So we're asking the state to basically restore the debt capacity we had before the pandemic." According to a spokesperson for state Sen. Liz Krueger, however, an increase to the city's borrowing capacity will not be in the budget agreement.