gun control
Eric Adams' fears that SCOTUS ruling could permit guns on subways is a 'worst-case scenario'
The court has indicated it is likely to overturn the state's restrictive permitting requirements for concealed guns, except in "sensitive" public places.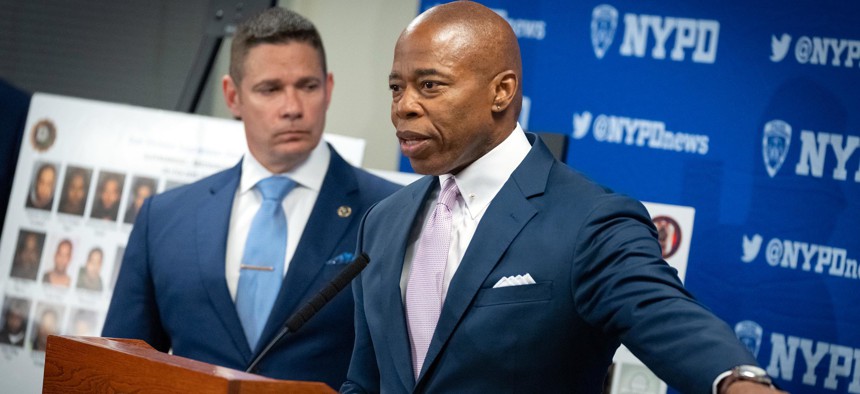 New York City Mayor Eric Adams has said that he is losing sleep over an impending ruling from the Supreme Court that could overturn concealed carry restrictions in the state of New York, a decision that is expected to be handed down in the coming days or weeks. "This keeps me up at night," Adams said during a press conference Monday in Brooklyn. "If this right to carry goes through the Supreme Court and becomes the law of the land, can you imagine being on the 4 train with someone having a 9mm exposed? Everyone on the train is carrying? This is not the Wild, Wild West." While the majority conservative court is likely to issue a ruling that could make it easier for people to carry concealed firearms, the justices and even the plaintiff's attorneys have said crowded public places, namely the subways, could be exempt from any loosened restrictions. 
The justices have made several indications of that during oral arguments. The plaintiffs' in the case – the New York State Rifle and Pistol Association, along with two Rensselaer County men – contend that the state's requirement to show "proper cause" to obtain a concealed carry permit infringes upon their Second Amendment Rights and argue that their desire to defend themselves is reason enough. The existing law requires residents to show they face a "special or unique danger to their life" in order to obtain the permits. In New York City, they are subject to approval from the New York City Police Department, which is notoriously selective in handing out gun licenses.
Justices have signaled that they agree that the law may be too stringent and/or vague, with some exceptions. When the justices questioned the plaintiffs' attorneys about the legal challenge, they specifically asked whether it should apply to subways. Paul Clement, an attorney for the National Rifle Association, agreed that the state is "entitled to have laws that say you can't have weapons in sensitive places," CNN reported. Clement also suggested the case is less relevant in New York City as a whole. "I suppose I could give away the subway because they are not in Manhattan. They're in Rensselaer County," he reportedly said. Conservative Justice Clarence Thomas hinted that he agrees with that logic. "It's one thing to talk about Manhattan or New York University's campus," he reportedly said. "It's another to talk about rural upstate New York." 
Clement also conceded that a university campus could be considered a sensitive public place. And Justice Amy Coney Barrett, also a conservative, gave the example of Times Square on New Year's Eve as a sensitive place. "Can't we just say Times Square on New Year's Eve is a sensitive place because now we've seen, you know, people are on top of each other?" she said during oral arguments in November, according to The New York Times. "We've had experience with violence, so we're making a judgment, it's a sensitive place."
The comments suggest that if the court does decide the existing regulations can be upheld in crowded public settings or other sensitive places, New York City as a whole could be subject to an entirely different set of regulations than other municipalities. "Perhaps we will see New York loosen its permitting requirements but strengthening the restrictions on sensitive places to make it very difficult for carry in New York City," Adam Winkler, a law professor at the University of California, Los Angeles, and the author of "Gunfight: The Battle Over the Right to Bear Arms in America" told The New York Times in November.
Adams' office on Tuesday said that, despite the mayor's fearful rhetoric, people carrying guns on the subways is a "worst case scenario."
"If we're hoping for best case scenarios, then we're hopeful the justices will side with the very persuasive arguments made by the New York attorney general's office," Press Secretary Fabien Levy said in an email, referring to State Attorney General Letitia James' successful bid to dismiss the lawsuit in a lower court. "But the mayor, yesterday, was talking about the worst-case scenario keeping him up at night, and that is a very real possibility. As the mayor also said, we're looking at different options on what we will do if a negative decision does come down, so that we are prepared in that situation."
However, the case could prompt a wave of lawsuits from people who have been denied the ability to carry a gun outside their home and set a precedent for future rulings in favor of Second Amendment rights. It could also require the state to rewrite its gun-permit laws. State lawmakers have said they're already working on legislation that would put new limitations on concealed carry permits and could return to Albany post-legislative session to enact it.