Gun Control
Here's how New York's concealed carry law is 'vulnerable' to litigation
The U.S. Supreme Court's historic ruling sought to eliminate subjectivity from the licensing standards, but the state's counter rules introduce new requirements that could be open to interpretation by licensing agencies.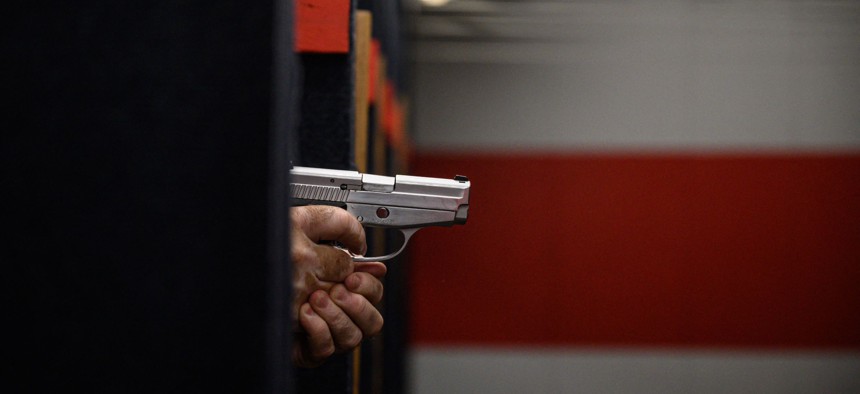 The first of many inevitable legal challenges to New York's new concealed carry law is expected to be filed in federal court on Monday, and experts say the legislation has given gun rights advocates plenty of fodder for litigation – though lawsuits would be expected no matter how the Legislature crafted the new rules. 
Republican congressional candidate Carl Paladino said he has hired Buffalo attorney Paul Cambria to represent him in a lawsuit that will argue the new restrictions passed in a special session of the state Legislature last week are unconstitutional, State of Politics reported Thursday. The challenge follows a promise made shortly after the law was signed by New York Republican Party Chair Nick Langworthy, who is running against Paladino in the 23rd District primary, that the party also plans to bring a separate case "that will stop this law in its tracks."
The legal challenges follow the Supreme Court's ruling in June that New York's existing standards for issuing concealed carry permits were unconstitutional. The laws stipulated that applicants must prove they had a unique need for self-defense to obtain a permit. Albany lawmakers were called back from recess to pass legislation that seeks to strengthen requirements for issuing concealed carry permits just a week after the ruling was issued. While the court explicitly stated that some protections could stand – such as rules barring guns in certain "sensitive places" – the Democratic Legislature tested the limits of the loosened restrictions with its Concealed Carry Improvement Act signed into law Friday.
Among the provisions that could be ripe for litigation are the expanded requirements that the applicant must possess "essential character, temperament and judgment necessary to be entrusted with a weapon and to use it only in a manner that does not endanger oneself or others." A more limited "moral character" clause was already a part of the existing law, which will remain in effect until Sept. 1.
"How do they specify or operationalize that if you don't have clear, objective criteria that might satisfy what the court said?" said Robert Spitzer, distinguished service professor of political science emeritus at SUNY Cortland who has authored five books on gun control. "That is a big question mark."
In addition, permit applicants must also provide the licensing agency – which is typically a police department – with information about their social media accounts. The Times-Union editorial board suggested on Thursday this provision could be a violation of First Amendment protections. Spitzer, however, noted, there is extensive precedent to using social media as a reference point when assessing applicants for jobs or colleges, but noted the social media requirement is "more vulnerable than some other provisions" of the new law.
Regardless of what exactly was included in the new restrictions, gun rights advocates and Republicans would be likely to challenge them, he said. 
"The big step was not that the Supreme Court struck down the just cause provision of the state's carry law, but that they expanded the definition of Second Amendment rights and changed the criteria for evaluating the constitutionality of gun laws generally, so the effect of it will invite challenges to all kinds of gun laws," he said. "It's only a matter of time before the state law, no matter what it says, will be challenged in part and in whole."
Licensing authorities now face the chaotic task of retraining agents on the new requirements, which now include an interview and an extensive vetting process by the licensing authority. 
In the days after the Supreme Court ruling was issued, police departments said they received an influx of requests from gun owners who currently hold lesser permits seeking to upgrade to concealed carry permits without applying for a new license. As of Thursday, some licensing agencies said they were still awaiting instructions from the state on the new rules. "We are awaiting guidance from the Westchester County Court on the implications for our Department of the recent U.S. Supreme Court decision and the new legislation passed in Albany. We will make any needed changes to our policies and procedures once we receive that guidance from the Court," Westchester County Police spokesperson Kieran O'Leary said. The Suffolk County Sheriff's office offered a similar statement. 
Spitzer said that it is unlikely existing permit holders who seek to carry guns outside of their homes in light of the new ruling would be issued the concealed carry permit automatically, considering the long list of new requirements to obtain one. However, he said it's possible that lesser permit holders who have already met some of the requirements – such as a portion of the 16 hours of required training, for example – could simply need to meet the remaining requirements.