Policy
MTA to install 'Big Brother' security cameras in all New York City subway cars
Gov. Kathy Hochul and the MTA are optimistic new measures will prevent subway crime and give riders an added sense of security.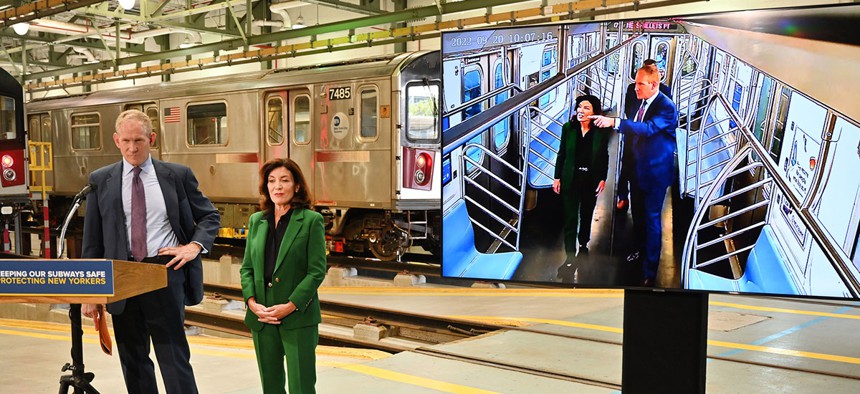 Though crime is down and ridership is climbing, the Metropolitan Transportation Authority will add cameras to all New York City subway cars, Gov. Kathy Hochul announced Tuesday.
In an effort to deter crime and ease the fears of riders, the state transit authority will aim to add two cameras to each of its 6,355 subway cars by 2025. The governor said a combination of state and federal funds totaling $5.5 million will be used for the security cameras, expanding the pilot program that launched this summer. 
This announcement comes as ridership has not bounced back to pre-pandemic levels, but is increasing. Ridership topped 3.7 million for the first time since the pandemic on Sept. 14. Safety remains a major concern for straphangers – a recent poll found that the majority of New Yorkers felt less safe than they did pre-pandemic riding the subway and wanted increased police presence on subways.
The governor said transit crime has decreased by 4.5% compared to the pre-pandemic levels in 2019 and is down 21% since the start of summer. She emphasized the distinction between the reality of safety and the perception of it, saying the cameras will make people feel safer, even if subway crime is already down. "It's about how we can continue to further enhance not just the actual security, but the sense of security that all riders have," she said.
Hochul has been facing harsh criticism from her Republican gubernatorial opponent, Rep. Lee Zeldin, concerning her position on crime ahead of the upcoming November election.
"You're going to be caught if you conduct any activity, whether it's an aggressive act or whether it's a violent crime," she said. 
The MTA already had cameras installed in all 472 subway stations across the city. But the Sunset Park subway shooting earlier this year, during which many of the cameras in the train station were reportedly not working, raised additional concerns about the efficacy of security cameras on the subway.
Not everyone is a fan of the subway surveillance announcement. Albert Fox Cahn, the executive director of the Surveillance Technology Oversight Project, condemned the governor for the plan.
"We've wasted billions of dollars on cameras that never deter crimes, and sometimes aren't even working well enough to help after the fact," Cahn told City & State. "I think at a moment when the crime rate in the subways is falling, we don't need another public safety or publicity stunt."
Hochul preempted surveillance concerns during her announcement. 
"So you think Big Brother's watching you on the subways? You're absolutely right," she said.