Policy
A timeline of Hochul and Adams' fight for more cops on the subway
New York's top leaders continue to tag-team to fight subway crime, redoubling an effort to build omnipresence in the system.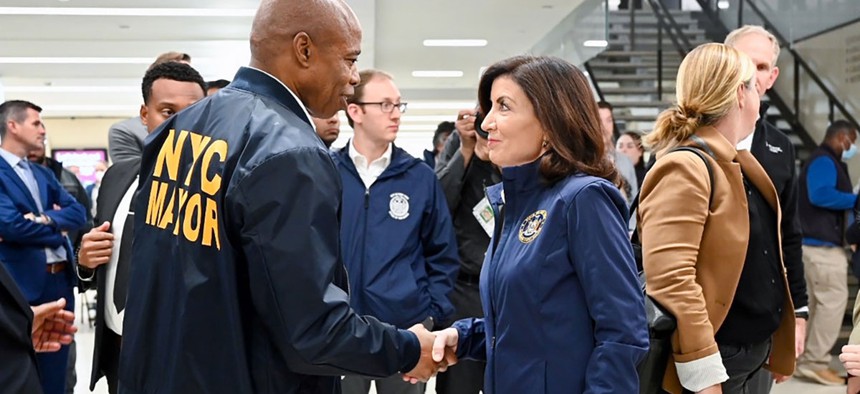 Gov. Kathy Hochul and New York City Mayor Eric Adams are teaming up once again to support an increased police presence in the city's subway system, amid ongoing concerns about crime on trains and in stations, including nine homicides this year. 
Back in January, the newly minted mayor and still somewhat fresh governor announced a multipronged plan to address homelessness on the subway that included increasing cops' presence in the transit system as well as mental health outreach teams. Since then, Hochul and Adams have doubled down on creating police omnipresence in the subways. "Expanding law enforcement is just one side of it, but also we want to have a more significant presence, visible presence. People want to see that there's an officer there when they need help," Hochul said on Saturday, announcing the latest reinforcement of officers in the transit system. "It's an incredible deterrent when you think about it."
Here's a look back at major actions the pair have taken in an attempt to tackle crime in the subway over the past year.
August 2021
On the day that Hochul was sworn in as governor following former Gov. Andrew Cuomo's resignation, New York City subway ridership stood at roughly 47% of pre-pandemic levels. One year later, that figure grew to roughly 58%. That number is still slowly climbing, hitting a pandemic high of roughly 61% for the month of September. 
Reported crimes in the transit system also hit a modern low in 2021, according to statistics from the New York City Police Department – though per capita crime was up, since ridership was so low. The number of crimes has risen in 2022, so far, as ridership has grown, but it's still below the pre-pandemic average, despite some high profile crimes putting many riders on edge. 
January 2022
Just a few days into his tenure, Adams appeared with Hochul to announce that the NYPD would be increasing its presence and visibility on trains and in subway stations, including "hundreds" of additional visual inspections on trains and platforms everyday. The focus on omnipresence resulted in roughly 3,500 cops assigned to patrol the subway system – reportedly, the largest deployment in the Transit Bureau's history. On Saturday, Adams said that since this January announcement, over 75,000 summonses have been issued and 5,500 arrests made for crimes on the subway.
The plan also involved deploying new mental health outreach teams known as "Safe Options Support" (SOS) teams, consisting of medical professionals and social workers. The teams have helped to connect 150 individuals experiencing homelessness on the subway to bed placements, Gotham Gazette reported last week.
Roughly a week after Hochul and Adams' joint announcement in early January, Michelle Go, a 40-year-old woman, was killed after being pushed onto the subway tracks, renewing fears about violent crime in the system.
April 2022
On April 12, New York City was rocked by a mass shooting in the subway during the morning rush, which injured 29 people but did not result in any deaths. The search for the alleged shooter, who has since been identified and charged, was held up by the fact that cameras at the Brooklyn station where the shooter opened fire inside a subway car failed.
In response to the shooting, Adams said that his administration was exploring new technologies to tackle gun violence, including considering deploying gun detection systems in the subway. One company that the administration has been in talks with is Evolv Technology, which has piloted its detection system at Jacobi Medical Center in the Bronx. Despite concerns about the effectiveness and accuracy of these systems, Deputy Mayor for Public Safety Phil Banks has met with leaders at Evolv several times, as well as a couple other companies offering similar technology, The City reported. They have not yet been deployed in any train stations.
September 2022
Hochul announced last month that the Metropolitan Transportation Authority will install two cameras on every subway car in the system over the next three years, following a pilot in June that deployed surveillance cameras on a hundred cars. Installing new cameras on cars – plus additional cameras in subway stations, where surveillance cameras already exist – will cost $5.5 million, and is part of Hochul's three-pronged "Cops, Cameras, and Care" strategy of cracking down on subway crime. "You think Big Brother is watching you on the subways, you're absolutely right," Hochul said at the time. "We are going to be having surveillance of activities on the subway trains and that is going to give people great peace of mind. If you're concerned about this, the best answer is don't commit any crimes on the subways."
October 2022
On Saturday, Hochul and Adams appeared together at Grand Central Terminal to announce a new surge in police presence on the subway. The state will help fund an additional 1,200 overtime officer shifts every day. Hochul is also directing MTA police to patrol stations linked to Grand Central and other major commuter hubs, freeing up more NYPD officers to patrol stations across the rest of the city. And Hochul said the state will fund 50 more beds for inpatient care for the severely mentally ill – giving people in crisis another option instead of riding the subway.